NO NO It's Not a Rabbit
This one does not disappoint! Leaf has made a great dual stimulation vibe. This one is climbing the ranks, it is probably my 3rd top vibe. Due to it's flexibility it should be able to please most anatomies. It deserves the 5 stars.
Published:
Pros:
Waterproof
Silicone
Dual Stimulation's
Rechargable
Quiet
Many many more!!
Cons:
None
Vitality by Leaf
…. Waterproof and quiet.
Oh my, I like this one!! I have to tell you from the start that I don't like rabbit vibrators, you know those huge ones with the big rabbit piece hanging off of it and the buttons and the controls. You know the ones that have 50 functions and you cannot figure out what the heck to do to make it work and then it never does hit your clit the right way.
VITALITY
is not one of those!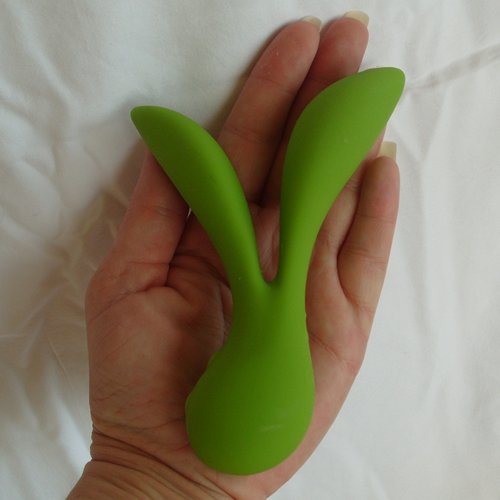 Vitality is not really a rabbit, it is a double headed dual motored piece of work. Vitality is for use by women to stimulate or g spot vaginally as well as clitoral. And this it does. It could be used for dual penetration of both anally and vaginally if your anatomy allows for it and since it is made from silicone it would be safe. Also the shape and design would aid so that it would not slip up your rectum and land you in the ER. It could also be used by men for anal and possible p- spot stimulation. I am not sure of the male usage as I have not shared this toy with my husband. It's MINE!
Ok, the Vitality does look like a set of rabbit ears, but I would rather think of them as projectiles. You could also call them shoots like the shoots off of a plant. Have you ever felt some of the shoots from a plant and they are kind of silky feeling. This toy is close to that!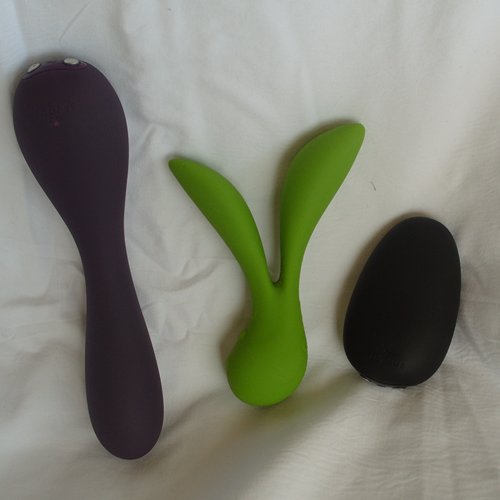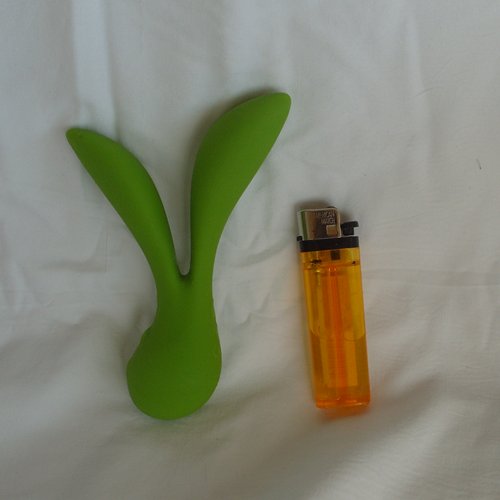 Vitality is actually small, It has a total length of 51/2 inches and an insertable length of 3 1/4 inches.
The vitality has the two projectiles that attach to a ball at the end. The ball is where the two buttons are. One button controls the clitoral vibrations and the other controls the g-spot vibrations. When you push the button it lights up! You can have the g spot end off and the clitoral vibrations on high if you wish. There are only vibration settings. No pulsing patterns. To turn the vibrations on you simply press the button and hold it down until you get to your desired level of vibration. To turn it off you only have to hit the button once.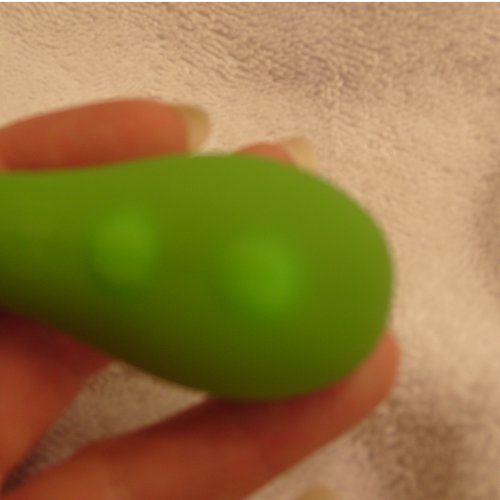 The vibrations go from low to deeper and rumbly. The vitality doesn't have a memory so when you turn it off you have to start over at the lowest vibration setting. The projectiles are very flexible to that it can adjust to your anatomy. I am able to place a finger on the projectile to make contact with my clitoris. This is pretty much a non issue for me since my hand is down there controlling the vibe anyway. I like to rock the projectile back and forth on my clit.
A big point is that the Vitality is extremely quite. I came home from work snuck into bed with my vitality and my husband was lying next to me and he didn't even realize that I had it on. He stated that he thought the neighbors were weed eating, mind you we live in a concrete block house and he was actually right next to me.
The Vitality is made from medical grade silicone, a 10 on the Eden safety scale. It is non porous, hypoallergenic, latex and phthalates free. It is odorless and tasteless. Vitality is smooth and silky with a matte finish. It is a neat, non sex toy color of green. There are no textures to this toy. There is only a very, very slight drag to this toy which can be cured with a small amount of water based lube. Most of the time I haven't used any lube with it. The clitoral vibrations do carry better with lube. Due to the silicone lubes causing damage to silicone toys I would suggest to not do that. You can do a spot test on it to see if there is any reaction but I like this toy and I have lots of water based lubes in my bedroom.
Vitality is rechargeable. No need to dig out the batteries. It takes approximately 2 hours to fully charge and I can't even tell you how long the charge last since I haven't ran it dry. I have charging evening at my house every couple of days and all the rechargeable line up on the bathroom counter. There is a charging port on the opposite side of the toy from the vibration buttons. Under the port is a solid light present when you are charging.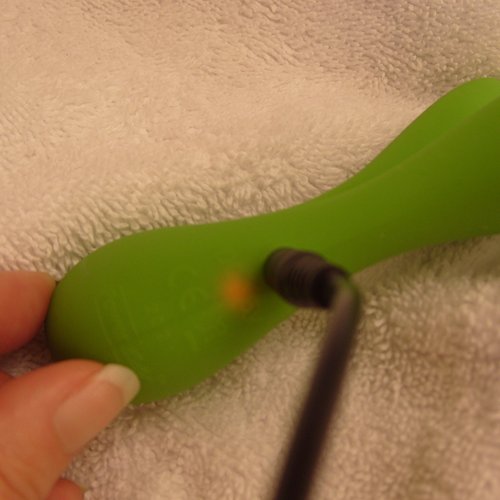 Experience
Vitality is very easy to care for, just some antibacterial soap and water, toy sprays, toy wipes. Do to the wonderfully powerful motors no dishwasher or boiling. You don't want to hurt this one. I store it on my night stand and keep it away from my other silicones so they don't mate and hurt each other's finishes.
The packaging from Leaf is awesome. It is like receiving a gift. I am really into packaging of these higher end toys! The box comes with a booklet, the toy, the charger which even has the Leaf logo on it (Which can make a difference when you have charging night). And a storage pouch with Leaf imprinted on it.
I would say due to it's size the Vitality is travel friendly and if TSA looks at it funny and knows what it is.
SMILE!!!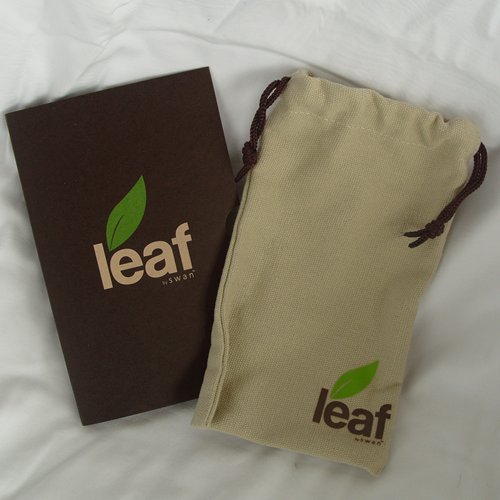 I have to thank my mentor for her review of this product, it influenced my decision to purchase it and I am ohhhh so happy with it!
When I come home from work and I am tired but feeling a little needing I grab this one for one last bang before I go to sleep! (you should see my smile!!)
Follow-up commentary
5 months after original review
This one is still one of my favorites, it delivers great pleasure. It is small enough and quiet enough that my husband doesn't know that I am using it next to him in the bed, until her hears me. It works great and I haven't had any loss of power. I would still suggest this one and it really doesn't need to be recharged for weeks.
This content is the opinion of the submitting contributor and is not endorsed by EdenFantasys.com

Thank you for viewing
Vitality
– dual action vibrator review page!