Smooth Gliding New Best Friend!
Lelo/PicoBong does it again! The Moka provides just about everything the average user could want in a G spot toy. It is amazing as a stimulator for all many areas: Clitoris, nipples, penis, scrotum, taint, and where ever you like a bit of sensation. Though it doesn't do so well as a thrusting toy, and cannot be recommended for use anally, it shines as a G spot toy. It's the right price and offers everything that higher priced G spot toys offer except recharge ability.
Published:
Pros:
High grade materials, user friendly, cute, good variation/speeds
Cons:
Runs on batteries, isn't incredibly powerful, can be painful with hard thrusting
Lelo has, once again hit vibration gold with the PicoBong line. The Moka from PicoBong is a slightly larger, battery driven version of the higher priced
Gigi
. The Moka is a tad bit slimmer and weighs quite a bit less than the Gigi, but it is composed of the same high quality materials and workmanship.
The Moka is a silky smooth, G spot toy that is made of food-grade material, hypo-allergenic, latex free, non-porous, and phthalates free silicone and hard plastic. It measures approximately 7.75 inches in total length with a comfortable 5 inches for insertion. The Moka is a slimmer toy measuring in a little over 4 inches at the largest point, which is the head of the toy, before tapering to 3 inches. It gradually swells back to nearly 4 inches as the toy curves to just before the control panel.
This toy by no means has a flared base and is so not large enough to discourage a disappearing act in the rectum. There are MUCH better toys for anal play on the site, but for G spot play the Moka can definitely live up the expectations of a Lelo toy.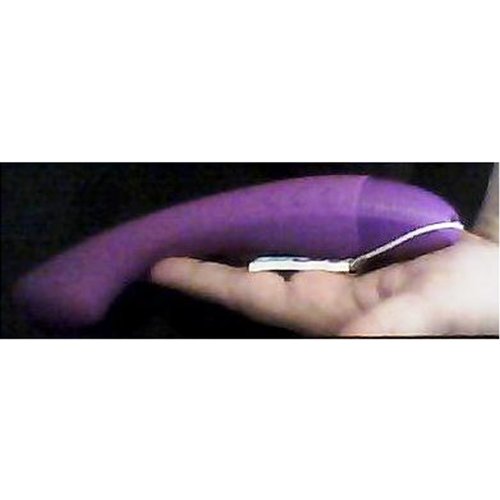 I love the smooth silicone surface of the toy so much that for the first few minutes after removing it from the package I just sat there stroking it! It has just a hint of a matte finish but if you are a "juicy" kind of lady you may not need much in terms of lubrication. If you do need some extra lubrication a few drops of a water based lube will do the trick and not, possibly, mar the finish of your new toy. If you find that you just can't abide water based lube and you must use your favorite silicone based lube, I recommend you spot test a small area near the base of the toy and look for any reaction before slathering it on.
The smooth silicone extends over the entire shaft of the toy, including the control panel. The buttons are embedded under the silicone near the base of the Moka. At the base of the toy is the top to the battery housing. It is tapered to fit the hand and has ridges to help with gripping the toy if your hands should be lube slick. It twists off but can be a bit tricky to slide back on as the threads are notched instead of swirled. You have to match the notches and press the lid down while turning to get a water tight fit.
The Moka runs on 2 AAA and I can confirm that the toy does not work well with rechargeable batteries. The little pamphlet provided with the toy warns that, "Rechargeable batteries result in decreased vibration intensity." I can confirm that with my rechargeable batteries the toy wouldn't even turn on! I popped in a fresh set of non-rechargeable batteries and it fired up immediately. Does this bother me? Not enough to not use the toy but it does make me wonder...
The Moka has the usual tapered tip of a G spot toy. The neck of the toy gently curves and the head swells to a substantial and beveled oval that measures almost 2 inches from top to bottom and 1.25 inches across. It covers a wide area and is sure to please most female bodied players. The tip of the toy can be a bit poky, and there is a pronounced lip on the base of the G spot that can catch on a pubic bone painfully, so I would recommend that the sensitive player uses some care when thrusting the toy. This is more of a slow gliding toy than a quick and dirty thrusting toy, in my opinion. If your G spot likes firm pressure, Moka has you covered! If you like great vibrations and patterns then Moka can perform. If you like to run your toys in small circles over your G spot then, Holy Cow, can Moka please you!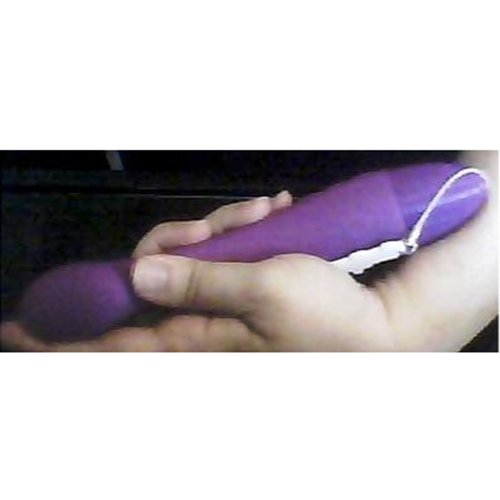 The controls for the vibration are located on the side of the toy, near the base, embedded in the silicone so that there can be no water leakage into the toy, itself. There are three buttons: "+", "-", and "M". Plus turns on the toy and increases the intensity of the the vibration. Minus lowers the intensity and turns off the toy. The M button controls the patterns and activates with a firm, deliberate push. I have found the M button to be rather finicky and you need to be sure you press and hold just a few seconds for it to register the change. This could be simply a quirk of my little guy but it's not enough of a quirk that it causes frustration.
Experience
The Moka offers 12 variations in vibration though some of them are so subtly different that they aren't as noticeable. PicoBong names the variations:
*The Rock- Straight vibration no variation. It starts out whisper quiet and very light. In the lower speeds it is quite rumbly but at higher speeds it is buzzy and felt on the surface easily. At the highest speeds it is solidly medium in terms of speed and intensity.
*The Pulse- A thumping pulse that is very teasing on lower intensities. There is a complete pulse break that is easily felt on all settings.
*Bold Pulse- PicoBong describes this as a 'Rock/Pulse combo'. The pulses are vigorous but they don't pulse break so there is no loss of sensation.
*Mid Pulse- This is a bit faster version of the Pulse.
*Flash Pulse- The fastest version of the Pulse.
*Half Wave- This is a jolting type of variation that build up to a great intensity before falling back away.
*Flash Half Wave- Faster more intense version of the Half Wave.
*Full Wave- This variation builds up slowly to a peak and then falls equally slowly back to the beginning.
*Flash Full Wave- This variation builds quicker to a peak and falls equally quickly back to the start.
*Bunny Slope- This is a reverse of the pulse variation. It builds in intensity and then pulses a few times before resetting and beginning the build again.
*Roller Coaster- This is a longer version of the Bunny Slope with more pulses and a longer build up.
*Bumper Cars- My favorite setting! This is a mix of everything the toy can do at whatever speed/intensity your body needs.

My Moka isn't incredibly 'whisper quiet' though that could just be another quirk of my particular toy. It is, by no means, a jackhammer but it is noticeable. It cannot be heard outside the bedroom if the door is closed. It might not be totally unnoticed by a sleeping partner or roommate but it certainly won't have them plugging their ears...unless you aren't as quiet as your toy!

Washing the Moka is as simple as hot water and soap. You could also use a commercial preparation or a toy wipe and a quick rinse before use. I have not noticed my Moka picking up lint but a quick rinse before play never hurt anyone! This toy cannot be boiled, or washed in the dishwasher even though it is waterproof.
Store in the original box, unless you manage to totally mangle yours like I did mine. I would advise against storing in a drawer next to jelly or other soft silicone toys, though more than likely nothing would happen. It would be a shame to mar the lovely finish of this toy.
Follow-up commentary
9 months after original review
This G spotter is still one of my favorites because it reaches exactly where I need it to and the vibrations work amazingly well as a clitoral vibe. It's an all in one type vibe and is my recommendation for those ladies who have limited budget but want clitoral and thrusting toys.

It still looks like new and has seen some hard use!
This product was provided free of charge to the reviewer. This review is in compliance with the FTC guidelines.

Thank you for viewing
Moka
– contoured g-spot vibrator review page!