Good to Have In the Arsenal
The Moka has a flat head designed for G-Spot stimulation and that is exactly what you get. A good vibrator that can certainly help you find the spot, it is fun to play with. It could have put in a little more power, but overall it's a very solid toy for G-spot play.
Published:
Pros:
Quality materials, Waterproof, very quiet
Cons:
Battery compartment is a little weird, could have more power.
The Moka is manufactured by Lelo, and the PicoBong brand seems to be similar to me as Banana Republic/Gap/Old Navy. Gap and Old Navy don't quite have the quality of Banana Republic, but is still a good item to have in your closet. This is what the PicoBong brand seems to be for Lelo. A great way for those who don't want to invest $100+ in a toy to get entry into the Lelo brand/family. The Moka has an ABS plastic base where the battery compartment is and is made from food-grade, hypoallergenic silicone. It is anti-bacterial, waterproof and phthalates free. The silicone feels great, similar to other Lelo products that we have, smooth to the touch, but with just enough drag for you to enjoy.
The Moka is waterproof, which is fantastic. We tested it thoroughly in water, both in the shower and submerged in the bath tub and it performed very well in the water. The booklet states that it can be submerged up to 3 feet, so you could use this in a pool as well.
This toy uses 2 AAA batteries that are inserted at the base of the toy. The bottom cap unscrews and you insert the batteries that way. This is where a complaint about this toy comes in for me. The diagram on the booklet seemed to indicate placing the batteries in the same direction, but that didn't work. Then I tried the reverse and still no juice. I found that one battery inserted with the + end towards the vibrator and one with the + end towards the cap brought it to life. The diagram could be a little easier to understand, but once it works you should be fine.
The Moka is 7 3/4" long, with 5 1/4" of the length being insertable. The diameter is 1 1/4" at the widest part of the toy, near the base, with the flat head being 3/4" by 1". This is designed to stimulate the G-spot, with the shaft being curved and the flat head designed for G-spot stimulation. It can also stimulate the clitoris, genitals, or breasts, but I wouldn't recommend it for anal play since it doesn't have a flared base.
The controls are pretty straightforward. There are three buttons that poke out on the side of the toy near the base. The one closest to the cap is the + button, which when held down turns the toy on and increases the vibration patterns. The middle button changes the vibration patterns within the toy, of which there are twelve distinct levels. The top button is the - button and decreases the power and eventually turns the toy off. I am including a diagram from the PicoBong website detailing the vibration patterns below: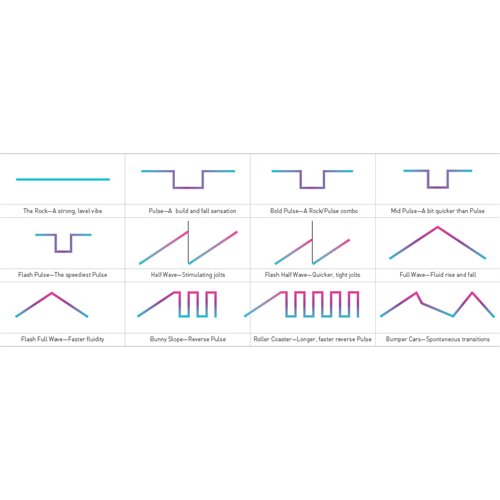 We tried all of the vibration patterns and S was most pleased with "The Rock," "The Half-Wave," "The Full Wave," and "The Roller Coaster." Some of the patterns didn't work for her but they may work for you. We do wish there was a little more power to this toy. It's not weak, I'm giving it a 3 out 5 on the Vroom scale, but this could be a truly awesome toy if there was a little more power behind it. Bumping the power up to about a 4 on the Vroom scale would send this toy over the top.
The Moka is very quiet, like eerily quiet. Even at full power it was not much louder than a subtle buzz, which is fantastic. I would give it a 1 out of 5 on the Bee scale for volume, we were very impressed with it.
The Moka can be used on many different body parts as stated earlier, but it is really great for G-spot stimulation. With very little effort I was able to find my wife's G-spot using this toy and the flat head allowed for a lot of coverage which was even better for her.
The battery life has been good for this toy, we got about 2 hours of play with 2 AAA batteries. Remove the batteries when you are not using the toy as it will aid in preserving battery life. I'd also figure out some way to note where each battery should go, although I haven't figured out a good way to as of yet.
Experience
Cleaning this toy is very easy. It can be submerged in water, so you can give it a very good scrub in your sink or bathtub if you choose to with warm soapy water. Toy wipes/antibacterial wipes and/or sprays are also great for this. I would allow it to air dry for a little while before putting it away. The silicone is a magnet for lint so when not in use or drying make sure you have tucked this away somewhere safe. Do not use silicone-based lubricants on this toy as it will damage the Moka, nor should you store it next to (i.e. touching) another silicone toy. Storing silicone toys next to each other can degrade the integrity of the toy itself and make it unsafe for you to use, and you've spent all this money, you don't want to throw it away, right?

The Moka arrives in a pink and black box with a clear plastic front that displays the toy. Not subtle at all, and if you are giving it as a gift everyone will know what is going on. Inside the packaging the Moka is held in place by a plastic clamshell-type casing, which can be a little tricky to remove the toy from. I wound up ripping the plastic apart so our packaging is definitely not suited for storage. I wouldn't store this toy in its box though even if I hadn't ripped up the packaging. The box is somewhat large and would take up a lot of space in a toy box or toy drawer. We have our Moka in a small drawstring bag and have stored it in our toy drawer.

Overall I give this 4 out of 5 stars mainly for the more RPM's that we'd like and the battery compartment problems. It's not a perfect toy, but my wife does enjoy it a good bit and we're looking forward to using it more. It is definitely something that would be good to have in your collection.
Follow-up commentary
3 months after original review
This is still good for G-spot stimulation, but it just doesn't have enough power for my wife. When she really wants her G-spot stimulated she wants more power and as we've used this toy more and more we've found that unless we use another toy for her clit she doesn't really get off that well. Still a good option for the money.
This content is the opinion of the submitting contributor and is not endorsed by EdenFantasys.com

Thank you for viewing
Moka
– contoured g-spot vibrator review page!