The "Holy-Moly" Trident
Now this is a magical wand! With the exception of being corded, it has all the other qualities that make an almost perfect toy of this type: power, interchangeable SILICONE heads, and a nice long cord. Not to mention it's a great value since it comes with the extra attachments, whereas with other wands, you have to purchase them separately.
Published:
Pros:
Powerful, silicone attachments included, long cord,
Cons:
Corded, loud.
I'd like to commend Cal-Exotics for a job well-done designing the
Pink Inspire Massager
. It belongs to the family of "Couture Collection" premium toys, which are made with higher grade materials. This toy is an erotic massager than can be used to work out the "kinks" from the head down to the toes, with a long pit-stop intended to be taken right at the epicenter of orgasm central. Yes, picky me was very pleased with this toy, from start to finish. I think anyone, particularly females - the target audience - would find enjoyment using this toy or having it used on them by a partner. Only one attachment is meant to be used vaginally, the triple "trident" one. The rest of for exterior stimulation only. Do not insert the entire wand in any cavity; it's not a dildo!
MATERIAL
This toy has a matte/velvet cote plastic handle to reduce slippage while holding it, and the attachments are made of a premium silicone of adequate density, firm enough to retain the shape, but still have some flex for added comfort. The silicone is non-porous, durable, and has no smell or taste. Lint and hairs will stick to the surface of the attachments, all of which have a smooth surface.
SIZE AND SHAPE
This wand is a perfect size, and not too heavy or cumbersome to use. It measures about 7.5 inches long with the dome attachment in place, and a few inches longer with the other attachments. It's much smaller than my Fairy Mini (see picture) with a thinner handle, and has a slight curve (see Image #2) to it on the topside. I couldn't tell if the curve made any difference during use. The neck is slightly flexible; however, however I'm not quite sure what the packaging is implying by stating that the head is "floating".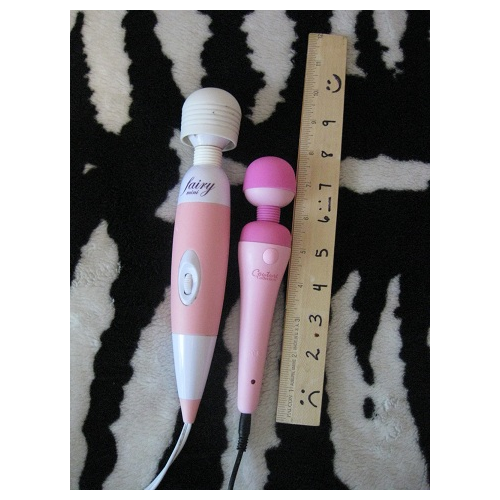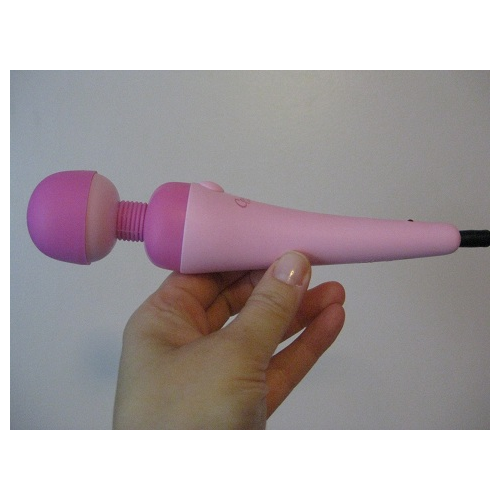 What sets this wand apart from so many others is that the upper 3/4 of the head (maybe this is what they mean by "floating") is interchangeable, as opposed to just capping an attachment piece over the already fixated dome (in the case of the Fairy and Hitachi wands). More often than not, the attachments will fall off that way as the massager is moved around. So Cal-Exotics figured out a way to remedy that problem by having each attachment snap/twist on, and they stay on! My video review will show how to make sure it's on correctly.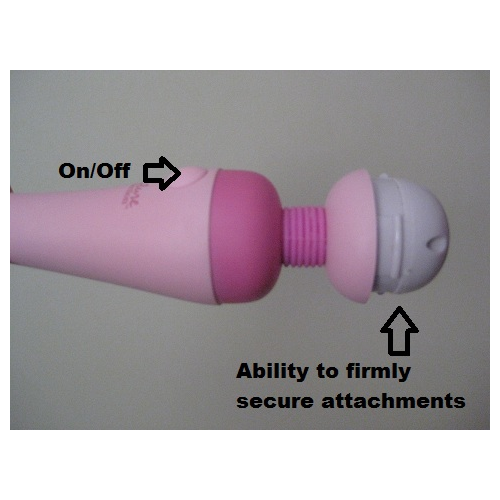 There are three attachment heads included with the massager, which make it a great starter kit. It comes packaged with the smooth silicone dome, includes a triple tickler, and a dual exciter. The dome is nice for massage over any bodily surface. The dual exciter, a two-pronged tickler that looks like two thumbs facing each other and could be used around a nipple in a clamp fashion; however it didn't seem to work so well on the clitoral area (unless you have a very large clitoris). The triple teaser is by far the best one, with a central "bulb" (2-3/4" penetrable) and two "thumb" ticklers pointed outward. These are great for simultaneously stimulating the clitoris and the anus (not penetrable) while working the g-spot. The only thing to be careful about is remember which "thumb" is on the anus (a sharpie mark on that end could help distinguish things) so bacteria isn't transferred.
POWER OPTIONS
This toy is powered with a DC9 adapter plug and has a generous 7 foot cord. It is not a rechargeable toy even though it looks as if it could be one. It MUST be plugged in to an outlet in order to operate. It's ready to use if the red light toward the end of the handle is on; otherwise check your connections. There is a warranty available from www.vibetronics.com if you register your product. The on/off button (not easily triggered) must be firmly pressed to power on/off the toy. Holding it down cycles steadily increases the speed from low to very high. It's rumbly, and a bit on the loud side, but WOWSA, it's so worth it!
CLEANING & MAINTENANCE
This wand is small enough to be taken about anywhere, especially if you are traveling. It does not include a storage pouch, so you may want to use a large Ziploc bag to keep everything together. The packaging is just flimsy plastic and could be saved for storage, but it's on the bulky side.
To clean, remove the attachment heads and wash them separately from the main toy with warm water and antibacterial soap, then leave to air dry. If any fluids do seep between the attachment and the main toy, they can be wiped off the wand with a damp cloth. Only use a water-based lubricant.
Experience
I loved this toy! I won't be using the dual prong attachment but the other two are going to get worn out! I'm hoping they will keep their shape, so I'm going to baby this toy. It's the first in a long time that I haven't had the urge to just toss in the garbage after using it a couple of times.
Follow-up commentary
7 months after original review
I like this one so much, that I gave it to my best friend who had never experienced the joy of owning a powerful want vibrator. I still never figured out quite how to use the double-pronged attachment, so maybe she will. It's a fun toy to own!
This product was provided free of charge to the reviewer. This review is in compliance with the FTC guidelines.

Thank you for viewing
Couture pink inspire
– sex toy review page!