In March, the Transportation Security Administration started delivering 450 full body imaging machines to airports across the country—ensuring that passengers around the nation get to have their underparts oogled by blue-uniformed strangers—but one privacy group is not turned on by the potential voyeurism. They've asked a federal appeals court to
suspend the program
and leave flyers their privacy.
The Electronic Privacy Information Center (EPIC) is the group bringing the issue to court, and they also say the scanners, which cost $1 billion, violate a bunch of bureaucratic policies and the Federal Video Voyeurism Prevent Act, which makes illegal the capturing of images that violate one's privacy. In the midst of
more vigorous pat-downs
being offered for those who choose not to go through the nudie scanners, it seems more and more that getting on a plane just sets travelers up for some hearty sexual harassment.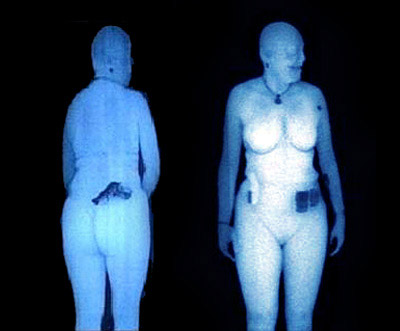 As Marc Rotenberg, executive director of the EPIC said, "The suspicionless search of all airport travelers in this most invasive way violates the reasonableness standard contained in the Fourth Amendment."
He also said the devices are designed not only to scan, but "to store and record and transmit the unfiltered image of the naked human body." At least we'll still have our
Flying Pasties
to fall back on.
***
Who
doesn't
want
life-sized erotic sculptures
of themselves scattered around the house? One Brunei prince has that, but he insists that the staues have no bearing on the lawsuit in which he's currently involved. Neither, he says, does his yacht, named "Tits."
Prince Jefri Bolkiah is the younger brother of the Sultan of Brunei, and he recently started suing his former business partners for mismanagement of his funds. Bolkiah claims that his partners ripped him off when selling his Long Island estate for only $11 million—but although his sexy effigies are housed in that same estate, they are "off limits" in terms of the case.
The
New York Daily News
obtained photos of the statues, which are said to have been modeled after Prince Jefri and his fiancé. They are explicit enough to make the defense lawyer "blush," so, we're guessing that Jefri's extravagant sex display was
not
covered by
Lifestyles of the Rich and Famous.
***
It's so cool to see investigative consumer journalism in action! In Kentucky, the Better Business Bureau has teamed up with local news outlets to
debunk a device
that, according to the inventor, can find porn hidden on computer hard drives.
The Porn Detection Stick (seriously, that's the name) is produced by the Utah-based
Parabean Corporation
, and it is just an unassuming black thumb drive that goes for about $100. Currently being marketed to X-rated-fearing spouses and families, Parabean claims that the stick is like "doing a digital forensic exam at home." But, as the BBB's CEO Charlie Mattingly found, it's more likely to find pictures of flowers, pandas and baby feet than any actual naughty images.
"Ninty-nine percent accurate I don't see here," Mattingly said after the tests. "I see about zero percent accurate." Maybe they should start calling it the Panda Detection Stick.