After spending several years on the sets of big-budget, New York films, she moved to pursue her art education in Toronto and has since returned to Brooklyn as an independent artist. Her intellect, raw talent, and respect amongst her peers earned her a spot in
the Into The Neon art show covered on SexIs
last week.
Can you tell me a bit about your background and how you got into art?
I feel like I got into the arts later in life, but I think it's more that I started to take myself seriously as an artists in the last five years. My background is in the lens-based arts, photography and film. When I was a kid, my father had a color darkroom in the closet of our one bedroom Philadelphia apartment. I remember hanging with him while he printed photos and experimented with alternative processes. So growing up I always had a camera to my eye. After film school I entered the work force as a union camera assistant and worked on huge movies and commercials and television shows. After eight years, I realized that at that level of filmmaking, there's no space for experimentation or even creativity—or anything other than pleasing the network. So in 2006, I left that industry and left New York onto a path to lead me to where I could take my art seriously. That path led me to grad school in an interdisciplinary MFA program at York University in Toronto, where they give you a large studio, and two years to conceptualize and realize a solo-show as well as write a hefty support paper and then defend it all to a committee. I've not turned back since.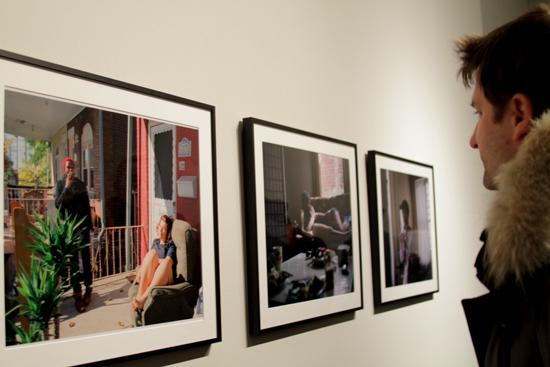 Into The Neon showcases "outsider" artwork by a variety of LGBTQ artists
What type of art do you usually create?
Lately I've been doing a lot of live projections, sometimes at parties and sometimes as theater backdrops. I work with a program, Max/MSP, that's perfect for interaction and live video synthesizing. But I consider myself an interdisciplinary artist. I paint, I photograph, I film, I sculpt, I make furniture. Art is about activating a space. It's about affect, instinct and relationships. I don't think mediums matter anymore. 
Can you tell me about your piece and what inspired it?
I Like Girls, phonetic is a floating light-based sculpture using Farsi letters to spell out the words, "I Like Girls." So if you read Farsi, it would be gibberish. I made this piece while I lived in Toronto as a reaction to feeling trapped between opposing identities, namely being an older Iranian immigrant in a city full of newer Iranian immigrants where Westernization is grasped and at times idealized—yet my Western-assimilated self was not taken seriously as an Iranian. So I decided to make a big blinking sign... much like some signs you'll find in the Bazaars in Tehran or Esfahan that use Farsi letters to write "coffee shop" or "jewelry"... to write, "ay liek gerls", or "I Like Girls." It's a declaration as well as a tactic to queer the gallery.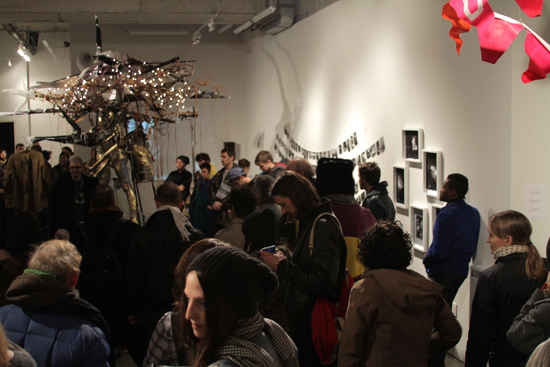 An overview of the opening night party at the Into The Neon exhibition opening.
Why was it important for you to be a part of this show?
There is a lot of beautiful energy in the queer community right now—between the performance night parties like
Pussy Faggot!
, the all queer and trans performance of
Antigone
, or parties like Choice C*nts, Hey Queen! and That's My Jam—we've got a lot going on in our community. One big thing missing, I think, is the visual arts. Representing that queer energy was the most exciting part of putting this show together. It was a chance to bring that beautiful energy out into a "gallery" curated collaboratively, unmediated by an outside curator, or the art world at large and in conversation with the art being bought and sold next door. 
Did you get to know the other artists who participated? What was it like sharing stories about your work together?
I knew a few of the
Neon
artists from working on other collaborative projects. But this was the first time we were bringing our own individual pieces together. Others I hadn't met. I think the most interesting part of this show was first getting to know everyone and everyone's personalities while we all organized the show, and then seeing everyone's work while we all installed. As an artist, I'm incredibly excited by other artists' processes. I think it's a portal into them. So while we didn't really share stories about our work, we all got to witness each other's process around our art. It's like an unspoken conversation. Some folks are calm, others are nervous, some pieces are deeply process-oriented, and others are a process. It's like watching the inner gears of a clock turn. It has definitely inspired me to do this again... and again... and again.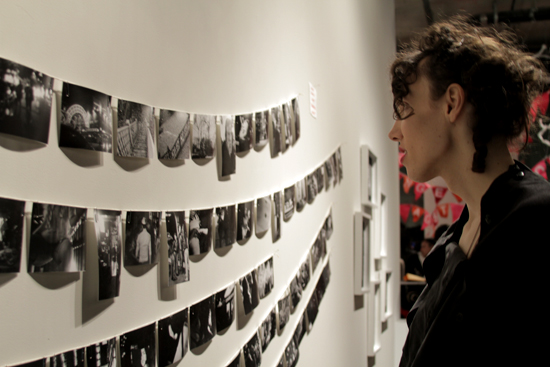 Guests at the Into The Neon show check out the work of the gay and transgender artists at Into The Neon.
So how was your work received at the show?
I think all of the work has been received well. I'm incredibly proud of our show. We set out to do a lot in a short amount of time. This could have been a recipe for disaster...but we all pulled it up and adjusted our pieces in order to make this manageable. Our show is up for two weeks and we have a whole host of events sprinkled throughout those two weeks, including a poetry night, a film screening, and two nights of performance art—as well as a set of faerie circles connected with another piece in the show,
Queer Fruit Tree
. ?
Are you working on other pieces at this time that you'd like to share some information about?
I am, I'm working on an interactive piece where people share stories via SMS based on a series of photographs I've taken over the year. It's another piece about being trapped between identities, and the similarities and differences between us. All within a context of what is home and what is belonging.