I'm Not Trying to Hate on Potatoes
This porn really surprised me and may have turned me onto a new kind of porn. I really liked the unscripted nature and spontaneous sex. It made it a lot hotter than directed fake bodies mashing themselves together at the hand of some director. The sets are gorgeous and the cast is mostly awesome, with the exception of one very drunk bad apple.

NOTE: I had problems with this film not fast forwarding properly!
Published:
Pros:
Mostly natural bodies, Little makeup, No script, Candid, Hot spontaneous sex
Cons:
Drunk blonde, Little anal or boob play, Lots of down time, Mostly vanilla, Will not allow FF
Content/Genre/Audience
Pleasure Island is part of Shane's World productions, brought to you by Adam & Eve. It's their 42nd volume! To be honest, I wasn't excited about this film and totally predicted it would be lame. I don't consider Shane's World toys to be high quality, so I expected the same from this, especially since it looked like a Girls Gone Wild video. However, I actually found this porn to be pretty decent! You won't find anything hardcore. It's mostly vanilla, typical sex, but the fact that it doesn't have a script and is very spontaneous makes it really hot! If you like home video kind of shoots sans condoms, this is for you. Unfortunately, the nature of the shoot makes the quality lower as the camera sometimes goes out of focus or isn't in the best spot. The cast is excellent. All except for one bad apple, that is.
--------
*Scores are subjective, based on sexual performance + appearance (out of 5)*
FEMALE CAST
Tori Black:★★★★★
Scene #2, 4
Brooklyn Lee:★★★★★
Scene #3, 5
Vanessa Cage:★★
Scene #1, Lost footage
MALE CAST
Johnny Castle:★★★★
Scene #2, 3
Michael Vegas:★★★★★
Scene #1, 3, 5
DVD Features:
The quality is mediocre. This is due to the non-scripted nature. As with reality shows like MTV's Real World, the camera can get bumped, is sometimes blocked entirely or partially obscured. The shot can go out of focus. There are no distinct sets, but the venue is gorgeous. Set is the Bahamas, the cast spends a lot of their time in a gorgeous beach house, in the crystal clear water, or on a boat. This is a fairly normal length of almost 2 hours (1 hour 57 min). Add to that the extra features.
- Lost Footage: Here's a whole bunch of footage that was not put in the film. There's a lot of lost dialog. Some of it should've been kept it in. For example, they discuss taking virginity and the perfect blow job. There's also a bonus sex scene between Vegas and Vanessa.
- Interviews: This is hilarious! Vanessa is plastered out of her mind and has no idea what she is saying. The girls are asked various questions about the industry, about life and themselves, what they consider to be the perfect vacation, what sexy means, etc. Tori and Brooklyn have insightful answers while Vanessa attempts to get the camera man to make her wet, screams, makes her "crazy" face, and enjoys the booze ride she is on... As amazing as this was, they don't interview the guys. P.S. This is where my title comes from, an awesome quote from drunk Vanessa.
- Chapter Selections
The product page says there is are slideshows, trailers, and website information, but there isn't. Sorry!
The DVD has one disc and comes in a standard case. It has a stunning picture of naked Tori on the beach on the cover with little snap shots. Apparently this is the collector's edition. The back has more X-rated snap shots. This DVD is not discreet even from the side which shows the same picture that is displayed on the front.
----------
*Scores are from my point of view alone (out of 5). For this film, my partner was unavailable.*
The movie opens up with everyone sitting in the airport waiting for their flight to the Bahamas. I recognized everyone but the newbie Vanessa Cage. It was interesting to see some of these actors without their studio looks, Tori especially. Tori looks different without makeup, cuter actually! The next thing we see is the crew in a van on their way to their gorgeous getaway, a large bungalow mansion. We are basically watching their vacation as they booze it up, goof around the pool, hang on the beach, and even go para-sailing practically naked. Sex ensues throughout...
#1 ★★ 1/2 Vanessa & Michael:
They start by skinny dipping in the pool. Michael gives Vanessa oral on the pool side before they move to the bedroom. Vanessa's breathing and noises seemed forced, faked, and over done, but she eventually acts more natural. Michael goes at it. I couldn't help but notice the abundance of bruises on Vanessa. I was distracted by watching Michael struggle to find places to put his hands without touching them! Vanessa gives some oral before he does her from behind. They switch up vanilla positions a few more times by throwing her around. The only mildly interesting parts are when he puts his finger in her butt. This scene drags on and he finally finishes on her face.
Pros: Nice male body, Ass fingering
Cons: Vanilla, Vanessa
They get drunk because it's Vanessa's 19th birthday. The girls dance around being redonkulous.
Experience
In the morning the hungover crew hangs out on the beach. Tori and Brooklyn actually go para-sailing. They contemplate giving someone a golden shower and then reconsider. HA!
#2 ★★★★ Tori & Johnny: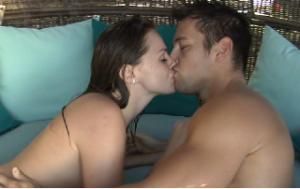 Tori and Johnny swim naked and then start to make out pool side. They are very cute together, and this scene is much more romantic than the first. They make it over to this cute wooden hut. He gives her some ass worship. Nothing better than a hunk giving a juicy ass worship, especially when it is Tori's! She gives him oral, and I love that Johnny is in heaven. I'm sure he's slept with tons of women, but it's like he's sleeping with a celebrity crush. They have sex in a sideways position which really shows his cute ass! They come out of the hut and do 69 on a lounge chair before doggy style. He comes on her face.
Pros: Chemistry, Juicy butts, Tori
Cons: No anal
----------
#3 ★★★★★ Brooklyn & Johnny: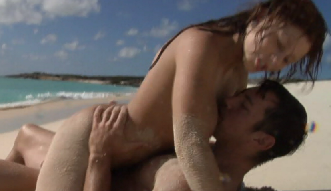 They decide to have sex on the gorgeous beach. I totally applaud their effort, but I was so distracted by the sand creeping up towards their ass holes. It's REALLY hard to have sex on a beach, but they actually did a good job with minimal cutting of the scene. They give each other oral and the waves roll in. It's actually really sensual and beautiful to watch. I guess I'm a sucker for nature. Again, it's all vanilla, tough. He cums on her butt.
Pros: Everything
Cons: except...watching the sand creep to bad areas!
----------
#4 ★★★★ Tori & Michael:
Tori gives Michael a sloppy blow job on the boat and then does her on top. It's odd because there are a lot of people in the background watching who are just operators of the boat. While they are having sex Vanessa and Johnny come sit next to them and watch. I thought they were going to join in when Tori gets on top, but they don't have an orgy like I expected. This scene at least has some different angles that show Michael's nicely shaved and rounded ass. He cums on her face again.
Pros: Good chemistry, Hot sex
Cons: Onlookers, Predictable ending
----------
#5 ★★★★★ Brooklyn & Michael: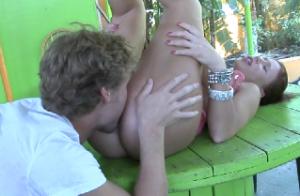 Michael and Brooklyn barrow an empty bar to have sex in. he starts off by putting her up on a questionable table and gives her annalingus and oral. He is so good at that! Brookyln really loves it. She gives him oral too and even puts his balls entirely in her mouth. They have sex on various tables in various fairly normal positions. This is my favorite scene because of how hot the sex is and I'm most attracted to her out the three girls. He cums in her mouth.
Pros: Hot sex, Brooklyn
Cons: Nothing!
Follow-up commentary
2 months after original review
This was worth watching, and I'd like to see more like this, but I passed it on because there wasn't much to this to watch again. It's like a movie your rent, but don't buy.
This product was provided free of charge to the reviewer. This review is in compliance with the FTC guidelines.

Thank you for viewing
Paradise Island
review page!