The Jersey Shore: Minus Negative Drama and Rated XXX
This super unique, real-life porn is just lovely. Beautiful, real girls thrown with two hot guys on a vacation in a beautiful tropical setting. The crew gets together, gets drunk, gets wild, and has a really good time. They go parasailing and go down on eachother. The film is quite vanilla, but if you're into that sort of thing, this is a wonderful professional porn with a delightfully amateur twist.
Published:
Pros:
Tori Black! Candid, 'real actresses,' no makeup, real bodies, beautiful setting
Cons:
Hetero, vanilla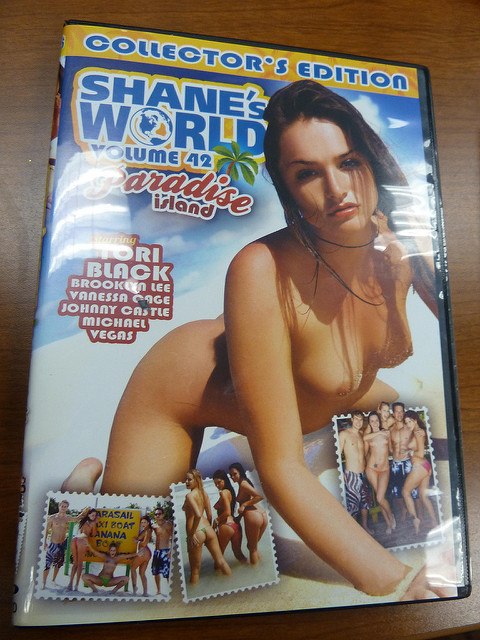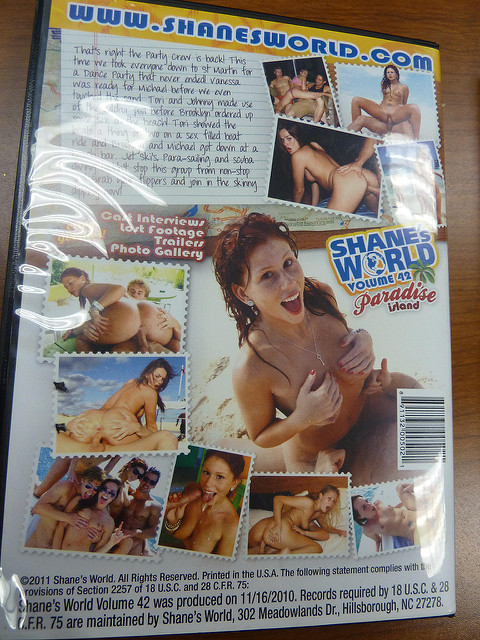 Shane's World brings Paradise Island to a shore near you! This super candid, college-fun adventure is as much a real-life tv show as it is porn. No script and no plot, but cameras following young bucks around St. Martin for a wild drinking, jet-skiing, hetero-sexy adventure.
The film begins with a long and quite boring trek, following the actors on their journey. They start out at the airport, follow the girls to their homestead in St. Martin, and to the grocery store. The fun only starts about 30 minutes into it when Vanessa Cage, the token drunk blond, decides it's time to partay! Vanessa is very chipper, and at merely 18, is kind of adorable. Normally the drunken, slutty blond girl would annoy me. Vanessa's kind of hard not to love. Like the other girls, she wears no makeup, bears it all and appears to be a genuine individual. Silly as she may be.
We see Vanessa running outside in her skivvies. 'This is how you end a dance party!' she tells the camera. She and Michael Vegas jump naked, hand-in-hand into the pool, where the XXX fun begins.
The foreplay is predictable and standard. Cunnilingus, fingering. Vanessa's body is real: pudgy belly, and real tits that bounce with the arch of her back as she rhythmically moans into Michael's fingers and tongue. He takes her to the nearby bedroom and throws her into the bed, where he wiggles his half-hard cock into her. It's really not that sexy seeing his floppy penis moving between his fingers, trying to get hard enough to stuff into her. Like a Christmas turkey.
The sex is also standard for hetero porn. That means:
*Pounding like a jackhammer
*No ass play
*No toys
*No BDSM
*No fantasies, no fetishes, no nothing but straight vanilla sex
*And the male is uber dominant. And she screams throughout, as a good girl would.
The next morning, the girls make fun of her for keeping them up all night with her squawking. And with good reason. Throughout Vanessa's scene, her moaning seems a little forced, and a little much.
Now if you like heterosex, you will
really
like this DVD. It's so well-done and unique in its honesty and lack of plot or script. The sex is standard for straight porn. It's just that I don't dig straight porn. That is all.
Tori Black in all her fine, all-natural, makeup-free glory gets it on with Jonny Castle poolside. They climb into a little swinging tropical bungalo and do the deed. Jonny is your typical guido. Tanned, ripped, shaved. He's certainly handsome, and has thick lips, which he doesn't really put to use, to my chagrin. If I were him, I'd be all over Tori Black's flowerpot! Like white on rice.
There's really not much leading up to the sex, including kissing or flirting. No flirting! I'd like it more if the kids flirted with eachother in between the sex scenes. Still. Same hetero pattern of sex here. Pounded out like on the Discovery Channel. Nothing new. Nothing to comment on.
We see the kiddos heading out to the gorgeous white beach in St. Marten, where they jet-ski naked, slather suntan oil on eachother, and Tori Black and Brooklyn Lee even go parasailing! The crew is joking together and being silly the whole time. Even during sex scenes they make a few jokes. They're really a crew of young, fun-loving kids. It's refreshing to watch them in all their carefree glory. And in a place like St. Marten! And getting paid! Sigh. Why am I not a porn star?
The girls go to a beachside bar and we see them taking shots out of what appears to be a dildo. The bartender even pours a shot down Tori's super sexy G-string bikini bottom-covered ass! The crew takes turns drinking it as it drips from below. The girls are topless the whole time. Everyone is having, seriously, a good time. It's just like Jersey Shore! But no drama. And uncut.
Brooklyn and Jonny Castle get it on on the beach. And Michael fucks Tori on the boat while Jonny and Vanessa cheer them on. It's a bit awkward, honestly. I wish they'd just had a big orgy. Alas, again.
Brooklyn and Michael do their thing and that's really all she wrote. Personally I enjoyed the between-sex-scene-footage more than the sex scenes. That's because I don't like males in porn. So take that as you will.
Experience
I appreciated the freshness of this kind of porn. No script, no plot, no 'acting' even. Just some kids paid to go on vacation, hang out and get drunk, and fuck. This lends a very honest, candid air to the entire film. There's no flubbed dialogue, no unbelievable plot, and no cheesy one-liners. It's like amateur porn with professionals. Best of both worlds!
The DVD quality is top notch. All the scenes are well-lit and flattering to actors' skin tones. The DVD case is professional, and the opening menu includes cute animation, fun music, and even scene selection with video clips instead of still shots for each scene.
Production quality is great too. No mumbling or whispers half-heard in the heat of the moment. Shane pulled out all the stops. It's a 'Real World-esque' film feel, just completely uncut, and with professional camera crew. One thing that did bother me about the way it was shot was how aware of the camera the actors were. They spoke directly to the camera often, and even glanced at it on occasion during sex scenes. This kind of broke the feeling of voyeurism for me, but some folks might be into it.
I can't tell you how long any of the scenes lasted, because for some reason the fast-forward and even selecting a different place on the timeline did not work while playing this on my computer. Believe me, as vanilla as the sex scenes were, I tried to use it.
The DVD features scene selection, photo gallery, trailers and interviews with the girls, which are pretty cute and funny.
Now for the screencaps! Sorry they're such bad quality. Had to take them of my screen with my camera.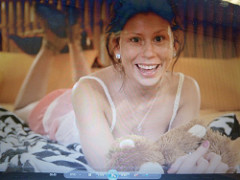 Brooklyn Lee in her interview.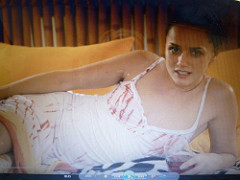 Tori Black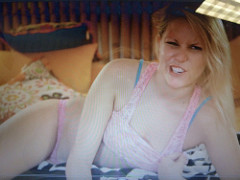 Vanessa and her drunkenness.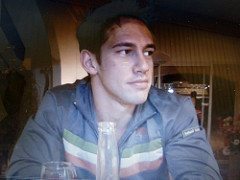 Jonny. Handsome, no?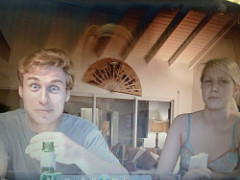 Michael Vegas laughs at Vanessa.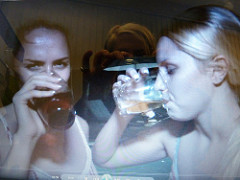 Pretty much sums it up.
Follow-up commentary
3 months after original review
Tori Black is still one sexy lady. I'd much prefer to see her in lesbian porn, because this is not really my taste, with macho men flouncing around... still, the documentary-style, uber-voyeuristic way this was shot was much to my liking. All around, this is a pretty unique, sexy film with some amazing visuals to boot.
This product was provided free of charge to the reviewer. This review is in compliance with the FTC guidelines.

Thank you for viewing
Paradise Island
review page!