Cloned-A-Half-A-Willy
Overall we are glad we finally invested in a cloning kit, though the moulding process was tricky to say the least, with the detail and resemblance you can get, it was worth it.
Published:
Pros:
Highly detailed realistic dildo if made right, strong vibrator.
Cons:
Very tricky to make! Porous rubber material.
I'll start my review by mentioning that for a few years now I've had my eye on the Clone-A- Willy kit. After getting married recently I figured that there was no better time to commit to lovingly cloning a man's penis. With my husband well aware that it's been an idea in my head for years, I know he was more nervous about the moulding process than anything else!
The Clone-A-Willy Kit arrives packaged in a clear plastic cylindrical tube. Inside is almost everything you will need to make a perfect clone of your or your partner's penis.
The kit includes,
-Moulding Tube
-Moulding Powder
-Thermometer
-2 Part Rubber Mix
-Stir Stick
-Vibrator
- Instructions
Some things you will need that are not included,
-A cock ring
-A mixing bowl (although we used a small storage box instead)
- A small piece of cardboard
- A sharp knife (for cutting away any lumps or bumps)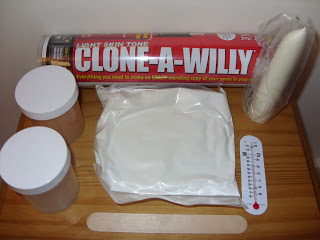 Seeing as the moulding process can be a messy job and knowing he felt the pressure to get it right, I decided to leave my partner the job himself. The experience section of my review was kindly included by him.
Experience—
There are several stages in using the "Clone-A- Willy" as well as a few additional items you must have ready before you start. You'll need scissors, marker/pen, cardboard, large mixing bowl, smaller disposable mixing container (at least 8oz), accurate timing device and access to hot water. Fortunately the instructions lay all the steps out as well as what you will need in addition to what you get in the kit.
The simplified steps are as follows.
-You have to measure the tube against your own erect penis and cut off any excess.
-Get water that is exactly 37˚C (or 98˚f) and mix in the moulding powder.
-Stir for around a minute and then pour into the tube.
-Keep it on for about two minutes.
-Once mould is set remove penis and leave the mould to sit for two hours.
-Mix the two rubber compounds together by stirring for at least two minutes.
-Pour into the mould and then insert the vibrating unit.
-Leave to sit for 24 hours and remove.
These are the bare bones of the steps you have to follow. Trying it on your own is quite difficult for a few reasons. Probably the most difficult part I encountered was the actual moulding. Trying to press my penis into the tube without spilling the moulding gel or pressing it against the side of the tube and distorting the mould was a bit difficult. Added to this the gel sets very solid within two minutes of starting to mix it. Furthermore you need to maintain an erection while trying to keep track of the steps as well as timing and temperature. There is a sense of pressure with the timing that can make this difficult.
While these steps do seem a little daunting and they are to a certain extent; the instructions included are very comprehensive. They include all the information you will need to get things done. The moulding gel sets in such a way that it does not stick to either skin or hair which is a serious plus if you have any pubic hair. Once the mould is made the adding of the rubber compounds and removing of the finished product is very simple. The rubber sets after twenty four hours and you can just cut away the plastic tube and break away the moulding gel.
Experience
Result-

After the dildo had been left to set for 24 hours as instructed, my partner was still a little nervous to say the least. Admitting that the process had been more complicated than he had thought and saying that he had been surprised by how quickly the moulding gel had set, he didn't have high expectations for our cloned willy.

Pulling the set dildo out of the moulding gel it was obvious that the base of our dildo was far from perfect and the cock ring which had been used the while making the dildo had left its mark on the resulting dildo too. Despite the fact that the base of our dildo was out of shape, the head of the dildo was actually a perfect replica of his penis, with finer detail than either of us had expected.

Being happy with the top half of our cloned dildo and not too happy with the base, I made the decision to make a knife to ours and cut it in half to salvage it ( yes my partner had the pleasure of watching me cut his cloned willy clean in half!) Luckily we had decided to just make the dildo and not to use the included vibrator. I don't know how fix-able our dildo would have been otherwise. Using a sharp knife, it cut clean and quite easily. I then used a glass nail file to file down any minor lumps or bumps right at the base of the dildo. The final result was a perfectly detailed Half-A-Willy! I was actually impressed at how salvageable it turned out to be and with me not being a size queen I'm pretty happy with it.

Vibrator-

The vibrator included is a basic lady finger style vibe, off white in colour and made of plastic. It is single speed and powered by a single AA battery. We chose not to set out vibrator into the dildo as we wanted a submergible dildo but used separately the lady finger style vibe is certainly quite powerful for a vibe powered by just one AA, but with power comes noise! But maybe when used within the dildo, this insulates it to a point where the noise level is acceptable.

Material/Care-

With the resulting Cloned Willy being made of rubber, it is unfortunately a porous toy and so does not clean well. It is recommended that condoms be worn over rubber toys. Both water-based and silicone-based lubricants are safe to use with rubber toys. To keep my cloned willy dust-free in between uses I store it in its own zip-seal bag.
This content is the opinion of the submitting contributor and is not endorsed by EdenFantasys.com

Thank you for viewing
Clone-a-willy kit
– molding kit review page!