P-spot delight.
Being the biggest of the Aneros line, the Progasm is filling, stimulating and easy to use. As a "Hands free" style of P-spot massager or hands on, it will take you anal bliss. The best of the Aneros line I have used yet.
Published:
Pros:
Very stimulating, Perineum and Kundalini tabs are comfortable, Moves nicely hands free.
Cons:
Takes time to master.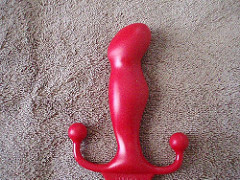 Aneros is one of the well known manufactures of prostate specific massager's. Anyone familiar with P-spot play knows the name. These toys are designed to be used hands free using the pelvic muscles to work the toy in and out while massaging/milking the prostate. This model has two 'Tabs', one on each side, to provide extra stimulation to the perineum (P tab) and Kundalini (K tab). I found these to be much more comfortable than the disk style tabs on the Helix model I had.
This model, the Progasm, is the biggest in the Aneros line coming in at 1 1/4" diameter, 4" circumference and is oval in shape - quite a bit bigger than my Helix. It has 4 1/2" of insertable length. The tabs are located about an 1 1/2" from the shaft center line. For me the P tab hits perfectly but may not for all users. This could be adjusted using a heat gun but it is rather tricky to do. I no longer have my Helix because of this. Also, there is a flat 'tab' on the bottom, this has the Aneros name and helps by providing a small handle to aid in removal.
Here you can see the oval shape and the size relative to my hand;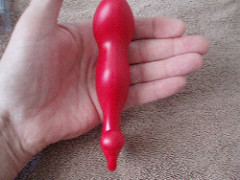 Notice that from this view you can see the head is bigger than the second bulge. I find this very nice and filling, yet not big enough to prevent the Progasm from moving easily. Furthermore, the top will target the top of the prostate very nicely.
The Progasm is made from
Plastic
, this means it is hard and unforgiving. The finish is smooth but not glossy and holds the lube well. There is a trace of a mold seam but it can barley be felt with my fingers. You can chose from five colors; red, blue, white, black and purple.
Any lube you like will work with the Progasm although I find water based works the best. It just seems to glide easier than with silicone based lubes. Of course for shower/tub play silicone cannot be beat. Remember to use a good amount and reapply as necessary.
For cleaning you can use soap and water or a toy cleaner. Plastic is somewhat porous so I do not recommend sharing unless you use a condom. You can use rubbing alcohol but it is not 100% affective in removing all the nasty bugs.
Aneros packages the Progasm in a clamshell style plastic container. The toy is displayed on the front and there is some use information. For more in-depth use info you can find it on their site
here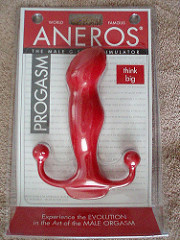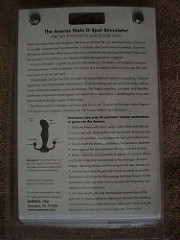 As you can see it does nothing to hide the toy from view, so you may need to be careful where you open the package or store it if you use the container. I just toss it in my storage area after cleaning without packaging.
Experience
So how does it work? Basically, after you lube up and insert it, you contract your PC muscles (clinch your ass) to get it to go in. This not only pulls it in but when the P tab contacts the body it causes the Progasm to move towards the prostate. Also the K tab applies pressure to the Kundalini spot.(I could find no info on this erogenous spot, but it does feel good) Then you relax and push ( like you are pushing...uh, stuff out), this allows the bulges to glide across the prostate. Supposedly, mastering this technique can bring the elusive "Hands free super O". That is, a climax with ejaculation without penile stimulation. Sadly, I don't have the patience to do this. The stimulation is something that takes a lot of concentration and focus to feel when using it this way. Plus I do not always have the time to devote to it. I do use it this way when I have the time though.

I much prefer to use it like a probe or dildo. I just find it better for directing the Progasm to the area that feels best. I get much better milking in this way as well as better overall stimulation. Adding just a little bit of stimulation to my penis is all it takes to seal the deal. Furthermore, adding a vibe of some kind can really add a new dimension. I like to use a bullet and attach it with a couple of rubber bands to the base. The hard plastic transmits the vibes nicely and they travel all the way to the tip.

Another great feature of this toy is its ability to stay in. Solo masturbation or sex with the wife matters not, it stays firmly planted in my ass. It seems to also help with lasting longer as well. Oh ya, when used during sex with the wife, it produces about twice as much ejaculate. I think this is due to the extra milking and the extra stimulation to the anal/prostate area.

I do not recommend this for the total newbie, but for someone with a little anal experience this could work well. And ladies, I see no reason that it could not be used for G-spot play. I would think that the P tab would work on the clitoris and the K tab could provide some anal stimulation as well. I guess it may be to hard for this, but you never know.
This product was provided free of charge to the reviewer. This review is in compliance with the FTC guidelines.

Thank you for viewing
Progasm
– prostate massager review page!