Short name but certainly not short on pleasure!
With its smooth finish, classic and simple shape and well thought out base; for me the Neo is as close to perfect as a plug can get. Smooth and comfortable while pleasantly stimulating.
Published:
Pros:
Silky finish silicone, size suits beginners and intermediates, well designed base.
Cons:
Can't find any!
Being a big fan (and equally big collector) of Tantus toys I was surprised to recently realise that my Tantus collection was lacking when it comes to anal toys, particularly butt plugs. With three new butt plugs (the Neo, Juice and Twist) on the market from Tantus it seemed like there was no better time to add my first Tantus plug.
Packaging:
The Neo arrives in Tantus' usual style of packaging, a clear plastic box which is free of any sexual imagery. On the back and sides of the packaging you will find plenty of information about the silicone used in Tantus toys. The Neo arrived in what I know as the slightly smaller size of Tantus box, fitting nicely in it with no excess packaging. As the clear plastic box is so transparent, it gives you the advantage of being able to see the toy from every angle while it still sits in the packaging. Still in its packaging it looked bigger than I had been expecting so I wasn't sure at first whether this was just a visual illusion caused by the plastic.
First Impression:
Available in two colour options; black or purple. I opted for the bright shade of purple which in person looks cheerful and vibrant.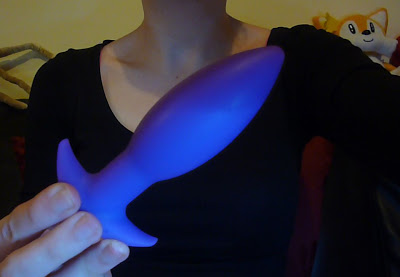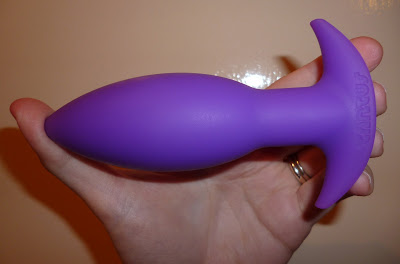 Seeing the Neo in person for the first time it appears to be an ideal size for intermediates. With a slim pointed tip, bulbed shape and thick body, it is simple in shape and design. Being made of silicone it is completely scent and taste free. It has a silky smooth feel to the touch and is quite firm feeling at the 'bulb'. When squeezed it actually feels like it has a solid core set inside the silicone.
The slimmer 'neck' of the plug feels more flexible and the pointed, oblong shaped base is quite flexible too. The neck and base fit between two fingers nicely giving you a solid grip on the base. Engraved on the side of the base (in a place that shouldn't affect cleaning too much) is the name Tantus.
Measurements:
Total Length: 4 ¾ Inches
Insertable Length: 3 ½ Inches
Circumference of bulb: 4 ½ Inches
Circumference of neck: 2 ¾ Inches

In Use/Experience:
The slim, pointed tip of the plug makes for easy insertion and the silky finish silicone works well with lubricant to make the expanding girth of the plugs bulbed body comfortable. The bulb-like shape creates a gentle sensation of stretch during insertion and the neck and base are easy to grip, keeping a good distance between your hand and any lube used.
Not personally being a fan of anything more than the smallest or gentlest of anal toys I was surprised by just how gentle but pleasantly stretching the Neo feels. While it feels firm in the hands, once fully inserted it feels like a much softer or forgiving toy.
The Neo is comfortable for extended wear and only stimulates or is felt when squeezed with your muscles. Its size easily allows for a dildo to be enjoyed vaginally at the same time.
Being made of silicone and easily sterilizable the Neo is also quite suited for vaginal plugging. With its insertable length of only 3 ½ Inches its pointed tip doesn't became uncomfortable during vaginal wear. Its girth doesn't leave you feeling too full and after a while of wear it only becomes noticeable when squeezing your kegel muscles.
...
Experience
The base of the Neo is not just handy for gripping onto but its sits comfortably against the body when used either anally or vaginally. It is a great shape for using on someone else as the double finger grip around the base (which I will include a photo of) gives you a particularly good grip with the plug facing away from you.
Another bonus that the shape of the base brings is that it is suitable for placing inside a chastity belt intended for use with internal plug. I own a chastity belt which features two plug holders for vaginal and anal plugging and the Neo works well when placed in either holder.
- Side View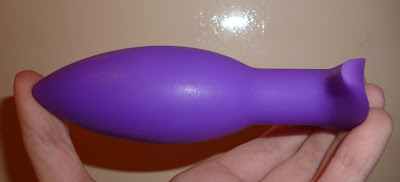 - Ideal Grip
Care:
Made of high-quality Silicone, the Tantus Neo is both Latex and Phthalates free, silicone is completely non-porous meaning that it can be fully disinfected by boiling it for 3 minutes or by throwing it into the top rack of your dishwasher or it can be simply washed after use with warm soapy water or specialized toy cleaner, it is generally believed that silicone based lubricants should not be used with silicone toys. I would recommend using a generous amount of water-based lubricant with the Neo as its silicone has a matte finish.
When not in use, I keep mine in a Zip-sealed plastic bag; this keeps him dust and lint free as silicone toys are well known for attracting hairs and dust.
This product was provided free of charge to the reviewer. This review is in compliance with the FTC guidelines.

Thank you for viewing
Neo
– advanced butt plug review page!