Small And Simple, But Not Boring
I love the Spur! It was a good beginner Vixskin for me since it's cheaper, and it's very versatile. You can use it without needing to warm up like with larger toys, and it never hurts or makes me sore. The base is firm for easy insertion but it's comfortable for gentle g-spot stimulation and clenching your muscles around (unlike super-firm O2 toys). I highly suggest it if you can see past the slim shaft.
Published:
Pros:
VERY realistic, easy to insert, easy to clean, can be boiled.
Cons:
Slightly too small, tacky (which some people may not like), can collect hair and lint
I own a couple realistic toys (the Tantus Mark and VIP Super Soft), but the Spur was my first Vixskin. I was excited about it because many people on the site say that Vixskin toys are the most realistic.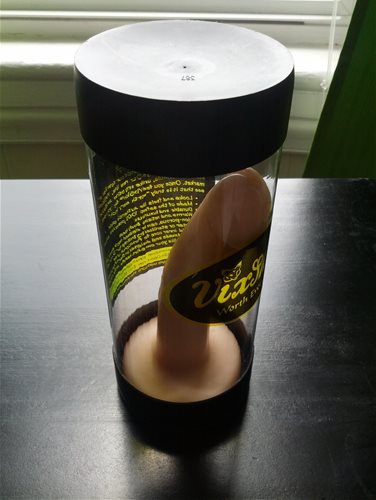 It arrived in a small plastic cylinder, which is just big enough to fit the base of the Spur. The top is a bit annoying to open and close, and on the side, it lists the product's features and Vixen's contact information. I'll include the features here since they sum up a lot about the toy:
"-Looks and feels like authentic skin!
-Made of the safest 100% premium silicone
-Durable and luxurious
-Warms and retains body heat
-Non-porous, can be cleaned with soap and water or sterilized by boiling for 3 minutes
-Solid inner core for functional use
-Handmade and designed in San Francisco
-Treat like your own skin, handle with care"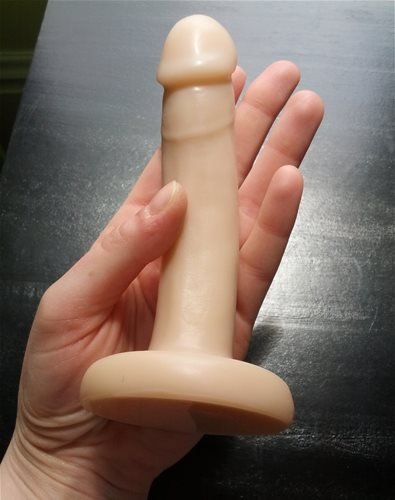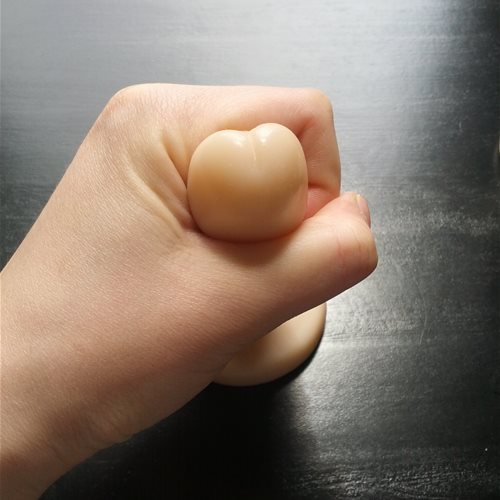 I knew the toy would be small, but, honestly, I was not impressed with how thin it was when I took it out. And the texture of the toy is a bit tacky to the touch and collects hair and lint. It feels impressively realistic, but when you first take it out, it feels a bit cold and clammy (which is weird). I like it better after running it under hot water.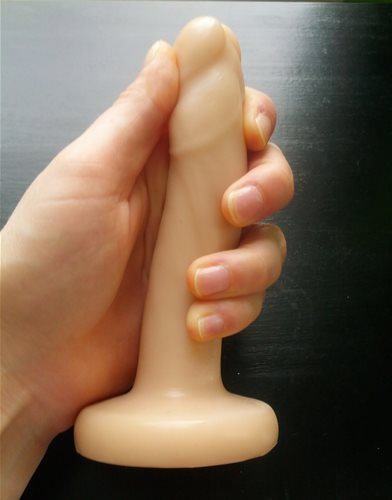 It has a firm core that makes it feel a bit more substantial and less floppy, and it's very easy to twist the shaft all the way around.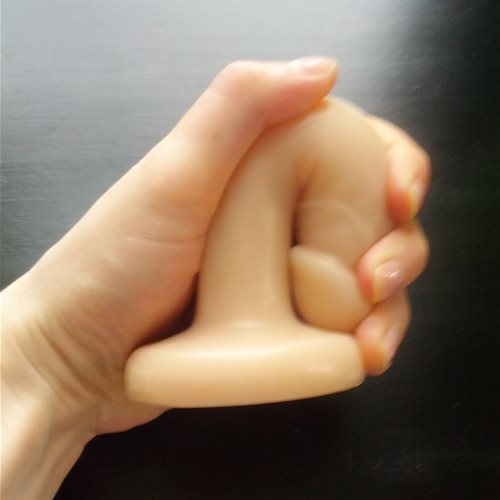 It also seems to bend very easily without causing any ripping in the toy. The soft outer layer is pretty thick relative to the toy and very squishy (unlike my Tantus Mark). But it seems pretty durable, as I have not seen any marks in it. I would only be concerned about having it near sharp objects, but overall I'd keep it in a plastic bag or in the cylinder anyway to keep hair and lint off of it.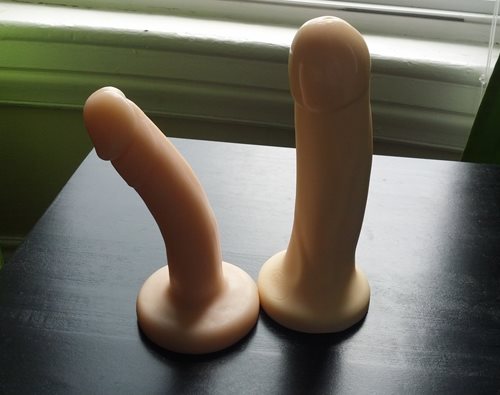 Again, the toy is very small. Here is is next to the O2 Mark.
The measurements are as follows:
Length- 5 1/2" (the Mark is 6 1/4")
Insertable length- 4 3/4" (5 1/2")
Circumference- 3 3/4" (4 3/4")
Diameter- 1 1/4" (1 3/8")
I knew that it would be small, and I would prefer if it were a bit bigger like the Tex or the Mustang (which I'm considering for future purchases since I love the Vixskin line). But, it being a small toy, I appreciate it for what it is, and maybe other people will too.
It doesn't take much (or any) warming up to be able to comfortably insert it, and I can thrust with it as long as I want and it doesn't make me sore like bigger toys. It's also great to clench around it during orgasm. I just wish it were a bit thicker as I said, but I think it is almost perfect.
My first impression of it wasn't great, but it surpassed all of my expectations! I really enjoy using it, and often use it with a clit vibe and get powerful orgasms from it.
The base is wider than you would expect for such a narrow toy, but I can understand this if Vixen uses a standard cylinder size for the other toys, and their bases are likely the same size. It gets in the way a bit if I squeeze my legs together during use, but some people will find it a great feature for harness use or for anal use.
The feeling of it during insertion is amazing. It feels very close to the real thing, and it feels nice and realistic when you perform oral sex on it.
It doesn't seem to have a smell or taste. The slight tackiness of the outside never seems to go away, but I don't really mind it.
It isn't discreet at all, so it wouldn't be great for travel or leaving on your coffee table.
Overall, I am thrilled with my purchase! I'm much happier with my Vixskin toy than my O2 toys and intend to buy more Vixskin toys. I would highly recommend them for the realism alone. Plus, their website says that all Vixskin toys have a lifetime warranty. How can you beat that?
This product was provided at a discounted price in exchange for an unbiased review. This review is in compliance with the FTC guidelines.

Thank you for viewing
Spur VixSkin
– realistic dildo review page!