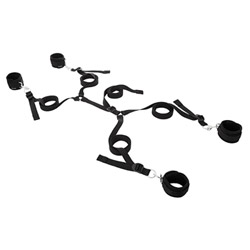 Under the bed restraint system
Under bed strap kit by Sportsheets
"By my love, I am bound to thee."
Bondage lovers young and old are bound to love these restraints! They adjust to a variety of heights and body types, but best of all, they restrain your partner without stressing their body.
Published:
Pros:
Easy to use, adjust to a variety of shapes and sizes, sturdy, comfortable.
Cons:
None!
(The mattress I used to test this product is an extra-long twin mattress. Also, this review is long and continues in to the experience section.)
I love bondage, but I'm picky about my materials. I expect them to restrain me without hurting me, and I expect them to put up with a lot of use and abuse. Sportsheets' under-the-bed restraints definitely fit the bill!
Sportsheets' under-the-bed restraints arrive in a plastic container. The picture on the front depicts a girl in pink underwear modeling the restraints, while the back of the box provides two diagrams that show you how to place the restraints under your bed. No further instructions are included.
The restraints consist of a 60" connector strap which has two Y-shaped ends that are used to hold the cuffs. Basically, the straps look like this: >--<. Both the connector strap and the arm/leg straps can be adjusted by pulling the extra material through a plastic clip. After adjusting the connector strap to match my height, I had roughly 1 1/4 feet of leftover strap. I'm 5'3", so by my calculations, this set could adjust to fit someone who was roughly 6'6" or shorter.
This restraint set also comes with 4 cuffs. The cuffs are about 2 inches wide and roughly 1/2 inch thick; they are incredibly soft and plushy. They fasten shut with super-sticky velcro and attach to the straps with a metal clip that looks just like the clips found on dog leashes.
The box claims that you can put the restraints in place in "seconds," but I have to disagree. Getting the restraints in place is a 5 minute job if you're doing it on your own, since you'll have to lift half of the mattress at a time and scurry around the corners to adjust the straps correctly. It's a good idea to get somebody to help you install the restraints, especially if you have a bigger mattress, but it's not necessary if you're willing to spend some extra time getting everything in place. The actual mechanics aren't that hard, either, and I'm pretty stupid when it comes to putting things together: just line the strap up so the Ys for your arms and legs are at the ends of the bed, tuck the connector strap under your mattress, then pull the arms of the Ys up on to the sides of the mattress. The system may look daunting when you first pull it out, thanks to how long it is, but it's actually super-simple.
Several of my friends were kind enough to act as extra guinea pigs. I was able to adjust the height and give of the straps to suit people ranging from short and thin to above-average height and weight without causing any pain or discomfort. Thanks to the simplicity of the system, all of the necessary adjustments took less than 10 seconds per person.
I also asked my friends to tug on the restraints, and the restraints held up marvelously; the velcro didn't peel away, the metal clips didn't warp out of shape, and most importantly, the straps didn't move out from under the mattress. None of my friends experienced any major pain or discomfort from the cuffs, and even the most intense pulling didn't make them chafe.
One of the best things about this restraint set is how adaptable it is. Depending on the thickness of your partner's limbs, you can fasten the cuffs around different parts of their arms and legs to change how their body rests; for example, I can wrap the cuffs around my calf, which keeps my knees farther apart. The straps are adaptable to a variety of sexual positions in general if you're willing to experiment. Missionary is the most obvious and the easiest to rig up, but you can lock your partner in, say, doggie style if you pull the straps extra tight or have them lower their torso, restraining them while still providing a bit of wiggle room.
On top of that, the metal loops that connect the clips to the cuffs are large enough to accommodate rope. I was able to run my
Japanese Style Bondage Rope
through each loop 4 times! This opens up a world of possibilities via combination rope/cuff bondage.
You can also use the clips on the cuffs to lock your ankles or wrists tightly together. If your partner has smaller arms, you can use the cuffs on their upper arms and wrists to bind their arms behind their back in a V-shape. My personal favorite "cuffs-only" use is a hogtie: simply clip your partner's ankles together, then connect one wrist to each ankle. Voila!
Experience
As an added bonus, Sportsheets' under-the-bed restraints are so un-obtrusive that you can leave them installed while you sleep. If privacy is an issue, simply remove and store the cuffs, then tuck the straps under your mattress. Again, it's not difficult to install the restraints, but if you're lazy like me, having the option to just "leave 'em on" is a real plus.
A few quick notes on cleaning: the straps are made from neoprone and nylon, and I'm relatively sure the cuffs are lined with cotton fabric. I recommend wiping the straps down with cool water if they get dirty, and you can hand-wash the cuffs if you feel the need.
Sportsheets' under-the-bed restraints
may seem too simple to be effective, but nothing could be further from the truth. These restraints are durable, easy-to-use, and can be adapted to a variety of situations. Best of all, they are relatively easy to install and are discreet enough to remain installed. This set is worth every penny!
PLEASE NOTE:
Safety is an integral part of pleasurable bondage play. Make sure you can slip a finger under each fastened cuff to avoid cutting off your partner's circulation. Do not use these cuffs for suspension; if you want to try suspension bondage, invest in the proper equipment. Always give your partner a little wiggle room to prevent straining their muscles and specifically ask them if they are in pain. A safe word is usually a good idea when it comes to bondage sex.
Video, excessive pictures, and personal ramblings over
here
.
This product was provided free of charge to the reviewer. This review is in compliance with the FTC guidelines.

Thank you for viewing
Under the bed restraint system
– under bed strap kit review page!