A fun addition to the bedroom
Overall, this is a fun set to have. I am a fan of the Sportsheet brand, and with this set you get 4 cuffs to use, and straps for a bit of bed bondage. This is a little pricey, but it is versatile and a great way to add a little (or a lot) of kink to your bedroom. Great for beginners, fun for those into more advanced BDSM as well.
Published:
Pros:
Easy to use, cuffs detach, adjustable, can be tucked away, versatile, can be used solo
Cons:
A bit pricey, but that's really it.
This set comes simply packaged in a cardboard box, like so: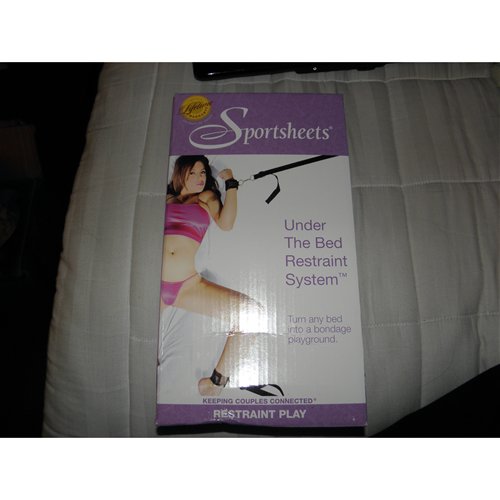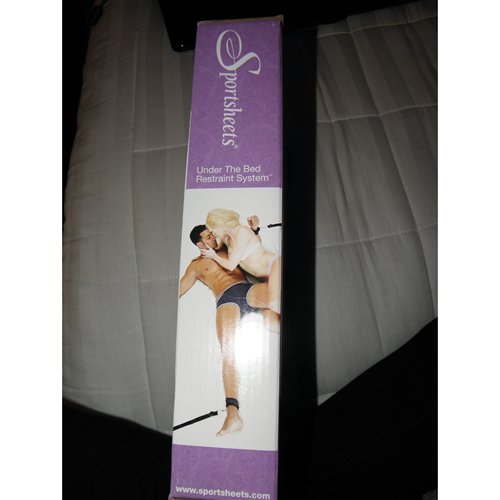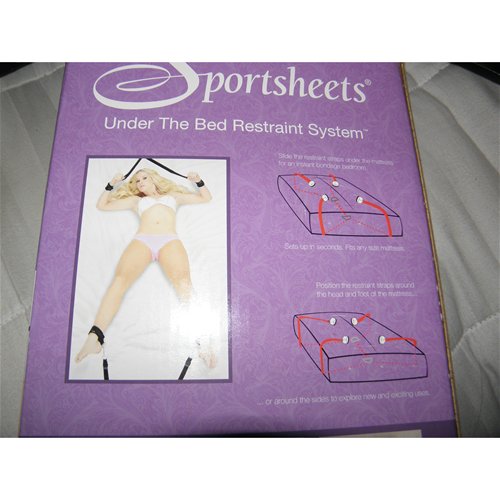 The box is not at all discreet, and I wouldn't see a need in keeping it for any sort of storage. In fact, one of the great things about this set is how it can be kept ready for use under your mattress. You don't have to disassemble the straps and cuffs every time you use it. The cuffs can be tucked under your mattress, or you can detach the cuffs and store them somewhere else, and the straps wouldn't need to be visible. I like how this can be discreetly tucked away, but always ready to use!
One good thing about this set is that the cuffs can be unclipped from the straps, so you could switch them out with other cuffs if you wanted to. Also, with these you always have restraints ready to use. You can just tuck the cuffs and straps away to make them less visible, and pull them out when you're ready to use them. Personally, I like these cuffs. I have the Sportsheets Sportcuffs and Hog-Tied set, and I really like the Sportsheets cuffs. These cuffs are about the same as the cuffs that come with either of those sets. But, if you have other Sportsheets cuffs that you prefer, you can clip them on to the straps and use them instead.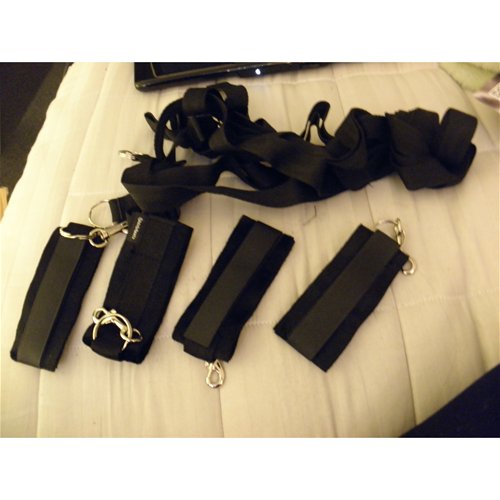 This set is ideal for couples play, but it can actually can be used solo as well. You may not be able to cuff all 4 cuffs on your own, but if you enjoy the sensation of having your arms/legs pinned, you could achieve that by using this set during solo play. One great thing about using this with a partner is that it allows them to keep their hands free for other things, rather than pin you.
The straps have great adjustability. These can be cuffed and the straps can be pulled tight, which makes the wearer more tightly strapped to the bed with less mobility. This set is great to use in pretty much any position. However, Also, once you adjust the straps, they won't loosen up on their own, which is great!
The cuffs and straps are Neoprene and nylon, so everything is totally vegan - no leather or silk. This is a great set for anyone to have. This is very easy for beginners to use and set up, even if you're totally new to restraints. If you are a bit unsure of what you like in terms of restraints, you can experiment with this - having 4 cuffs gives you the option of restraining 1-4 limbs. You don't have to use them all at once, and you can experiment with just one cuff at first if you're unsure how you feel about it. I'm wondering if I had a decent collar, if a collar could be comfortably clipped to one of the straps. I'm thinking that could be fun for those into more advanced BDSM. This is definitely fun for beginners and advanced users. This is not a super light restraint, there is no safety release as with some cheaper metal cuffs). Although, it is not a bad restraint for beginners as long as you communicate what makes you feel comfortable and set limits with your partner. This can be made more fun by adding a blindfold, a crop, or maybe some massage candles. I wouldn't want to mess around with using this for suspension; it's best kept under the mattress.
Experience
The straps can get wrapped up on your/your partner's limbs if they are dangling and if you're using the set in the dark and moving around a lot, but it's nothing that gets in the way too much. I find this to be a great addition to the bedroom. It's convenient and easy to set up. I was worried I wouldn't be able to set it up alone, and I was concerned about the size of the straps and if it would fit my Queen-sized bed well. Thankfully, this was very easy to set up!
I have a mattress with no box spring underneath, directly on top of a frame. All I had to do was slide my mattress over and onto the floor, and then I laid down the straps. That easy! I wrapped them around the 4 posts of the bed to keep them anchored in place when I moved the mattress back, and it worked without a problem. It took less than 10 minutes to set up, and it was ready to use!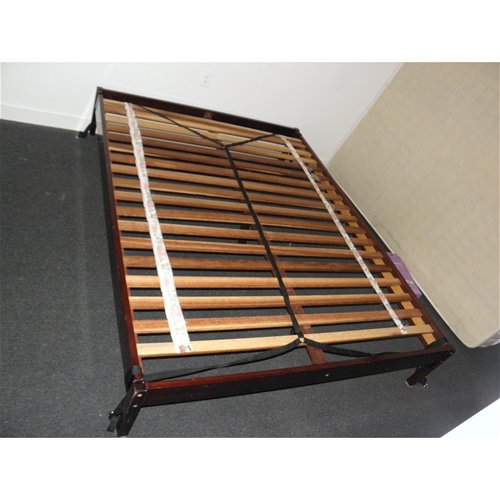 Even if you just have a mattress on the floor, this would work just fine. Also, if you get a different sized bed later, this will work for it, since the straps are so adjustable. This would work with any size bed, though I'm not certain about how much length you'd get out of the straps if you had a King-sized bed. Still, this could be maneuvered on a king-sized bed, but the wearer might have less mobility, which could be great depending on how you intend to use this set.
Personally, I love being able to use this during foreplay or sex with a partner. It is great during oral sex, doggystyle, missionary...pretty much anything! This makes sex from behind even better, allowing your partner to go deep while keeping you restrained in place. I have no complaints! The price of this set could be a bit better, but it will last a really long time and I know I'll get some use out of it. This holds up well and shows no signs of wear at all; I've already had it for a few months now and it still looks like new, despite having been used a few times.
Follow-up commentary
14 days after original review
I've had this set for months, it's great. It can be adjusted to fit pretty much any size bed, or any sort of bedding set up - this would even work with just a mattress on the floor. This would be fun for a college dorm, and could be hidden away under the mattress from any roommates. Definitely great for beginners or even more advanced restraint users. Love how versatile this set is! Definitely sure to last a very long time!
This content is the opinion of the submitting contributor and is not endorsed by EdenFantasys.com

Thank you for viewing
Under the bed restraint system
– cuffs review page!