Clamps For Me Lady!
Are you looking for a sexy and sleek looking nipple clamp that delivers more pleasure than pain? Look no further. Pipedream's Metal Worx Magnetic Clamps are erotic, petite, light weight, and easy to use. Made from the finest materials luxury nipple clamps are sure to have a long and happy life in your toy box.
Published:
Pros:
Luxurious, Sexy, Non-Intimidation, Hand-Polished Finish, Metal, and Durable.
Cons:
Not a thing.
Nipple clamps are a fun accessory during play times. Finding the right clamps is not always as easy as it may sound. For me, there are many factors to consider and appearance is on the top of the list. The Metal Worx Magnetic Nipple Clamps have a sexy sleek look that is not intimidating, making them my favorite choice for light play times.
Elegantly made, the near mirror finish and gems gives these clamps a classy look rather than a hardcore persona. When wearing these metal circles encapsulates most if not all of your nipple area and the magnetic clamps appear to be like a bar going through your nip.
Designed to produce optimal stimulation, the clamps are effective without giving intense pain. Of course, it is important to remember that pain is subjective. Therefore, it is not always true that everyone will feel pleasure and not pain when using this type of toy.
When using clamps, an important aspect to feeling enjoyment is properly wearing them. Later in my review, I will share how to easily and effectively get these clamps on. In short, they are easy to place on once you get the hang of it. Also, weighing only a few ounces, they are not weighty on your nipples and don't sag down on me.
They give delightful pressure to the base of your nipple, which makes the tip of your nip extra sensitive. When your partner nibbles or stimulates your nips the sensations are erotically more intense. The bars can even be pinched together for a more intense sensation.
Here's The Facts:
Pipedream's Metal Worx Magnetic Nipple Clamps are cast from high quality steal and hand polished to perfection. They are truly a luxury nipple clamp and not only look sexy but are also erotic to wear.
Measurements:
Magnetic bar – 2 inches in total length. 1 inch on each side.
Metal Ring – 1 inch diameter, 3/8 of an inch thick, and 1/8 of an inch thick.
Care:
Nonporous, these clamps are safe share between partners. Also, there is no need to worry about oils, lubes, or any other fluids destroying the hand-polished finish. To clean, simply wash them with anti-bacterial soap and warm water or your favorite toy cleaner. Avoid cleaners containing abrasives since they may destroy the finish. Dry before storing.
Remember Play Safe!
Any time body fluids come into contact with a toy, be sure to thoroughly clean it after play time. This will ensure your toy has a long, happy, and healthy life in your toy box.
To store your elegant clamps, you can use the classy storage case they come in or in a velvety type bag. When tossing these into your drawer, it is important to remember that they are magnets. Therefore, it is best to keep them where they will not come into contact with your credit or debit cards.
Safety:
As always, playing safe is a key to sexual pleasure. When using any type of toy which restricts blood flow, there are a few precautions that should be taken.
Never keep blood flow restricted for longer than 30 min. at a time.
Inspect the area for bluish or gray discoloration. If you should notice this, remove the devices immediately and gently massage to promote circulation.
When removing the clamps rushing blood flow to the nipple may cause shooting pains. To lessen this effect, remove the clamps slowly and massage the area. This helps tremendously if you feel that prickly burning sensation when removing any style clamps.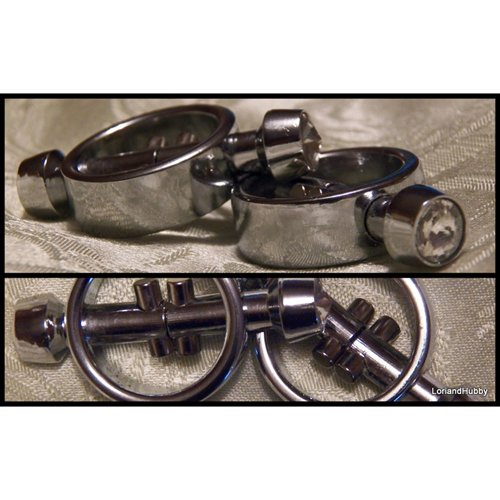 Experience
I enjoy a little nipple play that borders on nipple torture and I have tried many different styles of nipple clamps in the past. Some have been a hit and others have not. These nipple clamps are a treasured part of my collection. They not only look good, but they also feel great and provide an experience unlike any other clamps I have tried.

The design is such that, your nipple is stretched up through the circle and the bars clamp firmly to its base to ensure your nipple stays poking up and out. This makes the tip of my nipple super sensitive. Extremely sensitive, to the point where even clothes rubbing across my nipples is enough to make me excited all over. Feeling Hubby flick and tease my nipples with these on is erotically stimulating during our foreplay. In addition, with just a pinch on the bars the clamps will tighten down and produce a more intense feeling. To sum it up in just a few words, the feeling is utterly amazing.

I wear these clamps primarily during foreplay. Also, they are the a perfect way to get my juices flowing while watching porn with Hubby. Hubby loves the look of these clamps on me. They are not overly large or intimidating and don't have that extreme bondage look or feel. Often, when he sees I have them on, he playfully refers to me as his little biker babe.

Also, the sleek metal is great for temperature play. Pop them in the freezer to cool things down or a glass of hot water and warm up your lover. With the quality metal the temperature will remain with these clamps.

As I promised earlier, since clamps can be confusing for some, I am going to share how to properly wear these. I want to first say, that is what works for me. Since everyone is not created the same, it is possible that this will not work for you. For me it works like a charm and I honestly feel no pain only pressure that is not unpleasant.

How to get these clamps on and to stay on…

-Stimulate your nipple to make it stand up a bit.
-Pull apart the magnetic bars of the clamp, adjust the bars so that the T is in the horizontal position, and slide one finger in-between to keep the bars set in this position.
-With one hand stretch your nipple out way from your body and slip the ring over your nipple
-Slide the ring down your nipple with continuing to pull your nipple and work it through the bars and the ring.
-Position the T shape horizontal and parerell to each other low down on your areola. The goal is to have as much of the nipple and areola area as possible above the bars with as much of the nipple through the ring and sticking out as possible
-Caution: the bars will pinch and might cause pain if they are not pararell to each other.

Over all these are a luxury set of clamps that I feel anyone will enjoy. They are a made with the highest quality and well worth the investment. I cannot recommend them enough to any level of user.
Follow-up commentary
4 months after original review
These clamps are simply amazing. They are erotic to wear as an accessory and I tend to wear them when I play the dominatrix. They are sexy and sleek, while not being too over bearing.

The feel is more like a pinching sensation and ever after long term wear, I have not had any issues with loss of circulation.

When they start looking dull, a quick wipe with a soft cloth brings back their original luster. They truly look as great as they did the day I received them.

This content is the opinion of the submitting contributor and is not endorsed by EdenFantasys.com

Thank you for viewing
Metal Worx Magnetic nipple clamps
review page!