Metal Worx--Or Does It?
Overall, I'd think that this item is definitely worth the buy-- if you can get them on sale. For me they're hard to keep on, but I tried them very briefly with my girlfriend and they seemed to work a bit better for her, so they're a keeper at least for that reason. Like anything, they require a bit of finagling to work right, and I think a few more times using them will prove that they're worth having in the bedroom.
Published:
Pros:
Strong magnets, visually appealing, cute/discreet packaging
Cons:
Hard to keep on, bulky
These clamps look like they mean business, and they do-- although, maybe not for me. I was browsing for nipple clamps when I saw them, and I knew I had to buy them. I was beyond excited when they showed up at my door. I tried them out immediately just to see what I'd be working with. Turns out, it wasn't much.
Despite that, these clamps are very visually appealing.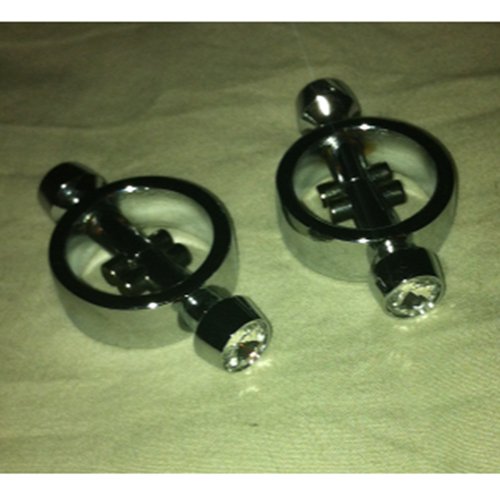 They're made of steel and are shiny and sleek. The clear gemstones that adorn each end make these feminine, but because of the very nature of what they are, they are not overly so. They're also good for temperature play; just by leaving them alone they get pleasantly cool to the touch, which is a nice feature, even if it is inherent because of the material they're made of. The magnets are strong, but not overly so, giving a pleasant pinch to your nipple when put on.
These give a pleasant pinch you can actually get them on. The ring that encircles the actual magnets is a bit awkward when trying to position the magnets around your nipple, or at least it was for me. My nipples are what I suppose are on the small-ish side: maybe about 1/2 an inch wide. I think these clamps would work better for someone whose nipples are a bit wider when hard. For me, these clamps just ended up being a little painful because they would end up slipping off my nipples and catch the skin, which was frustrating considering the situation I was in. Part of the issue may have been that the magnets are not perfectly aligned, as you can see here: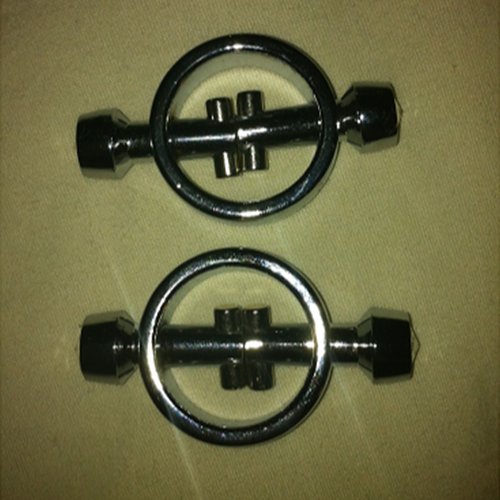 I really don't believe that it's enough of a problem to be annoyed over, but the fact that they're slightly misaligned may have been part of what was giving me some trouble.
I like the idea of magnetic nipple clamps very much, but I suppose I should have put more thought into it when purchasing these, because they just don't work for someone like me who has small nipples. This was just from solo play. I would guess that it would be easier to get them on with another pair of hands to assist you.
Since they're made of steel, I didn't notice any smell, and I didn't have them anywhere near my mouth so I can't mention any taste, although if you did taste them,there might be a metallic taste (is that a given? Probably). The only sound they made was a slight click from the magnets attaching to each other again after removal. Another thing that I really like about them is the box they came in.
It's such cute packaging that I really love it. Here's how the box looks when closed: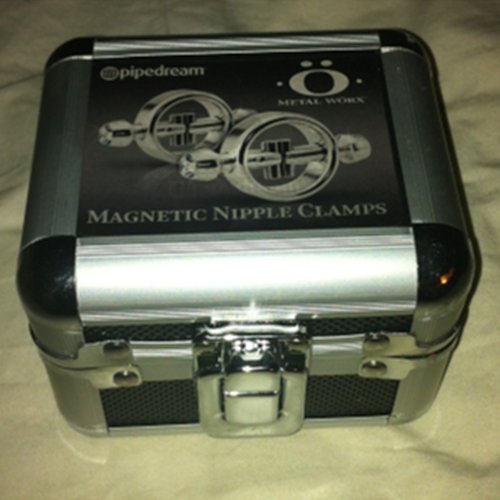 I'm not 100% sure, but the sticker on the top of the box could probably be peeled off if you wanted to leave the box out but not advertise to anyone who might see it what you've got in there.
This content is the opinion of the submitting contributor and is not endorsed by EdenFantasys.com

Thank you for viewing
Metal Worx Magnetic nipple clamps
review page!