Nipples of Steel Call For Nipple Clamps of Steel.
If you've got nipples of steel, the Metal Worx Magnetic Nipple Clamps are a dream come true. Nicely crafted of steel, the innovative symmetrical design frames your nipples while applying pressure for increased sensation. The balanced heft and strong magnets mean these will please or punish your nerve endings, as you like. And if you, like me, are on the sensitive side---you can still love the box they arrive in!
Published:
Pros:
Innovative design, quality construction, appealing symmetry, good steel, nice box.
Cons:
Much too intense for me!
USE
The Metal Worx Magnetic Clamps are a stylish, strong, innovative way to bring pleasure and pain to the nerve endings in your life. If you have nipples of steel (or perhaps a clit of steel), what better way to punish and please them than with clamps of steel? As my nipples and clit are quite sensitive, I've found that these give a nice and mercifully-not-overwhelming pinch to the labia minora, as well.
I was excited to try out the Magnetic Nipple Clamps for several reasons. After my successful first brush with a set of
tweezer-style nipple clamps
, I was eager to experience more nipple sensations. Tweezer-style clamps have the advantage of being adjustable, but the disadvantage of being too large to consider wearing under clothing. When I saw the Metal Worx design, my eyes lit up, because under a bra and a bulky cowl-necked sweater, they seemed small enough to be noticed by me and only me. They did hold true to that expectation---but for me, they're too intense to wear out-and-about under clothes, even though discretion is possible.
More of Pipedream's Metal Worx line have caught my eye than just the nipple clamps. As a steel fetishist, the
Slim Fave
and
Double Trouble
have been calling my name since they hit the shelves. Unfortunately, I've heard reports that their metal finishing wasn't top-notch. I decided I would dip my toes into the forges of Metal Worx with the less expensive, non-insertable nipple clamps, and if I liked the look of the craftsmanship I'd be persuaded to try an insertable. In this experiment, the Magnetic Nipple Clamps have bolstered my confidence---if they were insertable I'd have no qualms inserting them---so I'll be heading for even heavier metal soon.
Finally, I'd like to mention how neat these look on a nipple. You can see how attractive they are when not adorning skin---but when they're surrounding a nipple, acting as the centerpiece of a breast---they have an arresting appeal. Sometimes I glance and they look like electrodes or something from a medical fantasy. Other times my eye will catch the rhinestones and they look feminine. Still other times the stark lines look bold and artful. I really love the symmetry of these clamps---symmetry's not easy to come by in a nipple clamp, and I appreciate it very much.
CONSTRUCTION
The Metal Worx Magnetic Nipple Clamps are innovatively designed and well-constructed. A one-inch diameter steel circle forms the structure of the clamp. Two holes are drilled through the centerline of the circle, and through these holes are slipped steel rods topped with symmetrical clear rhinestones. Usually rhinestones are gaudy, and I expected to hacksaw these off, but they're actually quite tasteful and compliment the overall design. The steel rods each have three-quarters of a hole bored into their non-rhinestone end, and into these slots are slipped cylindrical magnets.
I've tried to incorporate as many details into one photo as possible---so this isn't a pretty photo, but hopefully it makes the review easier to read.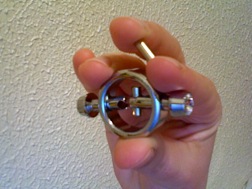 When you're twiddling your nipple clamps between your fingers, the magnets lock on to each other. They can be pulled apart without much difficulty, and then they can be placed around an erect nipple, a clitoris, or a generous portion of labia. When you let go, the magnets pull toward each other, sandwiching your nerve endings in the center of a ring of steel.
Thanks to the properties of magnets (insert Insane Clown Posse joke here?), the smaller your nipples, the harder these will clamp. My nipples are generally between 3 and 6 centimeters across, and
these clamps have bite
! I'll step right up and say that I have sensitive nipples, and I'm not ashamed to admit that I don't have a whole lot of nipple clamp experience. But I couldn't wear these for more than three minutes. Interestingly, the blood rushing back to my nipples afterward is extremely pleasant... but I can't just wear these around, letting my partner admire my symmetry, or scrubbing the bathtub the way I can with
tweezer clamps
.
Experience
If you were able to wear these for extended periods of time, despite the strong steel construction, the weight would not really wear on you at all. Despite a bit of pain, I did my best to 'jiggle' these off, both on my back and on my knees, and they didn't fall. Each clamp is about 0.4 oz (I couldn't measure directly for fear the magnets would mess up my kitchen scale). The lightness of these clamps in the hand was my first clue that they're not stainless steel. Additionally, they are not magnetic (once you've removed the magnets, of course.) The clamps seem to me to be a good steel, plated with (probably chromium). There are not imperfections in the finish except where it looks like the rods were held still for the magnets to be inserted, where there are small vise-grip-like dents. These obviously do not affect wear in the slightest. I've found no other discoloration or nicks, and if I could be given a guarantee that the other items in the Metal Worx line were as nicely made as these clamps, I'd buy them as soon as I'd saved up my pennies.

CARE
As a metal item, these nipple clamps should be sterilizable by bleaching. I don't know how the rhinestones are attached, but it seems to be glue---so I'd advise against boiling, or from letting bleach sit on the rhinestones. After cleaning any metal product, I rinse it with rubbing alcohol to ensure quick evaporation (which prevents rusting and tarnish).

The Magentic Nipple Clamps, along with all members of the Metal Worx line, come embedded in dense foam in an extremely nice toolbox-inspired case. Stickers on the bottom and top can be peeled off leaving the bottom blank and the top labeled with the Metal Worx 'umlaut' logo. I've discarded my foam and have been keeping all my nipple toys in the box---I wish all my toys came in toolboxes.

FINAL THOUGHTS
These clamps are well designed, well made, and, well, they hurt! Granted, that's what nipple clamps are supposed to do. Still, I would recommend these only to experienced players who know they can handle a lot of pressure on their nipples. I also want to mention that care should be taken when you're taking them off. Grab the rhinestones and separate them, rather than just pulling the clamp forward, or you can give yourself a nasty pinch.

In summation: Nipples of steel? Then you need Nipple Clamps of Steel. Metal Worx will not let you down when you ask for pressure.
This content is the opinion of the submitting contributor and is not endorsed by EdenFantasys.com

Thank you for viewing
Metal Worx Magnetic nipple clamps
– sex toy review page!