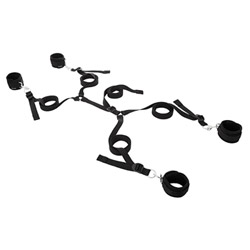 Under the bed restraint system
Under bed strap kit
by Sportsheets
Excellent started system
Overall this toy is great for anybody just getting into restraint, and even for those who just want something simple and easy to use. It defies all expectations based on appearances and is an amazing restraint system. It's versatile enough to do what you want, and simple enough to not get in your way.
Published:
Pros:
Simple, strong, widely adjustable.
Cons:
Doesn't look as intimidating as it performs.
This toy has a surprising number of uses. Not only is it excellent for restraining someone to a bed, but it's fully adjustable to restrain them spread eagle, rack style, or if they're particularly flexible (or if you want them to work on that) you can slide the restraints around to hold them in any number of different ways. On top of that, you can also throw this toy around a door and restrain someone to that door. Or, with a bit of creative engineering and a lot of strap tightening, you can strap someone to a chair, car seat, or just about any other sizable solid object. In all cases it's just as easy to get set up and use. All told it took me about 5 minutes from opening the box to having everything set up, and that was with playing with everything as I took it out of the box.
This toy both looks and feels quite well made. The straps are about the same as your typical backpack straps, if but a bit thicker. They also just have a good feeling of durability to them, which is nice. The handcuffs attach via a solid clasping mechanism, and seal themselves with Velcro. The Velcro is probably the only real problem I would have with this toy, but as it turns out the Velcro they use defies all expectations I had.
This toy performs magnificently. When you're the one tying someone up, it couldn't be easier. You just get their hands near the straps and loop it around, letting the Velcro take care of holding it tight. That said, it's not so easy that you would do it with one hand and your eyes closed, but it's simple enough to do while restraining whoever is struggling against the bonds.

On the receiving side you get an initial overwhelming false sense of control. One look at the little Velcro strips and their adjusting cinch straps and you feel like you'll be able to free yourself in seconds. Then it turns out you're completely wrong. With your arms tightened out to your sides, you can pull on the straps hard enough to curl your mattress around you in a protective cocoon and the restraints won't loosen an inch. And through all the pulling with all of your might, the restraints won't even stop being comfortable. They have enough padding inside each loop to keep anything from digging in, but no so much as to get in the way or give you any room to slip out.
This product was provided at a discounted price in exchange for an unbiased review. This review is in compliance with the FTC guidelines.
Thank you for viewing
Under the bed restraint system
– under bed strap kit review page!