The Pleasure of Pain
This wicked little pokey thing is actually not as wicked as I thought it was. If used gently, the sensation is actually quite pleasant. The fact that it's metal and has no plastic makes this toy very hygienic, too. However I do wish that the wheel itself wasn't chrome plated because our's has a chip in it!
Published:
Pros:
easy to use, sharp, hygienic metal, spins well, feels nice in the hand
Cons:
Seems like it's only plated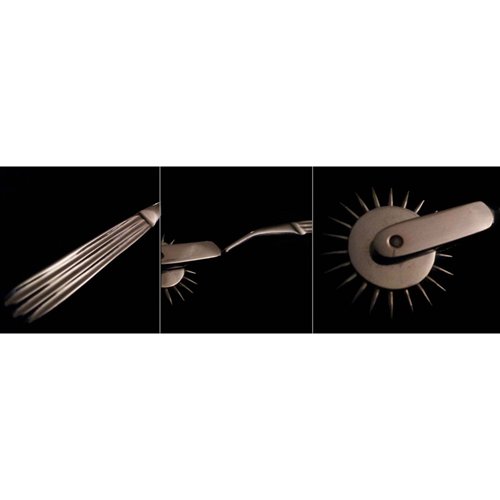 I was a little worried when my partner pulled this out of the package. This 6 3/4" piece of chrome-plated metal looks somewhat terrifying, to be quite honest. The handle is slightly curved with grooves on the end designed to fit better in your hand. I don't really feel like the grooves help with slipping, but they do make the handle feel better in the hand. The end of the toy is a sturdy construction joining the handle to the freely spinning head which is made of evenly spaced spikes.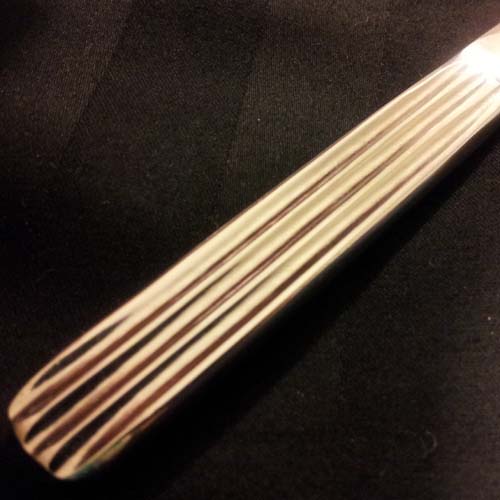 The sharp pieces look to be completely solid metal, however the wheel they are attached to is definitely just plated. After some use, our's has a small chip in the chrome. There are also some slight scratches where the housing for the wheel rubbed against it while spinning.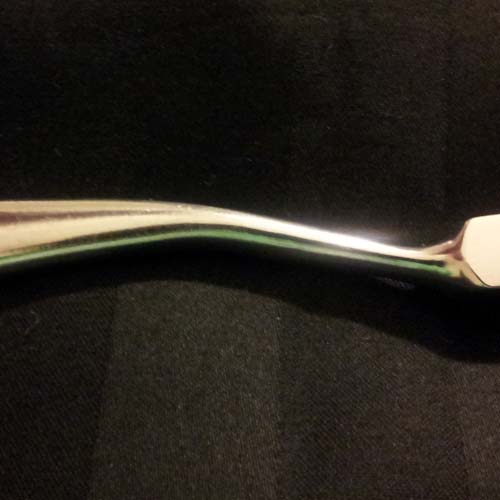 Because this is a toy made of metal, it is completely sanitary. This toy is so easy to clean and you can use pretty much any method, including a 10% bleach solution or just good ol' anti-bacterial soap and water. It is very sharp and could easily break the skin, so while technically you can share this toy I would DEFINITELY NOT advise sharing during play sessions. Clean it up and sanitize it before using on another person. Even then, I don't know if I could seriously recommend that simply because we did find a chip in our's & something like that could easily harbor bacteria or worse. The possibility of this toy coming into contact with blood also makes me very squeamish about sharing. Storage is simple, we keep our's on a shelf and clean it before and after each use. Just be careful where you put so you don't accidentally poke yourself.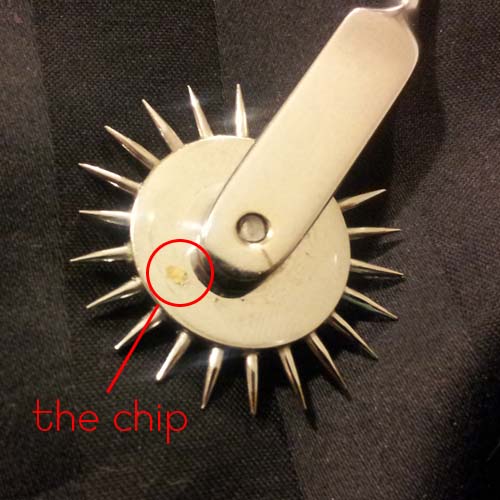 Now on to the good stuff: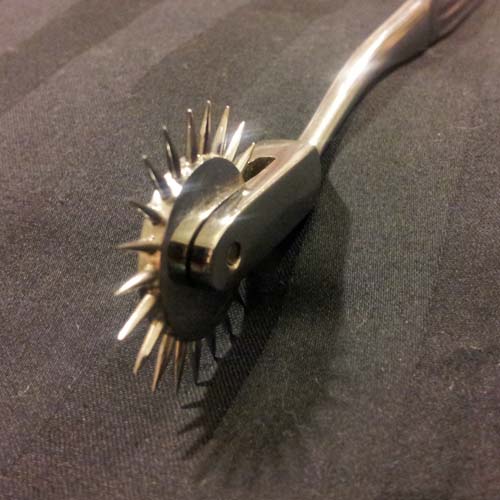 I've seen mention of the sensation of this toy being compared to getting a tattoo, and I have to say that I don't really agree with that. I found the sensation of the Wartenberg pinwheel to be much more pleasant than a tattoo, even when used with a bit of force.
This "toy" was actually designed to test nerve sensitivity. Because of that, the wheel offers a variety of sensations. If you gently roll the wheel across flesh, it offers a slightly sharp tingling sensation. If you press down a litte harder, I would say this feels sort of razor sharp like a blade (but definitely still pleasant) and I can see why I've seen mentions of cutters preferring this toy to simulate that particular action. If you press down fairly hard (but not hard enough to break skin) the sensation is more sharp and you can almost feel each pinprick.
Over certain areas, specifically more sensitive areas like the inside of the knee or the bottom of feet, the sensation leans towards an almost painful tickle for me. I also found that the harder you press in these areas, the worse it feels due the area's natural sensitivity. This includes genital areas, as well.
This toy is really awesome for sensation play. Slap a blindfold on someone and tease them with this evil little toy and they will literally not know what hit them. I think it's honestly pretty hard to break skin with this thing, which makes it very user-friendly. Yes, the spikes are sharp and they can absolutely make a person bleed, but I didn't manage to do that to myself pressing down as hard as I possibly could meaning one would need to apply some force or maybe accidentally stab another in order to draw blood.
I actually read that these are great for use with T.E.N.s units or violent wands, which is a cool fact if you're into electroplay. However, I would absolutely advise against going into that sort of play unless you know exactly what it is that you're doing.
Overall, I think this was actually a pretty cool addition to our little BDSM toybox.
Experience
I'm not really a masochist (meaning I don't really enjoy pain during play) but I found this toy to be quite a bit more enjoyable than I expect it. I actually really like it. The sharp tickle is a very nice sensation. If the wheel is being used with some force, it leaves a trail of dots in the skin. These do go away (like within a couple hours), but I thought I'd mention them.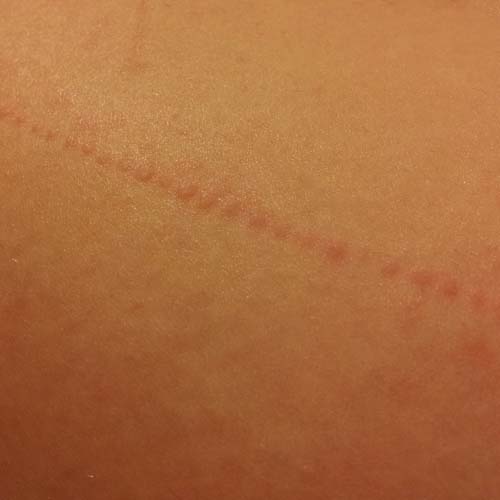 Follow-up commentary
15 days after original review
This little guy is pretty fun. I love the feeling of it going across my skin, but then again I'm also very into edge play. If you don't necessarily like the sensation of a knife blade being gently dragged across your skin, the Wartenberg pinwheel is not the toy for you.
This content is the opinion of the submitting contributor and is not endorsed by EdenFantasys.com

Thank you for viewing
Wartenberg pinwheel
– sex toy review page!