Wheel Me Darling!
Take your sensory play to the next level with the Wartenberg Pinwheel. Erotic sensations shoot across your skin as the spikes stimulate the nerve endings. Using this toy allows you to experience playtime unlike anything before. With this medical grade device you are in complete control.
Published:
Pros:
Sleek, Easy to Use, Intense Pleasure, and Sanitary.
Cons:
Not a thing we can find.
Add a whole new demission to your playtime with this original styled Wartenberg Pinwheel. The Wartenberg Pinwheel was first created as a nerve stimulator and tester for medical use. Its spikes prick the skin sending shooting sensations across your nerves as it rolls against you. In my opinion, the wheel resembles a hand held cowboy spur. Although it sounds intimating, its petite size and sleek metal shaft make it rather intriguing.
With the free spinning wheel, you have total control over the intensity delivered by this medical device. It can even be lightly rolled over your tender spots to deliver erotic stimulation.
Pinwheels are a must have for sensation and BDSM play. If you have not experienced this type of toy, I highly encourage you to wait no longer and order yours today.
Here's the Facts:
Using the wheel is as simple as it comes. Holding the shaft, simply roll its wheel over your lover's skin. You are in complete control of the firmness and intensity delivered by pressing down and managing the speed of the wheel turning. Hubby and I have found that for us, firm slow strokes are the most enjoyable.
"Roll it over my tender spots?" you question. "Are you crazy?" you may ask. No, I'm not crazy. At first I was also apprehensive about the thought of using a pinwheel on my tender bits. Fortunately, Hubby surprised me by gently gliding the pinwheel over my clit once. The shooting sensations were utterly amazing and now I can't get enough of them.
Care:
Your pinwheel is best stored in a lather sheath to ensure that the spikes do not prick unwanted items in your toy box. Unfortunately, EdenFantasys sends the wheel in a thick plastic bag. This bag is not ideal for long term storage since the spikes tend to prick through it fairly easy.
Since, in our opinion, the toy resembles some sort of western novelty, we simply store it lying on a bedroom shelf.
Cleaning:
This toy is made of metal and rates a 9 on EdenFantasys
material safety scale
. Furthermore, it should never rust or tarnish.
To clean your wheel, simply wash it with antibacterial soap and boil it for 10 minutes. Use caution when removing the pinwheel from the water because it will remain piping hot for a long time after the water is turned off. Stand the pinwheel in a glass to drip dry.
Measurements:
The entire device is 7 inches long. Its handle is 3 inches long and ½ of an inch wide. Also, it is ¼ of an inch thick.
The shaft is slightly curved and 2 ½ inches long.
The wheel consists of 20 spikes which are ¼ of an inch long. The wheel including the spikes has a diameter of 1 ¼ of an inch. This wheel is attached to the shaft with a small screw and a 1 ¼ of an inch housing.
All about sensory play and the Wartenberg Pinwheel help links…
Wartenberg Pinwheel Info
Three wonderful pages all about the Wartenberg Pinwheel, Types of Wheels, and Health and Safety.
Wikipedia Sensation Play article.
EdenFantasys Sensation Play Guide.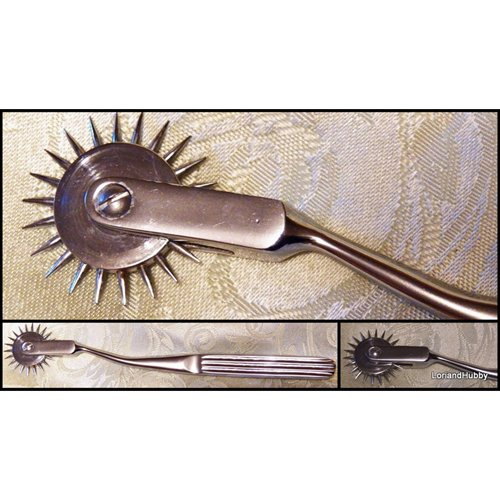 Experience
Sensation play is a new area of experimentation for Hubby and I. Pinwheels seemed intriguing so we ordered
Fetish Fantasy Series
version. Unfortunately, it did not provide intense sensations. Therefore, we decided to give this style a whirl.
When we received our pinwheel, both of us were in awe of the spikes. Although we were a bit intimidated by the painful looking sharp points, we loved how sleek and slender the toy looks as a whole.
Fortunately, we decided to go ahead and give the toy a try. With me blindfolded Hubby began to tease me with our
Lelo Suede Whip.
The soft falls felt sensual across my skin. Then, all of the sudden, I felt a slow prickling across my inner thigh. It was exciting. The prickles sent sensations shooting up and down my body. I arched my hips forward wanting more. This was erotic and I loved it. Feeling the slow prickling wheel gliding across my hot skin was just about more than I could take.
Later as things got a bit more hot and heavy, Hubby rolled the wheel over my clit. It was amazing. Unlike anything I had felt before. My love button throbbed yearning for more and Hubby was more than happy to oblige. Using the wheel during climax was intense and sensual. I loved each and every prickle of the wheel. Now that I have given this wheel a try, our other style wheel has a lonely home on the shelf.
Over all, I highly recommend this toy for anyone who is curious about this type of play. Whether you use this toy as part of a medical fantasy or to tease your lover during a sensual massage, you are sure to be pleased. When using the Wartenberg Pinwheel you are only as limited as your imagination for its uses and enjoyment.
Follow-up commentary
3 months after original review
This toy is utterly amazing. The prickly thickly sensation it produces if mind blowing. We have used this on every part of the body imaginable with terrific results. In addition, the pins are totally safe to use on your tender bits without fear of causing injury.

It has held up extremely well and shows no signs of tarnish or rust. The only thing that could make this piece a bit better is a leather sheath. Thankfully Edenfantasys thinks so too and they are now offering one that has a sheath included.

This content is the opinion of the submitting contributor and is not endorsed by EdenFantasys.com

Thank you for viewing
Wartenberg pinwheel
– light bdsm kit review page!