Elegant Delight!
Pamper your lover with erotic pleasure by Lelo. The Sensua Suede Whip is elegantly crafted with plush soft falls for ultimate pleasure. This intimate flogger is designed to not only look sexy, but also produce sensual sensations ranging from a light tickling to a firm slap. When it comes to spanking games this suede whip is sure to be your favorite toy.
Published:
Pros:
Classy, Sexy, Plush, Soft, Compact, and Sensual.
Cons:
Not a thing at all.
Gather around. I have a secret to tell you. Shhhhh… Can you hear me? Flogging does not have to be painful, it can be sensual and a lot of fun. What? You don't believe me? Really, I'm telling you the truth! Hubby and I have found that spanking games can be a lot of fun with not one ounce of pain. Our grand experiment with impact play time truly is nothing but erotic.
A key to our experience is the instrument we choose and there is no better choice than the Lelo Sunsua Suede Whip. This whip is exquisitely crafted from soft suede with a petite design. For intimate pleasure this small whip fits comfortably in your hand. The falls feel elegant when they are dragged across your skin. Also, should you feel a bit more adventures the soft suede is not painful. Rather, it delivers a firm erotic feeling. The Sensua Whip is a classy tool for teasing and giving pleasure.
Here's The Facts:
Elegant and stylish the Sensua is made with the superb quality that Lelo strives for with all their products.
The whip is 14 inches in total length.
Handle – 5 inches. Made from acrylic with a metal ball and a metal band where the falls attach. The handle is 2 ½ inches in circumference and the ball has a circumference of 3 ¼ inches. Also, the acrylic is colored while being see through with the Lelo name stamped into it.
To clean this you can simply whip it down with a damp cloth and mild soap if needed. Although, care should be taken to not get the falls damp.
Falls –36 falls made from soft suede, which are 8 ½ inches long. Also, the falls are 2 mil. wide and 1 mil. thick. Suede is very easy to stain to it is best to make sure lubricants or oils do not come into contact with the whip. If the nap becomes worn you can rub the falls with a hand towel, this will restore some of the nap and bring back the plush look. Remove dry stains by gently rubbing a pensile eraser over it. Also, to remover liquid, gently press the stain with a paper towel.
Note
Due to the nature of suede, when you receive your whip fine suede particles will shed from the falls. Shaking your whip out a few times will alleviate this. Also, there is no need to worry that this will persist since it will not continue shedding. In addition, I found that the color comes off onto your garments the first few times the whip is used. Fortunately, when I discovered this on my white undies I was able to wash out all the color with mild soap and cold water.
The Sensua Suede Whip comes packaged is a classy dark blue linen covered box. This box is excellent to safely and discreetly store you whip in.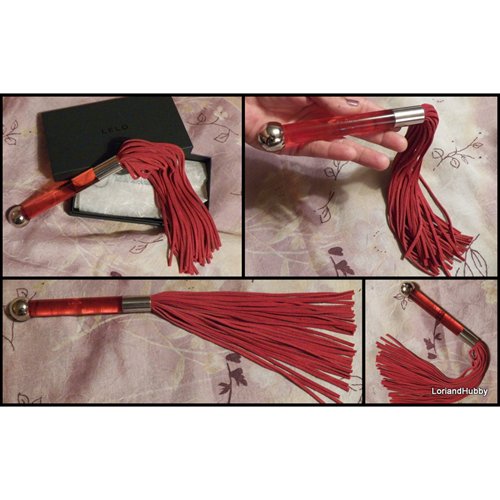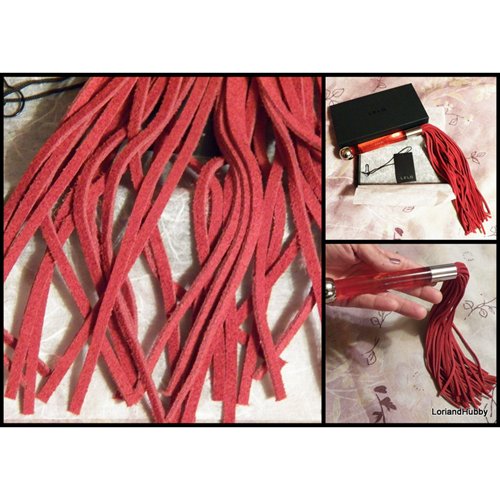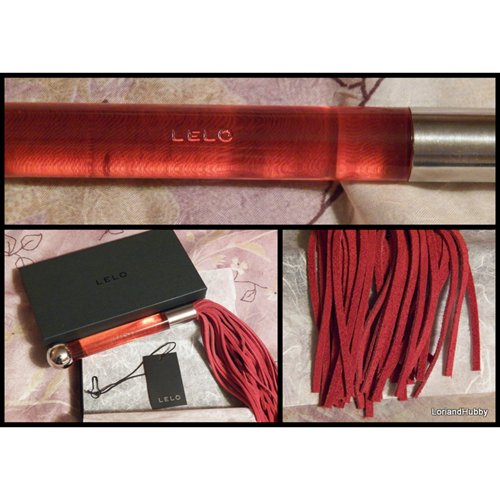 Experience
You may be saying, "Ok. Yes it is a pretty whip; but flogging not painful. Are you crazy? Maybe you are just a person who has a high pain threshold. There is no way any whip can feel good. Maybe you are a sadomasochist."

That's ok; I totally understand these types of thoughts. I had them myself prior to our grand experiment of 'rediscovering sex'. Honestly, I never dreamed in a million years that I would enjoy a nice spanking or whipping. But, here I am writing this review. Go figure.

For Hubby and I, impact play is all about being sensual and stimulating. It is not about the pain or the strips inflicted. Rather, it is about using the whip in such a way that it brushes the body producing light sensations. This combined with being bound, is a totally erotic full body experience.

Adding Lelo's suede whip to our play time has been nothing short of amazing. The feel of suede is unique. When lightly dragged across the body, the falls feel soft and delicate on your skin. When whipping with it, the falls are heavier and they stay more in one solid piece when striking your skin. Also, the feeling is more of a thudding and firm sensation.

There is no sound when the whip passes through the air. Therefore, you are not sure when a tap is coming if you are blind folded. Also, the sound produced when hitting the skin is similar to a light slapping. This is great for us since we live with and care for other expended family members.

The size is perfect for us since, we are limited to mostly playing in our cramped bedroom. Using Lelo's whip, Hubby can really get up close and personal when we play. With this piece Hubby was able to give my erogenous zones a work over while on the bed next to me.

There is not one single thing intimidating about this whip. It does not scream power or pain. Rather, it is delicate and sexy. It is a perfect piece to introduce love taps into your sensual play and add some spice in the bedroom. If you are looking for a touch of class to your play time, if you are course about this type of play, there is nothing better than the Sensue Suede Whip.
Follow-up commentary
2 months after original review
We absolutely love our LELO Suede whip. It has held up to some pretty ruff play and remains soft and sensual. We have even gotten lubrication on the falls and were able to wipe them down wiped them down without damaging them, having the color run, or fade.

Over all, we could not be happier with our purchase.

This content is the opinion of the submitting contributor and is not endorsed by EdenFantasys.com

Thank you for viewing
Sensua suede whip
review page!