Sensation Play!
This really doesn't work as a whip but it works wonderfully for sensation play and it feels good! It has great construction and it fits nicely in your hand.
Published:
Pros:
Soft
Sensation play
Great construction
Cons:
Not a whip as advertized
The Sensua Suede Whip from Lelo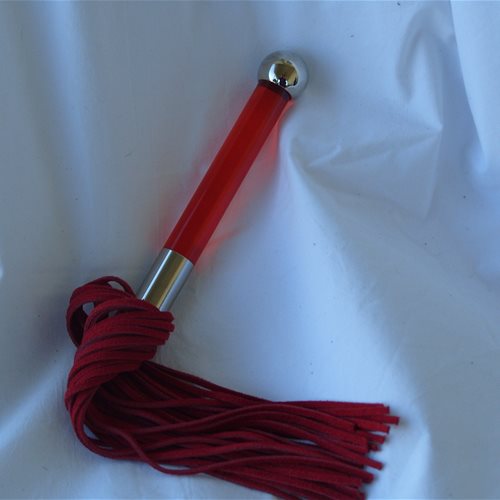 This is so not a whip. It is a really nice flogger, It is great for sensation play but it is not a whip! I don't even think if you were a wimp you would call this a whip! There is no bite when you are hit with it. It does make a great noise as it flies through the air.
The Suede flogger is a great toy for sensation play whether you are an experienced player in sensations or a beginner. The husband actually likes it ran up and down his back. It is kinda like when you have someone run a hairbrush up and down your back only softer. It really feels good and the little smacks you can do with it are actually somewhat relaxing. I have to say that after using it on my back I feel like I want to then have someone scratch on my back too.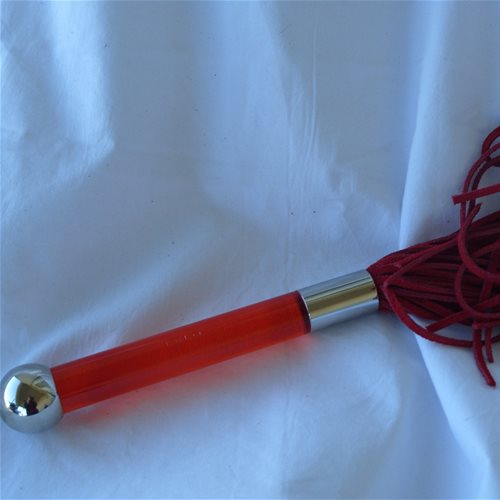 The little flogger from Lelo is made from plastic and sheepskin suede that is actually really soft and in comparing it to other suede floggers that I have this is so much softer. It still does that pilly thing that all the suede does when it is new, so take it out and shake it around to try to get some of the suede dust off of it before you begin your serious use. The suede is somewhat easy to care for but you need to be sure not to get it full of lube and secretions or it gets somewhat crusty. The handle is a clear plastic with the metal on each end. The very end has the ball shape and the end that attaches to the suede is in a band that is very secure and I didn't find any of the suede were loose. It has great construction.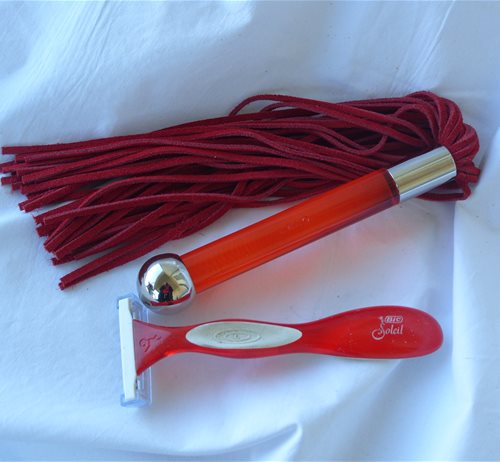 The handle portion is 4 inches long and the tails are 8 inches in length. End to end it is approximately 12 inches long. It fits easily in your hand the handle portion has an approximate diameter of ¾ inches.
You can use some suede care products to clean it if you do get it dirty and the handle portion wipes off easily with a wet washcloth. The plastic is not porous but I would be concerned with getting secretions along the seams of where the metal and plastic meet. That is why I would say that it really isn't for insertion into any of your orifices.
There really aren't any special storage concerns with it. It lives on the night stand every once in a while and I place it back in the box that it came in.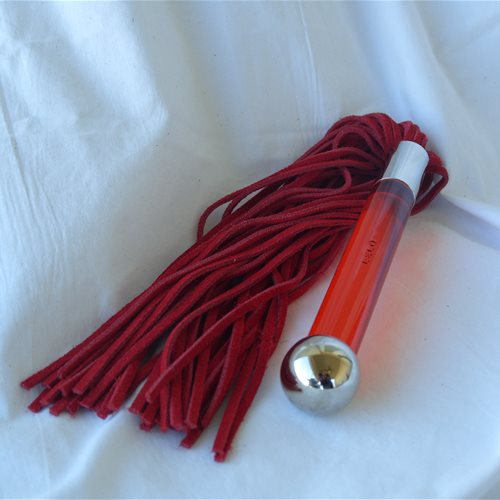 It comes from Lelo in a box that has pictures of the product on it and it has an inner black box with the flogger wrapped in tissue paper. I actually like the packaging of the Lelo products. It comes in my favorite red, purple and black colors.
I definitely would pick this one up again if I damaged it, it is great to start out a play session and it feels good. It just if not for any type of heavy play or whipping. It just feels good.
This content is the opinion of the submitting contributor and is not endorsed by EdenFantasys.com

Thank you for viewing
Sensua suede whip
review page!