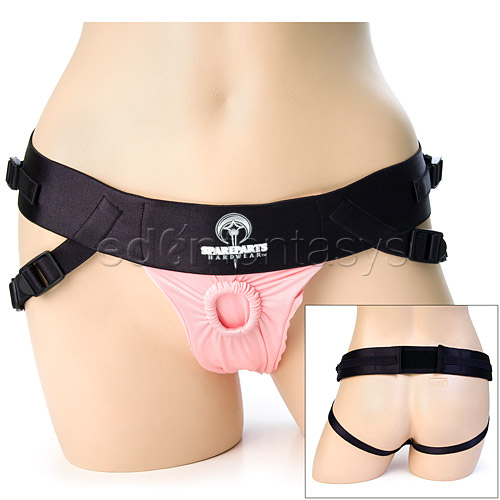 Joque harness large
Double strap harness
by SpareParts
Adding an appendage has never been this comfortable.
This harness is a great choice for anyone looking to use a compatible toy on their partner. It's easy to adjust, comes in different sizes and will fit a wide range of body sizes. It's incredibly soft to the touch and feels wonderful when it's on.
Published:
Pros
Super comfortable, very adjustable size-wise, comes with storage bag.
Cons
O-ring only fits 2 inch wide dildos, label is a bit of an eye sore.
While discussing some of my fantasies with my husband we discovered that he and I were interested in pegging. We didn't know what it was called at the time, but the idea of me strapping on a dildo with a harness was a big turn on. After purchasing an inexpensive harness to test drive we settled on the Spareparts Joque Harness. I had read that it was very comfortable, but the availability of a larger size made my decision easy. It comes in pink, black and blue. I picked out the pink one, because pink is fabulous, and waited patiently on it to arrive.

The first awesome thing about this thing? It comes in a matching drawstring bag. I absolutely love it when companies are considerate of how their customers will store their products. The material the bag is made of is comfortable enough I want sheets made out of it. It's an 80% Nylon/20% Spandex blend, but it feels so silky and smooth. It has a black drawstring with a black plastic toggle closure. It's easy to slip the harness in and out of the bag. Very convenient for storage purposes.

The harness itself is even more impressive. The front, where the harness compatible toys go, is made of the same soft, comfortable, pink material as the bag. It kind of looks like a narrow pair of panties. It's about three inches wide there. The O-ring is sewn into the harness and actually covered in fabric. This is probably one of the only 'cons' about the harness since it makes it so you can't change out the O-ring. I would wager that it wouldn't be a problem for most people though because it will hold a toy that's two-inches in circumference. My husband has used the Rascal O2 in it. It was a tight fit and we needed to wash it off getting it through, but that was just because of what a lint magnet the O2 is. Once your toy is in place there is a layer of pink (or blue, or black) material that folds over the base and then another layer that's lined with a black mesh where it will be resting against your skin. It's very comfortable against mine and my husband's anatomy. He had complained a bit about how the nylon webbing from the other harness chafed his balls and was very pleased about how this one didn't do that.

This is a jock-strap style harness so it has one wide strap that goes around your hips and then two smaller straps that go around each of your thighs. It is highly adjustable and there are two sizes. I purchased the larger considering I have 50" hips. The larger size is supposed to fit anyone with hips ranging in size from 35" - 65". My husband has 34" hips and he still fits into it comfortably, he just has to tighten everything which is very easy to do. The hip strap is about two inches wide and it's made of a very soft and comfortable spandex. The part of the strap that will be on your back is covered with a female-sided Velcro and there is a two-inch tab on each hip that has the male side attached. To adjust it you just fold the tabs over the back until it fits comfortably. Once the Velcro part is adjusted there are two smaller straps on the hip band that adjust like back-pack straps. You just tighten those until the harness feels secure. Each leg strap has the same type of back-pack strap, all made with the same very comfortable spandex material.

Once you're harness is all adjusted you are ready to go!

The harness is machine washable, but if you're picky you can wash it by hand and hang it to dry. The tag does recommend that you wash it before you use it, just to prevent any residual dyes from staining your toys. For some people that doesn't matter, but I like the look of my toys. The only other 'con' I can really think of for this product is the giant SPAREPARTS logo that's sewn on the bag and the very front of the harness. It's a bit of an eyesore, but it can easily be removed with a seam ripper. Just be careful not to damage the material. Also, you'll want to make sure your Velcro sides are secured to each other when it storage. The male side of Velcro tends to stick to everything and it can pull threads loose and give the material a bit of a fuzzy look.
Experience
Like I mentioned earlier, my husband used this on me with the Rascal O2. He had a lot of fun and talked about how comfortable it was to wear this harness. The material was also very gentle when it rubbed against my labia while he was wearing it. I have tried it on, but we haven't used it for pegging just yet. It's funny because I think he enjoys having the ability to fuck me with different dildos when the original intention was for me to use it on him! This has been a really great investment for us because I didn't enjoy using dildos before we had a harness. There's something about having a natural angle for thrusting that makes it more enjoyable for me.
Follow-up commentary
4 months after original review
We use this thing all the freaking time and still adore it. It's the most comfortable harness we own. The stitching is holding up well and the clasps and closures all are in great condition, despite a lot of use. The only minor complaint I have is that the velcro adheres to the silkier material and pulls in the wash. We've made sure to hand wash it since the first incident though. As long as we make sure the velcro is stuck together when we wash it and store it we don't have any problems. This is a wonderful harness and I still recommend it 100%.
This product was provided at a discounted price in exchange for an unbiased review. This review is in compliance with the FTC guidelines.
Thank you for viewing
Joque harness large
– double strap harness review page!