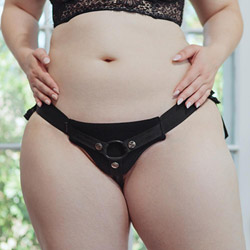 Sedeux divine diva plus size harness
Double strap harness with back support by Sportsheets
Cut Me Some Slack
This is my first strap-on and I like it. It's comfortable, appealing, and lightweight. The only issue I have with it is the extreme amount of slack it has in the straps after it was adjusted to my size. The straps stayed on tight, but I had too much left over!
Published:
Pros:
*comfortable*
*easy on/off*
*comes with variety of O-rings*
*machine washable*
Cons:
*extra strap*
*minimal care/wear instructions*
The Divine Diva comes in a small cardboard box which measures 9"L x 7" W x 2" deep. According to the box, it comes with a limited lifetime warranty. The terms for said warranty are available at the Sportsheet's website. The front of the box depicts a semi-nude woman modeling the strap-on, therefore the package is not discreet. It was not difficult to open as there is a lip at the top of the box you lift to get to the contents. The strap-on was packaged inside the box with a super small, super thin pink piece of wrapping paper that really was as useful as one not being there. The box can be reused for storage.
The Divine Diva came pre-strapped and luckily it did because there are no instructions included. Well, I take that back; on the back of the box it reads:
1. Step into the strap-on placing the pad in front.
2. To adjust, pull the webbing through the hip ladder locks until fit is secure.
3. Then pull the webbing through the leg ladder locks.
That description is Greek to me but it doesn't take a rocket scientist to figure out how to put on a strap-on.
To wear, you step into the pre-strapped Divine Diva and put each leg through the skinny straps. Then, you take the thick straps and PULL to tighten. Once it is secure on your hips, you take the skinny straps and PULL to tighten it around the back of your thighs and buttocks. It is a pretty easy ensemble to put on and take off. However, as this fabric is machine washable, it will probably be a pain in the ASS to untangle and put back together again.
This is my first strap on. The front and back of the strap on have a fleece-like feel to them and are lightly padded. It's pretty comfortable but the material wasn't what I was expecting judging by the pictures online. I think I was expecting a more woven material. According to the box, the material is a nylon fabric filled with polyurethane foam, and the straps are nylon webbing. Nonetheless, it is comfortable and very soft against the skin.
There are no specific cleaning instructions included. Nylon is a synthetic fabric made from plastic. This should not be washed in high temperatures as it can melt. To prevent the straps from getting tangled in the wash with other clothes or the agitator, it is best to place it in a mesh laundry bag before putting this in the washing machine. I would also advise against drying this in the clothes dryer for that same reason. My suggestion would be to wash this in a normal load in cold or warm water and let it hang dry or machine dry on the lowest temperature setting.
It also came with three O rings. The O rings are nitrile and nickel-free. Two of the rings were left in the box, as one is already fitted to the harness with three snaps rings in the crotch. It is very easy to change O rings; just unsnap, remove, replace, and snap. It is simple and that's how I like it! The O rings measure 1.5'', 1.75'', and 2" so be sure to get a dildo with comparable girth or you'll be out of luck. You're going to want to place a dildo with a flat and flared base that will lie against the harness easily and lock it in place with the O ring. At least, that's what I figured out. Like I said, I'm new to strap-ons!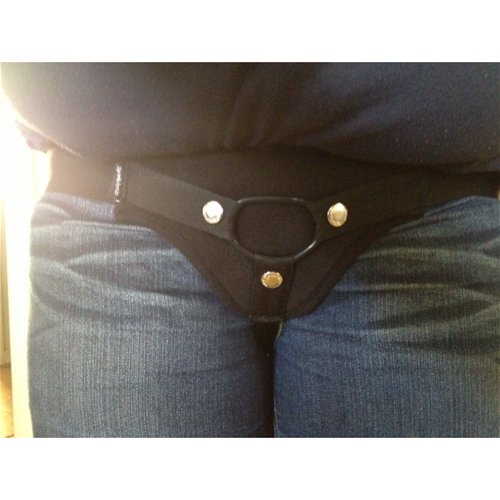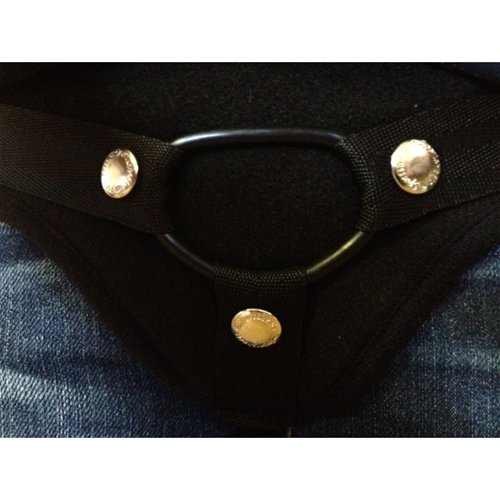 I purchased the Plus Size as I am a size 14/15 gal. The plus size adjusts up to 82" hips. My hips are 48". There is A LOT of slack left in the straps. The straps stay on tight and is very secure. When I say slack, I mean there's extra strap left over. Now, in the pictures there is no slack depicted on the models. My guess is they were fitted versions or cut off. I have no idea what to do with all the slack. There isn't a belt or anything to tuck it into.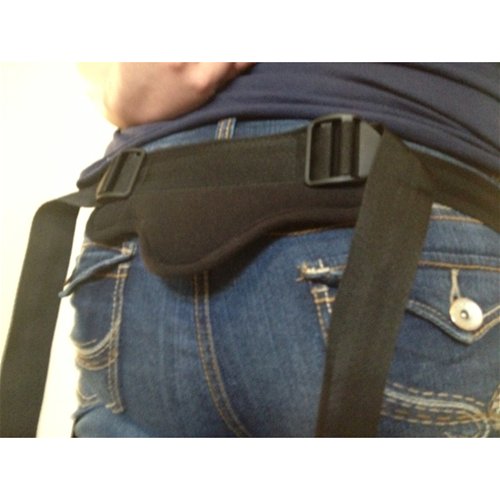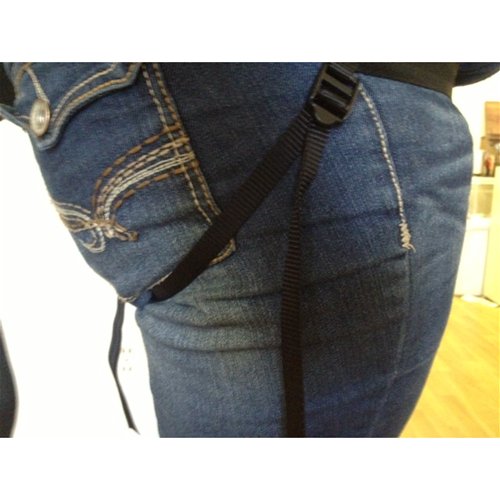 It's comfortable, adjustable and affordable. I will probably have to tailor the straps, such as cut them down to my needs as they definitely get in the way. This is excellent for someone new to strap-ons. The 3 instructions "detailed" on the box weren't exactly necessary since it came pre-strapped. I suggest getting it on and cutting it down until you only have a few inches left of extra strap. That way they won't get in the way and can be adjusted down the road if your hips get bigger or if your partner shares it.
Follow-up commentary
4 months after original review
I still think this is a good quality harness. It's comfortable, sleek, and looks great. It's best features are the 3 different sized rings that come with it to fit different sized dongs, and the ability to be adjustable for plus sizes. The extra strap of course is the only "ish" because you have to cut it down and I don't like having to take scissors to something I just purchased. Still a GREAT buy!
This product was provided free of charge to the reviewer. This review is in compliance with the FTC guidelines.

Thank you for viewing
Sedeux divine diva plus size harness
– double strap harness with back support review page!