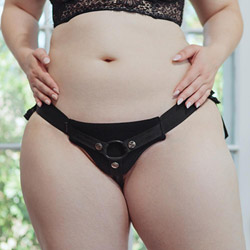 Sedeux divine diva plus size harness
Double strap harness with back support
by Sportsheets
Fat Chicks Rejoice!
Sprtsheets has been helping people have better, hotter, kinkier sex since 1993 and this harness is just one more awesome notch in their belt. Cushiony and adjustable with interchangeable o-rings, this may the only harness I need for quite some time; which is great since this is one of the only plus-size harnesses on the market.
Published:
Pros
Plush. Interchangeable O-rings. Doesn't wiggle around. Multiple adjustment points.
Cons
Dangling, tangling straps. Difficult to adjust.
The Sedeux Divine Diva Plus-size harness, manufactured by Sportsheets, arrives in a box that astounds me with its sheer indiscretion! The box is approximately 10 inches by 7 inches by 3 inches, bright pink and white. There is a bedroom-eyed woman on the front wearing the harness and nothing else in two places on the box. The box includes the following information: Adjustability, size, care, and accessory information; as well as how to wear directions, in text and pictures.

The Sedeux Divine Diva Plus-size harness is manufactured for women with a hip size anywhere from 28 inches to 82 inches. Just to put that in perspective: a woman who wears a size 0 has about 34.5 inch hips and a woman who wears a size 48 has about 76 inch hips. This harness has the accessibility to fit a woman that is both smaller than a 0 and bigger than a 48. That is astounding. Fucking astounding, might I say.

But really, I'd say this harness is best suited for women sized between 12 and 22. I wear a size 26 (that's a 57 inch hip measurement, f.y.i.) and have a pronounced belly and I do not like the way this harness sits on my body. I don't like the way it looks on me. That doesn't detract from how awesome I think this harness is, though.

I have only every used this harness in dry zones but I would guess that this harness is waterproof since it is made out of nylon and the rings to hold your flared-base dildo are rubber. Besides making it plausibly waterproof, nylon is hypoallergenic and easy to clean with soap and water, nylon is also resistant to grease, oils, and solvents. The downside is that nylon is porous and since this will very likely be exposed to bodily fluids, it should not be shared among partners. In the same way that most of us are disinclined to borrow panties or buy used ones—even though we logically know that they're clean—this harness should be yours and yours alone.

This harness has several key features besides being potentially waterproof. It has 4 adjustment points, two on the back on either side of the very plush back support pad, and one on either leg to adjust the under-the-butt strap (sorry, that just doesn't sound very technical). Some of the reviews state that this harness is easy to put on and adjust. To those people —please send tips! I actually did not find this easy to put on, not the first time (especially not that first time) and not every subsequent time that I put it on and needed to adjust here and there. It isn't so difficult that it was burdensome to use, but I certainly would not have classified it as easy to use. Perhaps because of the multiple adjustment points, or maybe because this harness is just that well engineered, this harness does not slip around during use. I vigorously thrusted and pegged and jiggled along in this harness and for the most part it stayed in place.

While doing all that vigorous thrusting I kept note (mental of course, anything else would have been rude) of any chafing. I experienced none. Though nylon does not have the best reputation for being smooth on ones skin, the straps on this harness are very finely woven which results in a smoother feeling against the skin. Another key feature of the Divine Diva Harness is that it comes with three o-rings sized to accommodate dildos with a 2 inch base, 1 3/4 inch base, and 1 1/2 inch base. The o-rings are held in place by three straps at the 10 o'clock, 2 o'clock, and 6 o'clock positions. The straps snap together with rivets.

Overall, I think this is a fantastic harness, just not for me —not without some modifications. I think that for this harness to work well for me I'd need the leg adjustment straps to be relocated about three inches back, closer to the apex of my hip bone. I never quite feel as though it has been properly adjusted because of how it sits on me.
This product was provided at a discounted price in exchange for an unbiased review. This review is in compliance with the FTC guidelines.
Thank you for viewing
Sedeux divine diva plus size harness
– double strap harness with back support review page!