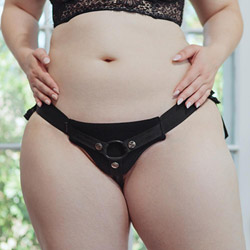 Sedeux divine diva plus size harness
Double strap harness with back support
by Sportsheets
I Now Proclaim Myself Diva-licious
The Divine Diva is a remarkable piece of sexual engineering. The harness fits like a dream and can accommodate a wide range of bodies – from size 12 to well above size 32W.
Published:
Pros:
easy adjustments, stays in place during use
Cons:
none
In my more cynical moments I think of Freud as being some coked-out huckster who had an unhealthy obsession with the libido. When I'm experimenting with a harness, I think Freud may have been on to something. I may have been suffering from penis envy without even knowing it.
I now believe that having a penis is a remarkable, liberating thing.
Let's overlook the fact that this whole "having a penis" thing is completely temporary. Whatever. Don't rain on my parade. None of that changes the fact that the first thing I felt when putting on the
Divine Diva harness
was joy. The second thing I felt was freedom.
I'm as surprised as the next person by my reaction and I think I'll have to underscore the fact that this is my very first harness. The only thing I have to compare this to is… well… nothing.
The idea of taking a harness for a test run came from a conversation with a male friend. I can't remember how all this started, but at one point I observed how nice it would be to fuck him anally. Wonderfully open-minded sexual adventurer that he is, he also thought that me fucking him anally was a pretty good idea.
There was certainly more to the conversation – something involving a couch and exotic, faraway lands – but the seed had been planted. The preparations were set in motion.
A week or so later I'm standing in my living room with a penis.
The
Divine Diva harness
is simple and straightforward in its construction. There's a padded strap that rests against your lower back and a second padded cushion with an O-ring attached that rests against the mons. Everything is held in place with the help of two thin nylon leg straps that are completely adjustable.
[For those of you who haven't tried this before – putting on a harness is a lot like stepping into a pair of panties. It sounded all mysterious until I did it myself, but it's really a piece of cake.]
On its tightest setting, the
Divine Diva
fits a 32" waist – approximately a size 12 according to an online retailer's size charts. On its widest setting, the harness fits an 82" waist. That range means that the Divine Diva is suitable for the vast majority of American women.
Fitting the Divine Diva to your body is easy and straightforward. I stepped into the harness, pulled it up to my waist, gave the straps a good tug, centered the back cushion, and voila! After taking a moment to tighten the thigh straps, I was good to go.
The harness comes with three rubber O-rings in a good range of sizes: a 1.5", a 1.75", and a 2". Attaching the dildo was a breeze. The snaps opened and closed easily and the O-ring kept a tight grip on the dildo's base. I had expected the dildo to drag the harness down and away from my mons once it was on, but that wasn't the case at all.
Clearly, I'm still new enough at this for everything to be a novelty.
Changing dildos with the harness on was a bit trickier. I could quickly and easily remove the O-ring by opening the snaps, but reattaching them was admittedly awkward and more time consuming than I would have liked. I'm chalking it up to being a beginner rather than any design shortcoming on the part of the
Sedeux Divine Diva
.
The straps can take a fair amount of pulling and pushing before they start to loosen. I have the feeling that some amount of tightening is inevitable with any harness that does not have a buckle closing. When tightening did become necessary, it only took a quick tug to tighten things up again.
Cleaning is easy. I tossed mine into the washer on the gentle cycle and then hung it in the shower to dry. Although the manufacturer does not provide washing instructions, I would assume that the material would also do well from being hand washed.
Even if you're only vaguely interested in giving a harness a try, I would recommend the
Sedeux plus size harness
in a heartbeat. It's user friendly, body friendly, and immediately breaks down the intimidation factor I believe had been holding me back from trying a harness sooner. It's opened up a whole new world of sexual experimentation that I can't wait to learn even more about.
This product was provided free of charge to the reviewer. This review is in compliance with the FTC guidelines.
Thank you for viewing
Sedeux divine diva plus size harness
– double strap harness with back support review page!