Picky Girls and a Good Harness!
This harness is truly comfortable whenever you are wearing it. It feels stable and I love how soft it is. Other than the fact that it doesn't fit dildos with balls it is great. It's super adjustable and not too scary looking! I love it, and will end up buying some non-balled flared dildos to use it properly.
Published:
Pros:
Comfortable
Easily Adjustable
Back support pad
Machine Washable
Plus Size
Cons:
Can't fit dildos with balls
As this was our first time using any kind of strap-on toy, I took the time to research the different kinds of styles and looks of harnesses in order to avoid awkwardness! My partner and I are both picky about the look of some of them, and it is our first time exploring this side of our relationship. I did find that some were too leather-y looking, although I did read that leather harnesses are very soft and nice against the skin, and some have way too many straps going all over the place! It just freaked us out!
We are both a little chubby, so when looking for a harness I was kind of worried that a one size fits all harness wouldn't do the trick. Since we were planning to order online, I didn't want to be wrong about the harness fitting, and then have to return it and go through all those shenanigans! Since most adult toy products aren't returnable for obvious sanitary reasons, I do think it is worth it to get this Plus Size harness even if you are not very big. I say that because the harness comes with super easy adjustable straps (all you need to do is pull on them to tighten it up), and they give you a fair amount of strap material for any size body. Seriously!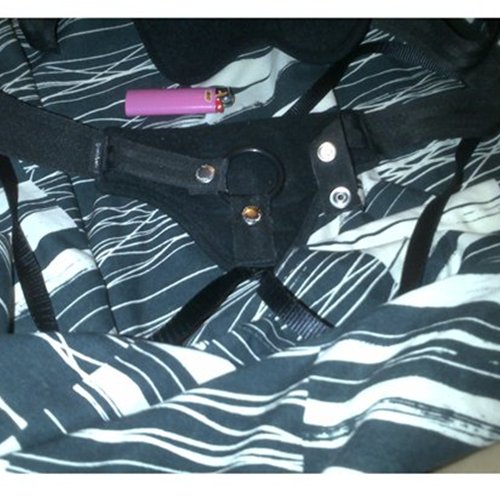 I would much rather adjust the straps to a size that works for both me and my partner, and then cut them (which is what I did as there was just way too much strap hanging everywhere), than to have to wait weeks to return the item if it is too small.
This harness is super comfy! When going through some of the manufacturer pictures of the harness, I was scared the size of the "triangular" shape of the front of the harness would be too big and awkward against the body. Luckily, when I pulled it out of the packaging I was impressed by how UN-bulky the harness looked. The "triangular" shape literally fits right over the top of your vagina, and isn't at an awkward stomach level like some of the harnesses I've seen! I'm not hating, it just isn't my style.
The material of the front and the back support is very soft; I find it feels a little bit like wool felt. When the harness is on you, there are two straps going around your thighs (one on each) and it feels like a rock-climbing harness! I don't mind them as you don't really notice them when your partner is in front of you. The part that goes around your body is just as comfy thanks to that back support pad and holds very well. It has never gotten loose and has no irritating defects about it.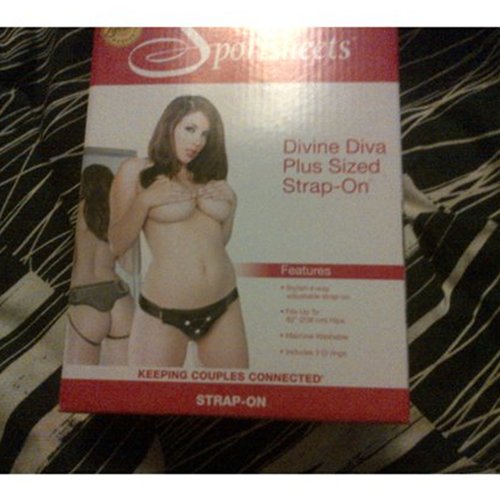 Although I love this harness, I did find there to be ONE issue about it. It was a pretty big issue, but I had no idea until I put it on. The harness "O" ring holder has 3 straps holding the rubber ring, a strap on the left, right and bottom. I never thought about it but I ordered a realistic cock which had a nice pair of balls on it. I bought this harness not realizing that it had a strap blocking the bottom where the balls would hang. What did I do? I learned that this harness wasn't made for a dildo with balls, but I don't give up. The harness is made pretty well, so I took the chance of not buttoning up the last strap (on the bottom) so that the balls could hang freely. Luckily it stayed in place and didn't cause any problems!
I do recommend you avoid this harness if you're into balls on your dildos, as you won't be able to use it to its full potential. It sucks worrying about the dildo falling out of the harness because of the lack of a support strap. The company could definitely improve the harness if they switched the bottom strap to the top, to allow dildos with balls. I'm thinking of sewing it to the top at this point.
Finally, the harness is machine washable, which makes it super easy to wash!
Experience
I would definitely recommend cutting the straps once you know the approximate length you need, or you will have lots of left over straps hanging! It is best to use this harness with a dildo (flared) that has no balls in order to get the best stability.
This content is the opinion of the submitting contributor and is not endorsed by EdenFantasys.com

Thank you for viewing
Sedeux divine diva plus size harness
– sex toy review page!