My Silky Dream!
Ever wondered if the joys of anal play are achievable? Maybe you are like me and need a warm up toy for your anal playtime. No matter whether you are a beginner to anal play or a pro., the Small Silk is sure to be your go to toy. Use it analy, vaginally, solo, pegging, or with a partner this toy is a delight.
Published:
Pros:
Silky Smooth, Petite, Premium Silicone, and Versatile.
Cons:
Nothing at all.
With the Small Silk by Tantus anal play just became comfortable and erotic. This petite dildo lives up to its name. Beginners will especially appreciate its design and texture. It feels smooth as silk when you glide it into your hot oven. But don't let the name fool you. Those who are more experienced in the joys of anal play will also love this toy as a warm up piece.
It has a large round base that makes this toy completely safe for anal play. Also, this is a great feature which allows this dildo to work perfectly in a harness. Whether you are pegging or using this toy solo, its uses are as endless as your imagination.
The Small Silk is also works well for those who like a petite toy to use vaginally. In additon, the base is comftorble in your hand allowing you full controll over the toy. If you are new to the world of toys, this piece is a great choice. It is not ridged and has some give. It is dainty enough to let you explore in comfort.
For those who have seam sensitivity, the Small Silk is smooth without any ridges or seams. The only texture on the dildo is on the base where the Tantus name is stamped in.
It is made from 100% premium silicone. This material is non porous and a breeze to clean. Simply boil it for 10 minutes, wash with a 10% bleach and water mixture, or use your favorite toy cleaner. Being made from silicone, this toy is perfectly safe to share with your partner after it has been cleaned. This is an aspect of silicone that I absolutely love; it allows Hubby and I to share the same toys. To cut down on confusion and possibly mixing up our toys during play time, we designate his and hers toys for the night.
In aditton, silicone is safe to use with water and oil based lubercants. Unfrotantly, silicone is not compatible with silicone lubercants. However, Wet has created a wonderful silicone hybrid lubercant that is safe to use with all your silicone toys.
The Small Silk comes packaged in a plastic see through box. Although, the box is not discreet; it can be used for storage. I prefer to recycle the package and store my silky friend in a zip lock bag.
Over all, the Small Silk is an amazing little friend that lets you explore in delight without the fear of pain or discomfort.
Measurements:
Length -- 4 1/2 inches
Circumfrance --2 1/2 inches
Base width -- 2 1/2 inches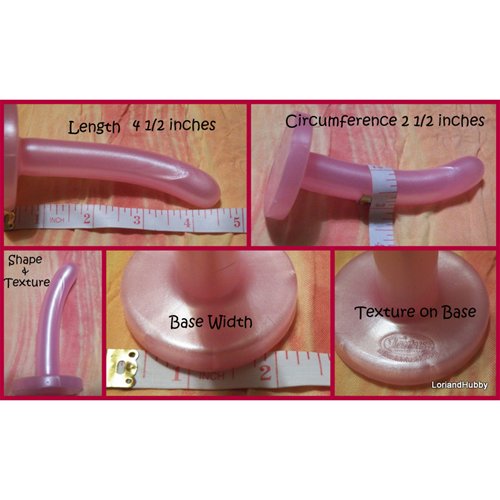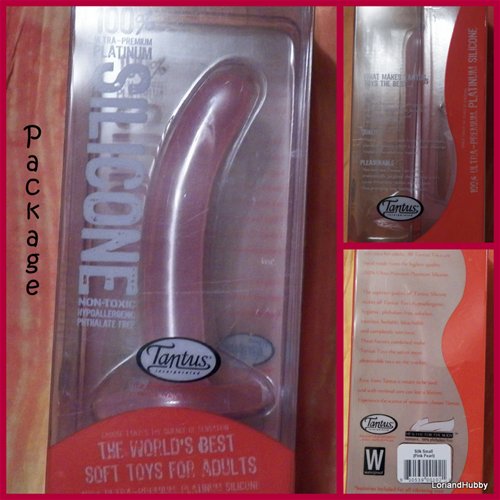 Experience
The Small Silk was my "step up" toy from the
Beginner's Anal Kit
we purchased previously. The non-realistic look and petite size was irresistible. Consequently, I was not disappointed and now recommend this toy to anyone who is curious about anal play.
Her Experience:
After I received my Small Silk, I was excited to try it out. Later that night during our play time my chance arrived. After Hubby had me good and warmed up, he slipped in the toy as I prepared myself for a bit of discomfort. I was surprised when it was all the way in, and I felt nothing except erotic pleasure. Thrusting the toy in and out of my bum, I was in bliss. After I achieved my first ever anal orgasm, I reached around for the base and whispered to Hubby, "I want to feel you inside of me too". Filled with anticipation, I quivered as his manhood penetrated me. While Hubby thrust his member into my hot oven, I pumped the Small Silk lightly in and out of me. The feeling of experiencing what had always been taboo was exciting. As we climaxed together, my legs shook with ecstasy and my head spin. The experience was utterly breath taking.
His Experience:
After seeing my joy experiencing "Silky", as it is now playfully called, Hubby was anxious to try it out himself. His anticipation got the better of him, and he tried this toy out playing solo one afternoon. With adequate amount to lube, Hubby was easily able to insert "Silky and explored his p-spot. The base fit just right in his hand and allowed him to maneuver the toy to feel the different sensations. After a shot while, Hubby hit the elusive p-spot, and it sent shivers throughout his body. Massaging the area, Hubby was filled with such excitement that he sat up a bit and positioned "Silky" so he could sort of bounce creating a thrusting motion in and out of his hot bum.
It was about this time that I walked in and caught Hubby molesting my "Silky". With a big smile, I walked across the room and began to strip for Hubby. I pulled out my
Bare As You Dare Harness
, put it on, and climbed onto the bed. "Let me help you", I whispered, as I reached down and took "Silky" from his bum. As I slipped it into the o-ring, Hubby rolled over giving me full access. Filled with excitement, I began to take Hubby from behind. His body was hot and sweaty as I thrust in and out of him. It was simply amazing. Silky was just the right length to hit all the right spots inside of Hubby; it was unlike anything he had felt before.
Our experiences were amazing. The Small Silk allowed us to both explore the joys of anal stimulation without pain and left us both wanting more. We can't recommend this toy enough to anyone who is new to the world of anal play. It is comfortable, petite, non realistic, and the perfect piece to make your start on a new journey enjoyable.
Stay tuned for more from our journey into the world of anal play.
Follow-up commentary
2 months after original review
I love my Small Silk. It was wonderful to begin my journey into anal play. Now that I have a bit more experience in this area, I have upgraded to the Silk Medium. But never fear, I will never neglect my first Silk. I use the Small Silk as a warm up piece. I can wear this dildo as a butt plug for a short time and then switch to the larger Medium Silk prior to anal play. Using the Small Silk this way has made our play time easy and pain free. The Small Silk will always have a place in our toy box.
This content is the opinion of the submitting contributor and is not endorsed by EdenFantasys.com

Thank you for viewing
Small silk
– strap-on dildo review page!