Silky Smooth but Subtle
The Small Silk is a great toy for anyone interested in trying anal play or pegging, but if you intend to use it for vaginal play you may find it lacking. A quality toy at a great price, there are no fundamental negatives to this toy. Be sure the size of this toy fits what you intend to use it for, and you'll be impressed.
Published:
Pros:
Smooth
Pretty
Quality Material
Great for Beginners
Cons:
None
Marketed as a dildo, the Small Silk will likely leave you wanting more if used vaginally. It lacks the length or girth to do the job for most users. I have found that I love some dildos for clitoral stimulation, but the Small Silk isn't going to thrill you for that use, either. I think that reason most people purchase this toy is for beginner anal play, and for that purpose this toy excels. If you've already done some anal play with a finger or two and you're looking to try a toy that is a bit longer and can offer you the ability to easily thrust, the Small Silk is a great option. It can be used for pegging and harness play, but it is small enough for beginners to use. Appealing to men and women alike, anyone who has tried a bit of anal play, maybe even a small plug, but isn't ready for a wider or more textured toy should try the Small Silk.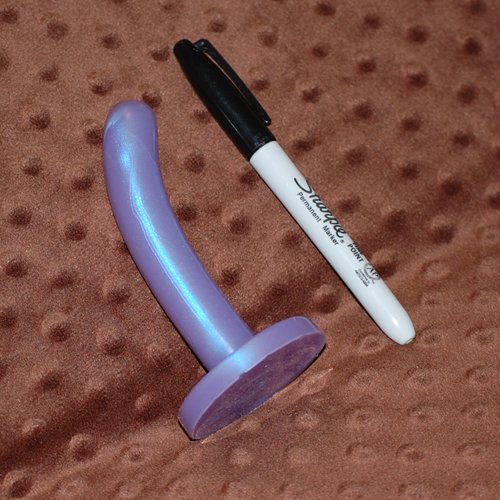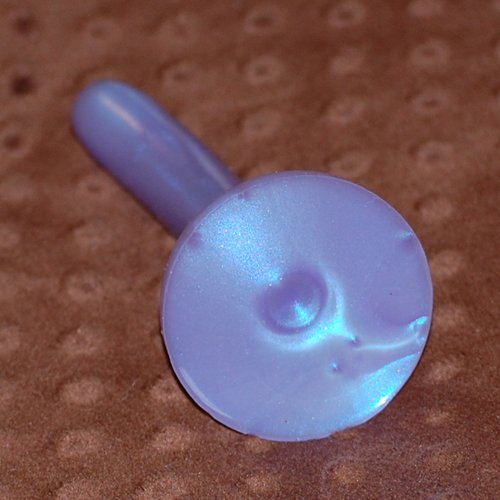 Made entirely of silicone, the Small Silk has no smell or taste. The surface has the standard matte appearance you expect in a Tantus toy. You can compress the toy fairly easily if you pinch it between your thumb and forefinger. The shaft of the toy has a gentle curve, with a bit of a hook curve at the tip. The surface of the toy is smooth, with no texture, so it allows you to try a toy for thrusting anally without the resistance or complication of bumps or balls. The color is a hazy blue purple, with a bit of a swirly appearance.
The Small Silk is very flexible and bendy, and can be folding in half quite easily. Inserting it can be tricky because of this. If you just rest the tip against your vaginal or anal opening and push, it will only fold over on itself. You will need to use your hand to guide the tip inside, especially if you are using this toy anally. The total length of the Small Silk is 4 3/4", with about 4 1/4" of that being insertable length. The diameter of the shaft is 3/4", and the diameter of the base is 2 1/4". The base itself is O ring compatible, and the toy can be used in a harness. There is no suction to the base, so it can't be attached to smooth surfaces that way. You will need to either use a harness, or hold the base in the palm of your hand to use it.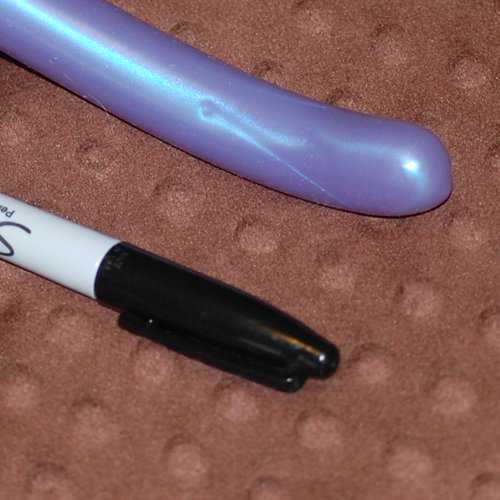 The Small Silk is all silicone, so cleaning is simple. You can clean the toy with a mild soap and water or with your favorite toy cleaner. If you wish to sterilize the toy, you could boil it for three minutes or place it in the top rack of your dishwasher. It does tend to collect hair and lint, so please check it before using it to be sure it's clean. Please use only water based lubes, as silicone lubes will damage the toy. When you store the Small Silk, take care to store it away from other silicone toys, as contact with them will cause damage.
The Small Silk comes in the standard Tantus packaging. There is an outer clear plastic package, with the Tantus logo and some information about the toy printed on it. Inside that package, there is a form fitting clear plastic holder for the toy itself. I wouldn't call it discreet, as you can clearly see the toy inside. There is minimal information included with the toy. The side of the box advises that if you have any questions regarding care or cleaning, you should visit Tantus' website. The package really isn't suitable for gifting, but could be used for storing the toy. It does take up quite a bit more room than the toy itself, so if space is an issue for you, you might want to consider storing it elsewhere.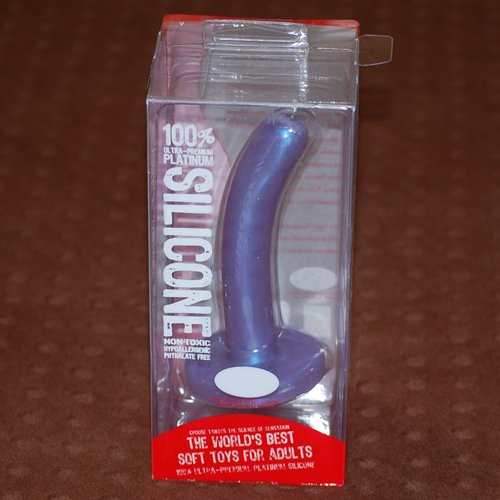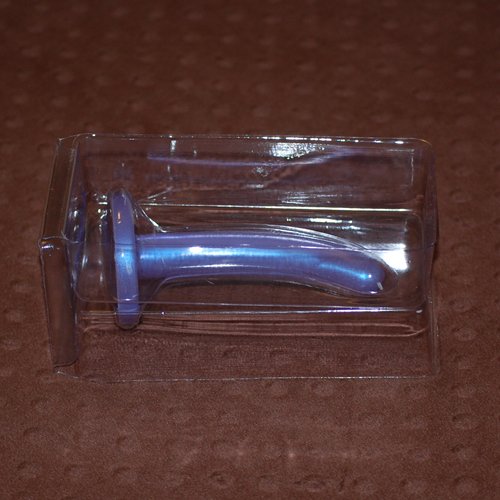 Experience
I've owned the Small Silk for quite some time now. When I bought it, I thought it was exactly what I was looking for in an anal toy. At the time, it really was. I had decided I was open to the idea, and had done some play with a finger or two. I had tried a very small plug or two, but nothing with bumps or ridges. I was worried about being cut by a fingernail if it was moved around too much in there, and that worry was distracting enough to cause me to be tense about the whole business.

When I saw the Small Silk, it seemed like the answer to my concerns. It was roughly the size of a finger, maybe even a bit smaller. It was smooth all over, so there was no way it could snag or cut me. And it really did live up to the hype.

I was able to insert it on my own, but it did take two hands because of how floppy it is. You have to get it started with one hand, while your other hand holds onto the base. It's small enough that you can slowly thrust it to get used to the sensation, and you will not be overwhelmed by it.

While the Small Silk was a valuable stepping stone on the path to comfort with anal play/sex, it was a toy that I outgrew. I don't tend to reach for it, even for warm up purposes. There isn't anything wrong with the toy, and I'm glad that I purchased it. It's very nature, and how comfortable it makes you with the experience of anal thrusting, helps you to move on to bigger and better things.
Follow-up commentary
5 months after original review
This little guy still makes an appearance from time to time. For what it is, it does it's job well.
This content is the opinion of the submitting contributor and is not endorsed by EdenFantasys.com

Thank you for viewing
Small silk
– dildo review page!