Pretty Purple
Acute is an amazing dildo. It can be used vaginally and anally, both in and out of a harness. The gentle curves and bulbous head work well to hit the g-spot and p-spot. It's made out of nonporous, body safe silicone. However, we did find we needed to work up to this one a bit because of the head, so it may not be a good choice for beginners.
Published:
Pros:
body safe silicone, phthalate free, easy to care for and clean, shape, color
Cons:
attracts a lot of lint
After first trying out a harness, I decided to try out a few different dildos with it to see what we liked best. One of the first ones I ordered was the Tantus Acute. I liked its smaller size and gentle curve. I liked the midnight purple color, so that's what I ordered.
Acute comes packaged in a thin clear plastic box with two plastic inserts to hold it in place. The front says this toy is 100% premium silicone that is non-toxic, hypoallergenic, and phthalate free. It also displays the Tantus logo. One side states some basic information about the toy, including that this is odorless, boilable, and safe for use with your body. The material won't cause irritation, infections, or rashes. The back of the packaging states the same information as the front and side. It states for additional cleaning information, you can go to
their web site
. The remaining side provides this information in German, French, and Spanish. The packaging is a bit bulky compared to the toy, so it may not be a good choice for storage. However, you can recycle the plastic. I've been keeping mine in the box for the meantime because it's on a shelf with other silicone toys.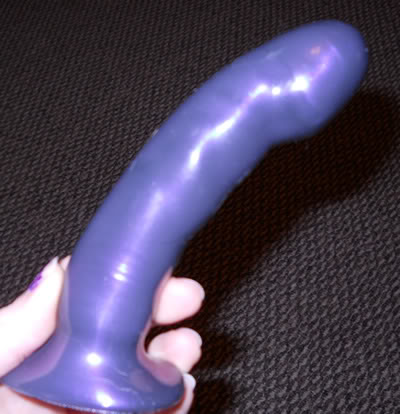 My camera does not accurately show the color. The color matches the photos on EF's product page.
Acute is made completely out of a premium grade silicone. The silicone is shiny and has a lot of drag to it. Once it's been lubed up, this toy does not have much drag to it at all. This toy is easy to bend in half and it's kind of squishy, too, allowing for easy use. However, it is not floppy. There aren't any seams, but mine does have a tiny blemish on the head of it. I absolutely love the midnight purple color. It's got all sorts of colors swirled into it and has tiny flecks of purple glitter in it which give it a shiny metallic look. It looks great with my pink and white harness.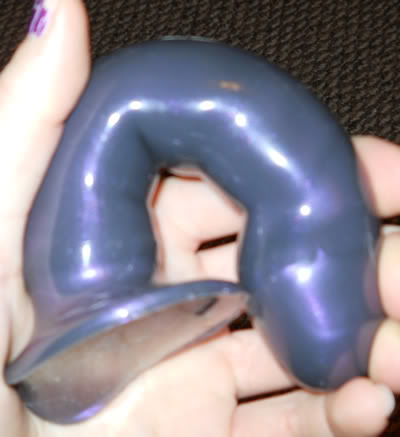 Compared to other dildos, I'd say this is about a medium-sized toy. It's 6 3/4 inches in total length, with 6 inches of that insertable. The head measures 4 1/4 inches around, while the shaft measures 3 1/4 inches around. The shape is somewhat phallic, yet this isn't super realistic at the same time. I think the shape is great for those who do not like realistic dildos, like my fiancé. Acute has a gentle curve running the entire shaft, which is great for g-spot or p-spot stimulation. The bulbous head is also great for stimulation. The shaft has some lumpy ridges down it, somewhat resembling a veined dildo. The base is great for use with an O-ring and has Tantus imprinted on it. Unfortunately, the base does not work as a suction cup.
We use this toy exclusively for anal use, sometimes with a harness. The flared base makes this excellent for anal use, since it will not get lost inside of the body. As I said before, this is a medium-sized toy. For either vaginal or anal use, you may want to work your way up or warm up a bit with a smaller toy first. For us, the concern isn't so much with length, but with girth. He sometimes has a bit of difficulty inserting this because of the larger head, so we will switch it off with a smaller dildo that does not have a bulbous head. This toy can be used vaginally as well. The material is also safe to take with you in the tub or shower.
I do suggest, especially for anal use, to take it slow with this kind of toy. The hardest part to insert is the larger head. Once that's comfortably in, the shaft will be much easier to work inside. If it hurts to insert this, you will need to go down in toy size, relax yourself a bit, or use a bit more lube. Water based lube is the only kind that is compatible with a silicone toy. Silicone lube will bond with the silicone in the toy and will wreck it.
Continued in Experience
Experience
There are a few ways to clean this toy. Since it's all silicone and does not have any vibrating parts or anything, you can boil it or throw it in the dishwasher. It can also be cleaned with soap and water or a toy cleaner. You may also bleach it in a solution of 10% bleach. I suggest leaving it out to dry once you're done washing it, as the silicone is going to attract a lot of hair and lint if you use a towel. I keep mine stored in the box to keep it clean and ready for our next use. When you store this, make sure it's at least in a plastic Ziploc bag or something so that it does not come in contact with other silicone toys, as they will bond together and be ruined.
I think this toy is excellent. The curve adds to stimulation without making it difficult to insert. The color is absolutely beautiful. I like that the silicone material is easy to care for very easy to clean. Once it's been cleaned, it's safe to use with another partner or you can switch between vaginal and anal use. Silicone is non porous, so it doesn't attract and hold bacteria and viruses.
The only thing I do not like about Acute is the size of the base. I've misplaced some of my other O-rings, so we only have one that is a bit too big for it. You'll need a ring that is 1 1/2 inches in diameter and we only have one that is 1 3/4 inches in diameter right now. The base is oval-shaped and only measures 2 1/2 inches by 2 inches, so it's very easy for the base to bend and slip through the ring and become unseated from the harness. Other dildos we have come with a larger round base which does not fit through the ring at all. Once I find or order some new rings, though, that problem will be fixed.
I definitely recommend giving Acute a try. It's not a good choice for beginners because of its shape, but more advanced users will enjoy it. I suggest beginners try out
Small Silk
by Tantus first, as it is made of the same quality material. The price is pretty good for a toy of this quality.
Follow-up commentary
2 months after original review
This is still one of our favorite dildos. We have a few anal toys that never seem to get used anymore because they are too small to provide as much stimulation as the larger toys my fiance has worked his way up to. I'm glad that this toy hasn't made its way to the "too small" pile yet.
This content is the opinion of the submitting contributor and is not endorsed by EdenFantasys.com

Thank you for viewing
Acute
– sex toy review page!