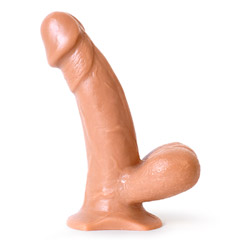 Goodfella
Realistic dildo with balls
by Vixen Creations
The Only Cock You'll Ever Need
The Goodfella is a wonderful, harness compatible prosthetic (or dildo) that can be used by a wide variety of people, who will all love it. It's extremely realistic, both in its design and its material, and it's perfect for sharing since vixskin is 100% silicone. I believe that it's obvious that the Goodfella has become a favorite of mine.
Published:
Pros:
Innovative design, realistic vixskin material, feels oh-so-nice, can be shared.
Cons:
Hard to get into Joque o-ring.
The Goodfella was one of those purchases that I was just dying to receive in the mail—I'm being extremely serious too. I had been out that week, and told my father, "When you see a package in the mail, I would appreciate it if you brought it to me immediately." He did, as soon as he could, and I was more than pleased when I opened Edenfantasys' discreet shipping box. I had always been attracted to the Goodfella, as it was the one silicone, vixskin, dildo that had its testicles sitting in the front of the harness as opposed to inside of it. When I held it for the first time, I was not disappointed.

Vixen Creations' wonderful, realistic vixskin silicone is a dual intensity blend of silicone, a firm inner core on the shaft of the prosthetic with a soft, movable outer skin, and a soft squishy head and grab-able testicles. I took my new penis out of its plastic packaging and groped at it a bit, marveling at how realistic it felt. It really was even better than I had expected. I have a few UR3 and cyberskin toys, and this...this was just as good, if not better, than those. Though I will admit that the outer skin was a bit thicker than it should be, it was thin enough that you could run your finger over it and it would slide with you.

What's great about Goodfella, in comparison to its other vixskin counterparts, is that it truly is the ultimate penis to be used for gender play or as a prosthetic. I use it with my SpareParts Joque harness, and it's just wonderful. Because the testicles sit in front of the harness, as they would be regularly, I can strip my trousers off and have sex with a partner, and they can actually feel them slapping, hitting, or pressing against their tush or clitoris, whichever position we're in. The design is almost like a suction cup, but has a protruding area coming off of the shaft of the Goodfella that is pulled through the o-ring and sits against the wearer's anatomy.

Not only is the actual design of the Goodfella great, but it's also a good, average size, meaning that most partners and individuals will be able to take its girth and length. I will say that it might be a bit big for people new to anal sex, but it should be fine for both vaginal and anal with a good amount of lubricant and workup. Its actual dimensions (kind of funny to use that word for a penis, right?) range from diameters of 1 to 1 1/2" on the head, and 1 1/2" along the shaft, and its insertable length is about 5 1/2". The testicles are a regular size, not too big and not too small.

And even better is the fact that vixskin is silicone—that means that it can be fully sterilized and sanitized, without the worry of needing to get a new penis every time you switch partners. You buy one, you keep one, and it's backed with a lifetime warranty for regular wear and tear. Just remember to only use water-based lubricants with this guy—don't want it melting all over the place when you're just trying to have a good time! Will you ever need another cock, other than the Goodfella? I doubt it, because I certainly don't.

So you've got your Goodfella, used it a few times, and want to clean it. How do you do it? Well, if you're the sharing type, and use this for multiple partners or orifices, you're going to want to boil it for about three to five minutes, take a 10% bleach solution to it, or put it on the top rack of your dishwasher, no soap. For regular use with one partner, rinsing it with a mild soap and warm water or using a toy cleaner is sufficient.

Note: Goodfella comes packaged in a regular, clamshell plastic packaging. It can be used for storage if need be, but I personally keep my Goodfella in a little pouch or plastic baggie.
Experience
I was sad to see that, in contrast to the pictures on Edenfantasys, the middle skin tone was too dark for me. It was extremely out of place in comparison to the rest of my body, and I was upset that I hadn't purchased the lighter skin tone. I will be posting photos to show the difference between the lightest and middle skin tones for this reason—so that no one else makes the same mistake that I did!
Here are those photos.
Getting Goodfella through my Joque was a bit of a hassle, simply because of the different base that it has. I had to sort of struggle and turn my penis just to be able to get it on. It took anywhere as short as one minute to as long as five minutes to squeeze it into the o-ring. Aside from the aggravation of getting it on, once I finally did...it was perfect.
My little girl loved it. It curved with her body quite easily, which I believe she said hurt her at some points so we had to switch positions a few times. But even so, it was still very good for us both. We did need to use quite a bit of lubricant with it, simply because vixskin is a bit sticky, but it slid in fairly easily and smoothly. I believe that the both of us can agree that it was quite a good experience.
In terms of packing with the Goodfella, I wouldn't say that that was so successful. As a thin, small man, it made me look like I was sporting an incessant erection, which isn't something that I'd want to go in public with.
Follow-up commentary
1 month after original review
I just received my replaced Goodfella in the mail and am very pleased with the change in color. I had originally ordered the medium skin tone, and when I got it, I found that it did not match up well. Now, I have the lightest, and it is much better for my coloration.
Vixen Creations' dildos are bound to last a lifetime, and the Goodfella actually has a lifetime warranty. Mine has held up so well, and there has not been a thing wrong with it. And the Vixskin? It astounds me every time that I use it.
This is my go-to prosthetic now (even though I now have Johnny in Vixskin), and it's the one that I use almost every time. Its good size is perfect for anyone, anally or vaginally, and I just..I still love it. It's absolutely perfect (I'll end up going on for ages if I do not stop now!)
So here are
some pictures from my blog
comparing the medium and lightest skin tones.
This product was provided at a discounted price in exchange for an unbiased review. This review is in compliance with the FTC guidelines.

Thank you for viewing
Goodfella
– realistic dildo review page!