Vixen/Vixskin Roundup #2- "There is only one man who dare give me the raspberry."
Lone Star is pretty much the perfect amount of girth and length. Though he might be a little girthy for some, he is perfect for us.
Published:
Pros:
Nice girth & length. 100% silicone.
Cons:
Lint magnet.
As do most things in our toy world, I am the one doing the research and purchasing. To introduce my fiancée to the world of dildos, I purchased Vixen Creations
Vibrating champlette
and after using it once told me that she wasn't a big fan. She wanted something with more texture, and said a little larger would be ok. So I told her that there were some options and we both sat down in front of the computer and dug through all the reviews of both the Vixskin Lone Star and the Vixskin Johnny. After pouring over all the info, she thought the Vixskin Lone Star sounded like the best option.
The Vixskin Lone Star is made by Vixen Creations, a fabulous toy maker out of San Francisco, California. They specialize in creating 100% silicone toys, and primarily dildos. The Vixskin line is a dual density line of toys made with a firm inner silicone core and a soft, skin like exterior. The Lone Star is on exception and is one of the most talked about dildos on Eden Fantasys. Upon opening the box that Lone Star came in, it revealed a simple clear plastic box with Lone Star inside. It's been noted that this container is a perfect storage medium, and it is no exception. It fits perfects into the drawers that we hold our toys. The only distinguishing feature is that the on the back of the box there is a white sticker which says which Vixen toy it is. We chose the carmel color, though there are beige and chocolate as well.
Lone Star Packaging: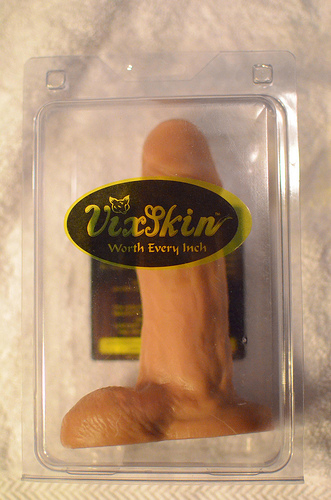 Shape & Size
One of Lone Star's best qualities is his dimensions. He's a a great length at 6" and is nice and girthy, but not too much so. Now I've noticed some inconstancies in the measurements that Eden posted with some of the Vixen toys, so I've gone through and re-measured, and Lone Star is pretty much spot on, save one which is that the max circumference I measured at 5 7/8" vs the 5 3/4" that Eden posted.
I measured Lone Star with the following measurements,
Total Length - 7"
Insertable Lenght - 6"
Circumference Head - 5 3/4"
Circumference Mid-shaft - 5 7/8"
Circumference Base - 5 3/4"
Diameter Max Head Side to Side - 1 3/4"
Diameter Max Head Top to bottom - 1 13/16"
Diameter Mid Side to Side - 1 13/16"
Diameter Mid Top to Bottom - 1 7/8"
Diameter Base Side to Side - 1 3/4"
Diameter Base Top to Bottom - 1 7/8"
Firmness & Texture
The texture is very life like and amazing. Interestingly, all of the dildo's have a slightly different texture. Though the Vixskin can be slightly tacky and not so life like when it's not lubed up, it still feels really life like.
Lone Star's firmness is one of those spots where it shines. It's not as firm as I was anticipating after reading other reviews, but in comparison to others, it's quite firm. The other thing that surprised me was how squishy the tip of the head was.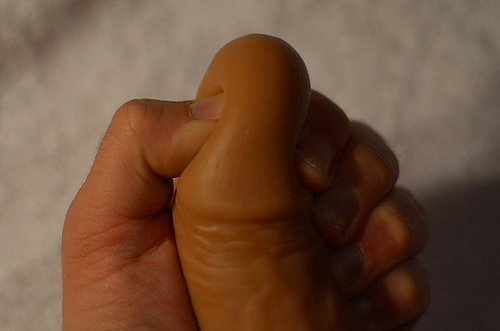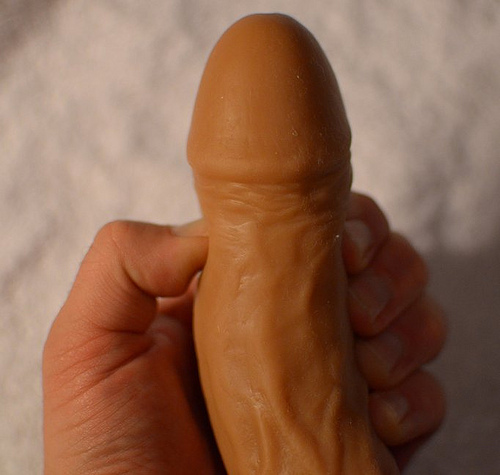 Cleaning and Care
When it comes to lube, you probably want to stick with water based lubes. We've used Lone Star with my favorite lube, the Sliquid Organics Silk, which is a hybrid water/silicone based lube, but you want to make sure to wash that sucker right away. As far as cleaning, Lone Star is super easy to maintain! Of course you can go with my personal favorite cleaning method, the toy wipe. You can also do soap and water. But the best part about 100% silicone toys, like Lone Star, is that you can boil them, but I wouldn't keep them in there for more than 3 minutes. Another option is a mild, 10% bleach solution.
Experience
Both of us really love Lone Star. Though at times he can be a bit much, he's never too much. His firmness is great to squeeze against and is just the right length. He's by far and away the misses favorite, and I've been able to work up to him. Personally, I prefer Bandit for every day use, but I love working up to Lone Star.
Experience
Seriously, go look in the Eden forums. Search for "Lone Star Johnny"
...ok, back?
One of the most talked about topics in the dildos forum is Johnny vs Lone Star. I decided to do this whole Roundup because so many folks talk about which one is the best. It's definitely not cut and dry. Some people love the firmness of Lone Star. Some love the head and softness of Johnny. So I opted to get the others for a comparison.

From left to right, Champlette, Bandit, Johnny, Lone Star, Maverick
For all of you numbers geeks, here are my charts of mesurements.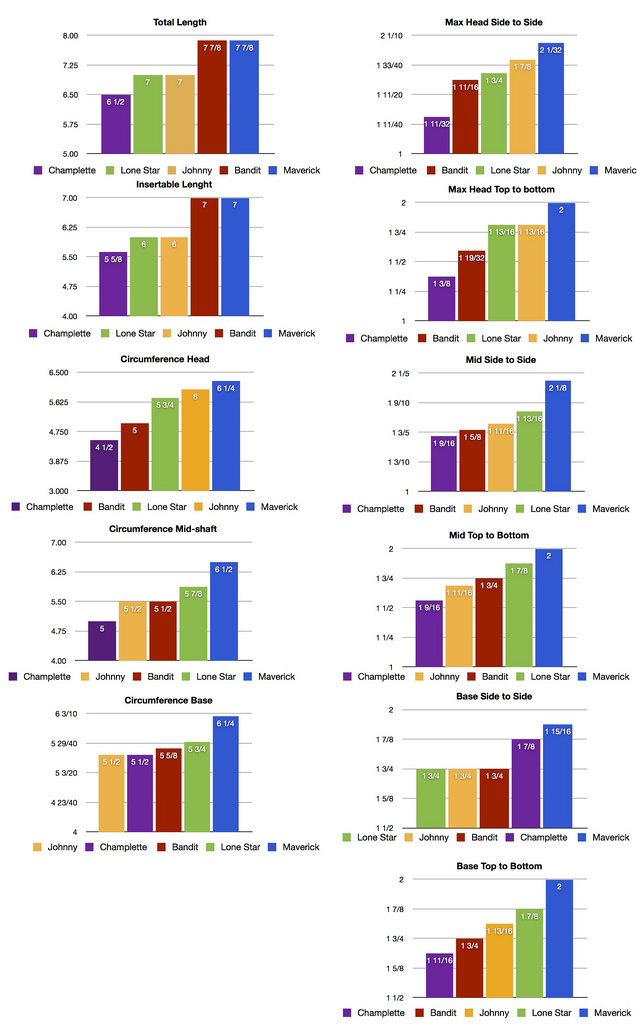 Lone Star vs Vixskin Johnny:
There are two very noticeable things in comparing these two. First, Johnny has a much larger head than Lone Star, and then tapers down to be not nearly as girthy as Lone Star. The Second thing is that Johnny is way softer and more floppy than Lone Star. The other thing that I thought was strange was that Lone Star's head is way softer than Johnny's. Now we've put these two to the test and because of the larger head Johnny provides a lot of the "popping" sensation on the pelvic bone, and the misses really didn't like that. She loves the firmer feeling of Lone Star and doesn't like how soft Johnny is. Lone Star just works better with her anatomy. I have not been able to take Johnny yet, due to his giant head.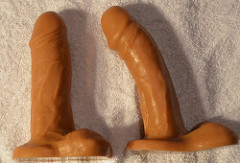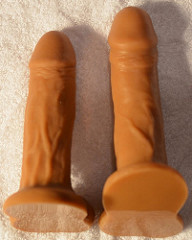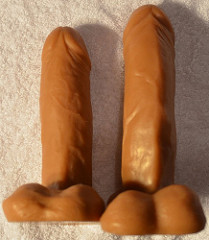 Lone Star vs.Bandit:
I have to say that Lone Star is the misses favorite. It's more girthy than Bandit, but quite a bit shorter. I'm still really up in the air on which one is actually firmer. It seems that Lone Star has a larger firm core than Bandit, but I'm pretty sure that Bandit's core is actually firmer. Also, because Bandit is longer, it seems more floppy. Frankly, Bandit is my favorite over Lone Star. Just the right amount of girth, and the shape and firmness is fantastic! The misses loves the girth of Bandit as well, but does not like how long it is.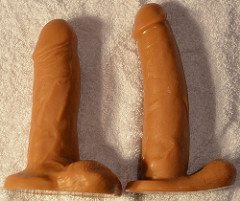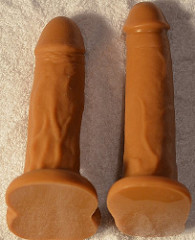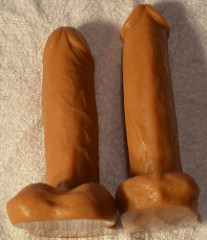 Lone Star vs Maverick:
You would think that on paper Maverick wouldn't be that much bigger, at least in girth. Eden has Lone Star at 5 3/4" and Maverick at 6". Well, I'm here to say that those measurements aren't right, at least with the toys we got. Maverick is over 1/2" in diameter than Lone Star. The misses took one look at Maverick and said "No Way!" Maybe saomeday we will both work up the courage. I have to say though, Maverick is way more handsome than Lone Star.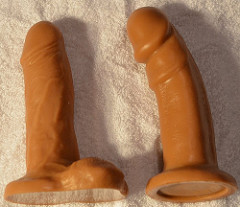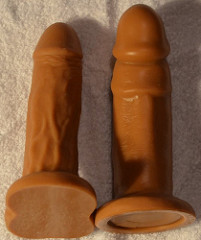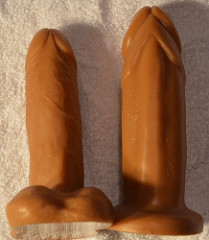 Lone Star vs the Vibrating Champlette:
Personally I love the Champlette. It's a great toy to start out with analy because of the extreme taper. I do find that the material is more uncomfortable than the Vixskin. I also love that the Champlette vibrates. I know that they probably would have a tough time building that into the Vixskin line because of the firm core, but it's on my wish list. I deffinitley couldn't take Lone Star if I didn't warm up with the Champlette. Though the Champlette is not the misses favorite, I still think it's a toy box must.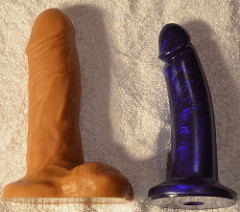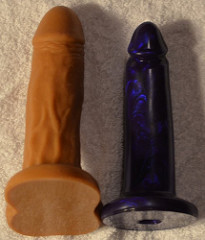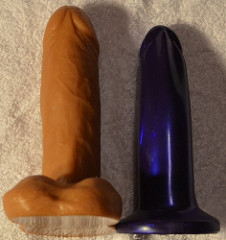 Follow-up commentary
3 months after original review
I don't still like it. I still love it. Frankly, it's become my favorite dildo and still is the misses favorite. It's girthy but not too much. It's not too long, and it's quite handsome. Lone Star is pretty much the firmest save Maverick, and I do say that it's quite nice, especially when you are just wanting to squeeze against something. Having spent quite a lot of time with the a good number of the Vixen line, I would say this is my #1 pick.
This content is the opinion of the submitting contributor and is not endorsed by EdenFantasys.com

Thank you for viewing
Lone star
– realistic dildo with balls review page!