An All-Rounder
The smooth shaft, raised head ridge and sturdy base of the Magnum work well vaginally and anally making this a great all-rounder for strap-on and pegging loving couples. Unisex friendly and easily sterilised, it is bound to see much use from us.
Published:
Pros:
Unisex friendly, harness compatible, equally suited for anal and vaginal play.
Cons:
Tip can start to poke when used vaginally for longer sessions.
Having recently been impressed with the Fun Factory Bandito, I decided that it was time I invested in more Fun Factory toys as opposed to my usual choices of either Tantus or Vixen Creations. The Magnums smooth shape, generous length and harness compatibility all combined to tempt me into purchasing it.
Packaging:
The Magnum arrives in quite plain but sturdy packaging. It shows an image of the Magnum itself on the front of the box while one side shows a different view of the toy and another shows with fun little diagrams, that the Magnum is made of silicone, suitable for vaginal and anal play and suitable for shower and bathtime play too.
When this sleeve is removed, it reveals a pretty plain silver box with Fun Factory written on its lid. The Magnum sits loose inside this red-lined box. Overall the packaging pleasantly simple but maybe a little lacking in product information.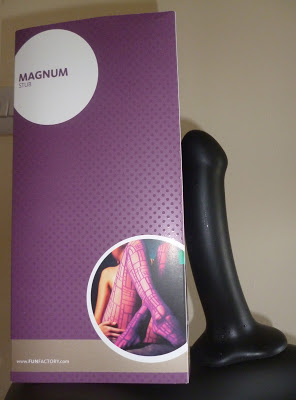 Measurements:
Total Length: 7 ½ Inches
Insertable Length: 6 ¾ Inches
Circumference: up to 5 Inches
Features:
Flared base for safe anal use
Harness compatible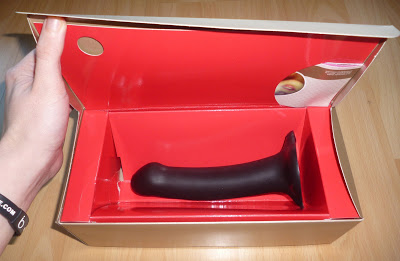 First Impression:
Sold on the site in either purple or black, I opted for the black which has a sleek matt finish in person, actually the whole shape and design of the Magnum can be described as sleek. With a smooth and just slightly curved shaft, the Magnums overall look is simple and sophisticated.
The silicone of the Magnum has a firm feel while still being bendable and its finish is smooth but with the typical 'drag' that you get with silicone toys.
The head of the Magnum is raised on one side and smooth on the other, with a rounded but slightly pointed tip. This raised head ridge looks stimulating for the front wall of the vagina or even the prostate. The somewhat pointed shape of the head does appear as if it may start to poke during longer or rougher sessions though.
The base of the Magnum is similarly shaped to the Bandito (also by Fun Factory) with an almost heart shape and completely smooth, flat underside. This thin and flexible base is easy to grip and the wider shape at the front of the dildo gives you more to hold onto. This flared base also makes it suitable for wear in a harness.
In Use/Experience:
With just a drop of water based lube needed to help with its typical silicone 'drag', the pointed shape of the Magnums head makes for easy and comfortable insertion. The raised head feels stimulating against the front wall of the vagina and is the only texture along the whole length of the Magnum. The uniform girth of the Magnum feels smooth and filling thanks to its generous length which allows for long thrusts.
When angled right, the head can provide some very light G-spot stimulation though this ridge tends to just generally massage the front wall rather than provide any great deal of G-spot stim. The generous length, shaped head and smooth shaft all combine for a stimulating but not overwhelming toy.
The shape of the Magnum is perfect for use anally and even less experienced anal players should find its smooth design comfortable and manageable. When used with the head ridge facing the prostate, it again provides light stimulation but nothing overwhelming. One thing we both found was that, whether it is used anally or vaginally it does require re-application of lube as it has such a feeling of drag otherwise which despite its smooth shape, can still be uncomfortable.
Once kept well lubricated, the longer thrusts can it provides are more stimulating than you would expect from such a non-textured toy. During longer or rougher sessions, the pointed can start to poke when used vaginally but swapping longer thrusts for shorter thrusts and concentrating on placing the head ridge near the G-spot can make for an enjoyable longer play session.
...
Experience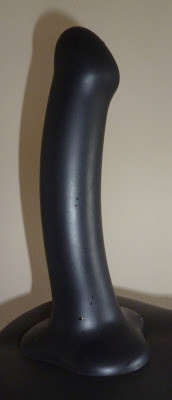 When worn in a harness, the Magnum fits a standard sized 1.5 inch O-ring (which also means it fits RodeoH harnesses). Its firm build means there is no droop in a harness and its thin base manages to stay well put even during some of our rougher strap-on/ pegging sessions.
Well suited for vaginal and anal use, strap-on play and pegging, this is a great purchase for couples looking to share and each get enjoyment from a toy that works as an all-rounder. Being made of silicone and easily sterilized, it can be shared and enjoyed by both partners. With its unisex friendly design it makes a great addition to any couples strap-on toy collection.
Care:
Made of high-quality Silicone, the Fun Factory Magnum is both Latex and Phthalates free, silicone is completely non-porous meaning that it can be fully disinfected by boiling it for 3 minutes or by throwing it into the top rack of your dishwasher or it can be simply washed after use with warm soapy water or specialized toy cleaner, it is generally believed that silicone based lubricants should not be used with silicone toys. I would recommend using a generous amount of water-based lubricant with the Magnum. Despite its smooth shape, I still find that it usually requires several re-applications of lube per play session.
When not in use, I keep the Magnum in a Zip-sealed plastic bag; it can be a serious lint magnet so this keeps it dust and lint free. Silicone toys are well known for attracting hairs and dust.
- Compared with the Vixen Creations Vibrating Leo -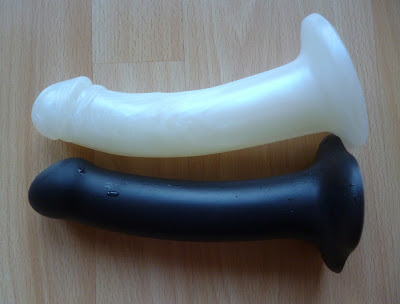 This product was provided at a discounted price in exchange for an unbiased review. This review is in compliance with the FTC guidelines.

Thank you for viewing
Magnum
– dildo review page!