I have it Cushy with the Tantus Cush!
Made of Tantus O2 Silicone, the solid core and softer outer layer of the Cush combine for a filling yet comfortable experience while the soft shaft ridge provides texture to its uniform girth.
Published:
Pros:
Made of dual density O2 material, thick and filling with surprisingly comfortable ridges.
Cons:
Firm base can be sore to grip.
Packaging:
The packaging of the Cush is Tantus' usual style of packaging, a clear plastic box which is free of any sexual imagery. On the back and sides of the packaging you will find plenty of information about the silicone used in Tantus toys. It arrived in the slightly larger size of Tantus box, fitting nicely in it with no excess packaging. As the clear plastic box is so transparent it gives the advantage of being able to see the toy from every angle while it still sits in the packaging. The downside to this plastic packaging is that it can be quite sharp and as has been my experience with most Tantus purchases, the plastic can arrive cracked and edges can manage to stab into you while you open the box.
First Impression:
The Cush is made in three colour options (Pink, Purple and Blue) I opted for the pink which I hoped would be bright and vivid but when it arrived it was a more muted shade of pink than I had expected. Looking at the Cush close up in person it appears that the more solid core of the toy is bright pink while the softer outer layer of silicone is white. Looking at other peoples photos of their pink Cush's it's obvious to me that the shade of pink (or blue or purple) that you get will vary quite a bit from toy to toy.
Looking at the base of the Cush, it is beautifully vibrant in colour and this contrasts well with the paler, almost white shaft of the Cush. Looking at the soft outer layer of my Cush I found that it has a slight blemish, a small dark speck which is set into the silicone. While I usually find Tantus toys to be of a consistently high manufacturing quality, I have seen another person mention blemishing specifically in the Cush. For me it wasn't enough to really affect my feeling towards the toy but it does take away that perfect finish.
The base of the toy feels weighty and incredibly firm while the shaft feels softer with its layer of soft silicone giving the dildo more flexibility than you might expect.
The shape of the shaft is quite straight except for a raised ridge roughly half way down the length of the toy. The head is semi-realistically shaped; smooth at the back of the shaft and more realistically shaped at the front. The size of the Cush is generous with it offering a fairly average length but a not so average girthy-thickness along the whole length of the shaft.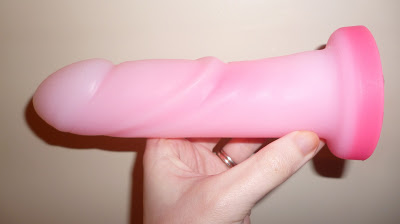 Measurements:
Total Length: 7 1/4 Inches
Insertable Length: 6 1/2 Inches
Circumference: Up to 5 1/2 Inches
Diameter of Base: 2 Inches
In Use:
With its generous girth and the drag created by the dual density 02 silicone, I find that a warm up toy and generous amount of lube is usually needed before comfortably attempting the Cush. The pointed but smooth and rounded head works well with water based lubes and is smooth enough make its 5 ½ inch circumference feel surprisingly manageable.
The raised head ridge can clearly be felt from the start but feels gentle; the more severe looking ridge half way down the shaft feels almost equally gentle despite its appearance. While I had been nervously expecting the shaft ridge to create problems for me, I instead found that the soft O2 material is enough to make this work. The texture of the ridge is definitely noticeable but it is stimulating and more subtle than anticipated. Compared with a similar design of dildo (The Fetish Fantasy Elite 6" Dildo) it goes to show how well dual density silicone works for textured or large headed toys. If made in a firmer silicone I could see this design being uncomfortable but made of Tantus O2 it provides a level of texture that most should enjoy.
While the Cush can feel relatively flexible and soft to squeeze in the hand, during use its solid core is more noticeable and the straight shape of the Cush stays firm so the Cush never curves or adapts too much your body shape during use. For some this will disappoint because there is no real G-spot stimulation provided by this straight shape. The straight shape and uniformly thick girth works for those who like to feel filled by a toy.
...
Experience
The base of the Cush which measures 2 inches across is small enough to hold onto with one hand but the incredibly firm material of it means it does start to hurt your hand after even a short session. Gripping onto it can leave marks on the hand afterwards so I would have liked a similarly soft/cushioned O2 base considering it would make use alot easier.
One way the base does work very well though is in a harness; compatible with O-ring harnesses it fits a 1.5 inch O-ring and this firmly built base then keeps it well in place. The flare of the base is also enough to make this suitable for anal play and the O2 material makes this thick dildo surprisingly comfortable for anal play too.
- Compared with the Tantus Goliath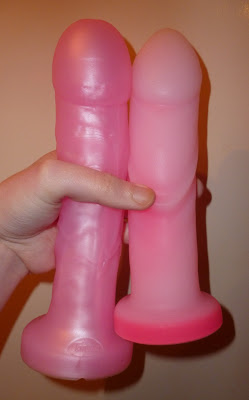 Material/Care:
Made of Tantus' high quality O2 silicone, the Cush is scentless, tasteless and is completely free from latex and phthalates. It is generally recommended that you don't use silicone lubricants with silicone toys; I would recommend using a water based lubricant with the Cush. With its generous girth lube is well needed for a comfortable play session.
The Cush is incredibly easy to wash after use with soap and warm water. Specialised toy cleaner or cleaning wipes can be used instead or if you want to sterilize it after use it can be boiled for 3 minutes. I keep mine in a zip-sealed bag after use to keep it dust and lint free as like most silicone toys it attracts alot of lint particularly on its softer silicone.
This content is the opinion of the submitting contributor and is not endorsed by EdenFantasys.com

Thank you for viewing
Cush O2
– realistic strap-on dildo review page!