A Cush By Any Other Name Would Feel As Thick
The thickest of Tantus' nonrealistic O2 line, Cush offers two pronounced ridges in a super soft silicone so you can play at penetration while you're already full. The clear soft outer layer is supported with a colorful firm core, so you have all the tenderness of a soft ridge and all the strength of a firm thick shaft. With the two distant ridges, you can ride with one at your g-spot and t'other at your labia, or thrust one to your anterior fornix and the other to your kegels.
Published:
Pros:
Girthy, extra ridge in just the right spot, dual density material, made in icy blue in the USA!
Cons:
I'm not sure how to pronounce the name? Taking it much past the second lip takes a lot of work.
When I decided to put together a
Dual Density Debate
comparing one dildo from each of the dual density silicone lines that Eden carries, I had a really hard time choosing whether I wanted to try the O2 Cush or the O2 Revolution. They are both gorgeous in ice, candy, or twilight two-toned silicone, they are both enticingly thick, they are both designed and made in the US by Tantus, one of my favorite companies ever. Revolution had those lovely tempting veins... but Cush had a second ridge. I know myself pretty well, and I know that I
love
a ridge. So even though I chose the more classically phallic, easy-to-compare Revolution for my Dual Density Debate, I still had to have a Cush for my own enjoyment.
And enjoyment it is.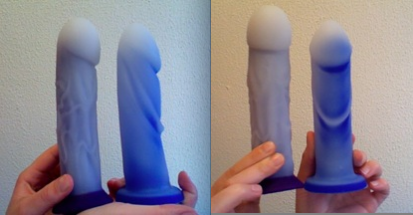 Twilight Revolution with Ice Cush.
CONSTRUCTION
Cush was created when Tantus checked out feedback of their (now discontinued) firm silicone dildo, the
Deuce 1
. People loved the thickness and the shape, but some folks were irritated by the ridge. Tantus knew they had the makings of a good design, and with their dual density
O2 silicone
they could make this dildo offer up delicious ridges with a soft squish, so nobody would be irritated.
Cush has all the same measurements as the Deuce 1 (
check out the comparison here
)---that is, its head flows from a medium taper to 1.75" at the thickest part of the glans. The valley beneath the glans is nearly a quarter of an inch deep in the front, but it smoothes out as it continues back. The shaft then swells back out to meet the beginnings of the second ridge, which starts just below the glans on the back of the shaft, but drops down and becomes more pronounced, finally peaking 2.5" down from the bottom of the glans (4.75" down from the tip of the head). All told you've got 6 insertable inches (and with the continuous 1.75" girth of Cush, I can't even come close to taking the whole depth).
Cush is quite different from the Deuce 1, though, in that it's got a perfectly cylindrical firm core... Looking up from the bottom (and it's very cool that you can see the anatomy of your dildo thanks to the translucent blue color), the firm core is 1.25" in diameter, and it stops 1" shy of the tip of the head. The rest of Cush is filled out with Tantus' super soft silicone, in a translucent white color... giving the whole dildo a frosty appearance, and giving the ridges of the dildo the Cush it's named for.
The ridges really are perfect. In general I'm a fan of texture, and I usually like my toys to be firm. Because Cush's ridges are so pronounced, though the soft squish of them lets them open your body up... but not too far, and not too abruptly. It's the perfect combination of intense "mmmmm, ridge" with a gentle "open up, darling" that even those who usually shy away from texture will be able to appreciate.

The flexibility of Cush forward and backward.
CLEANING AND CARE
As always with Tantus' lovely platinum-cured silicone, which is poured in Nevada, cleaning is fantastically easy. Whether you use soap and water for an everyday clean, or you boil or bleach your Cush for an extra-deep clean, the hypoallergenic, non-porous, odor-free, body safe nature of Tantus silicone will keep you and all of your parts happy. Even for anal use (though I don't have an easy time inserting Cush anally, I prefer a firmer silicone blend for anal insertion) Cush cleans up very well. Cush ships in a standard Tantus clear plastic box, which is not sturdy enough for long term storage. I keep my soft dual-density silicone dildos standing upright for good measure, and because they collect lint, unless you can store them in a lint-free bag, a rinse before use is a good idea.
Experience
FINAL THOUGHTS
I really really like Cush. Everything I'm describing is for vaginal use, though I assume anal use would be similar as long as you don't struggle with inserting soft things.
Cush stands out in three ways for me. First, is how oh my gosh thick it feels. Even though I have dildos with larger diameters (see
Hottie Xtra
or
Eleven
), most thicker dildos undulate a little bit. They bulge past my pubic bone and then narrow down, so that the girth sits at my g-spot and my entry muscles can relax. The Cush---Cush is just thick all the way down, so my muscles keep their stretch for the whole ride. It's not an everyday sensation (for me) but on the days I want it, I really love it.
Then beyond the thickness, which applies no matter how I'm using Cush, there are two other talking points. (Talking ridges?) For me, the spacing of the two ridges is really lovely. I can either have the head right up in my g-spot, and then the second ridge is not even inserted all the way---it just ripples my labia and vaginal opening as I thrust and rock. This winds up being the way I use Cush more often, because I kind of get a kick out of skipping foreplay, and the squooshy, more-draggy-than-usual soft silicone layer of O2 means insertion takes me longer than it would with a firmer toy. (A side note---to me, VixSkin's outer layer is beyond draggy and into almost sticky territory---O2's outer layer is much more pleasant to the touch for me, and is not sticky at all. Just sort of like short-cut-velvet, maybe.)
All that said, if I invest the time in extra warmup and water-based lube, Cush can really shine by having the head up in my anterior fornix, and the second ridge fits in right under my pubic bone. This is heavenly---I'm completely filled in both length and girth, and the second ridge is giving that excellent sensation that comes with first penetration---all at the same time. I do wish that I didn't have to prep so much for Cush to work this way, but it winds up being completely worth it. Also, though I usually opt for the lazy route of toying on my back, Cush's length and unwavering girth make it an excellent riding dildo. If only it fit in the O-Ring of my
Affix
! Well, maybe I need a Flurry...
And on top of all that, Cush, like all the non-realistic O2 toys in Twilight, Candy, and Ice, is breathtakingly beautiful. If you like'em thick, whether texture is your thing or not, you can't go wrong with Cush.
This content is the opinion of the submitting contributor and is not endorsed by EdenFantasys.com

Thank you for viewing
O2 Cush
– realistic strap-on dildo review page!