In the Purple Haze of Pleasure
The Acute is a smaller, harness compatible G-spot and P-spot dildo made entirely of platinum-grade silicone. To know how I feel about it just read the first letters of the paragraphs. Meanwhile, I will try to edit this love letter to Metis Black into an actual review.
Published:
Pros:
- great shape
- body-safe and durable material
- pretty!
Cons:
- doesn't stand on the base
- lint magnet
A
cute is a semi-phallic g-spot dildo made by Tantus – a manufacturer I kept hearing very good things about. Not only are they famous for well-designed shapes and bright, intense colors but also for putting consumer safety first and using purest materials available. Because of that, you really get what you paid for: toys that don't cause unpleasant skin reactions, can be easily sanitized and on top of that last a lifetime with minimal care.
W
hen I first tried the Acute I knew it was one of my best purchases ever. It is a great toy and what's more important it's an amazing toy for a person like me. It feels filling to me despite being modest in size – 6" total length and 4" circumference. The curved, firm shaft and the bulb on the end of it provide moderate to intense g-spot stimulation, depending on the angle and strength of the thrusts. In my opinion, the Acute is the perfect middle ground between g-spotters with a very pronounced lip like Lelo Ella and more traditional, more phallic shaped dildos. It doesn't catch on the pubic bone or cause any discomfort of similar kind, yet I can target my g-spot easily with it. The waves on the shaft can't be felt separately, but with rapid in and out action they definitely add to the experience.
E
xcellent – that's the word that comes to mind when I want to describe the quality of this toy. The silicone has no imperfections in it. It's all swirls of purple and pearly blue which I finally managed to catch adequately on the first photo under the review. No bubbles, no scratches, no smell or taste – nothing. You'd never think those dildos are hand trimmed just by looking at the smoothly finished rim of the base and yet they are. The only visible "human" touch is hand-carved brand name.
S
mooth finish of the surface provides minimal drag that can be further reduced by adding a bit of water-based lube. The moisture stays on the toy well, making it glide effortlessly on the skin. Vaginally it feels divine. However, the toy might not attract enough lube to provide enough cushion for the most comfortable anal penetration. For that purpose I'd look for something with a velvety finish for myself, but each to their own.
O
ne can use the Acute like me – by holding it in your hand – or you can put it in a harness or on a separate double suction cup (
like this one
). The smooth, flat base makes those options easily workable.
M
y love for the Acute may as well prove to be eternal – if one breaks this relationship, it won't be the dildo. The silicone is very durable, non-porous, can be sanitized by boiling, bleaching or wiping down with isopropyl alcohol – just remember to rinse all the harsh chemicals from the toy before putting it away or using it. You could also easily protect it with a condom if you want easier and faster clean-up. This dildo can be stored with other premium quality toys, though I'd keep it from all mystery materials, as they can melt and get their gunk all over the poor Acute. Scrapping possibly toxic chemicals of your toy isn't a widely appreciated past-time. The dildo can be safely used with water-based or oil-based lubricants. Silicone lubes should be avoided as they can damage the toy. If it occurs, the reaction is quick and the result is a dildo with a gummy, sticky surface. Sometimes that can be scrubbed off, but with a toy so nice who wants to risk that it won't come off?
E
very time I used my Acute I got fabulous results – that's why finding faults in it is the hardest part of the review. The ones I've found are firmly connected to the highlights of this toy: curved shaft, which makes it stand up better in a harness and massages my g-spot so nicely, also makes it impossible to stand the toy on the shelf. The texture that I love vaginally is ho-hum in my ass and picks up lint like the cat hair remover. The premium quality material makes me hesitant to use silicone lubes.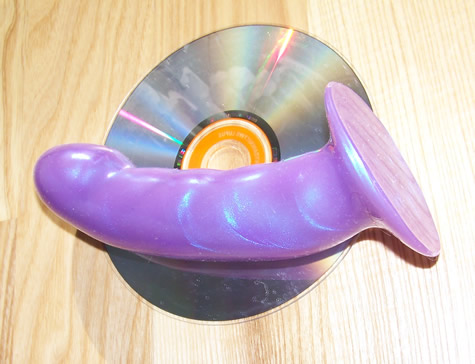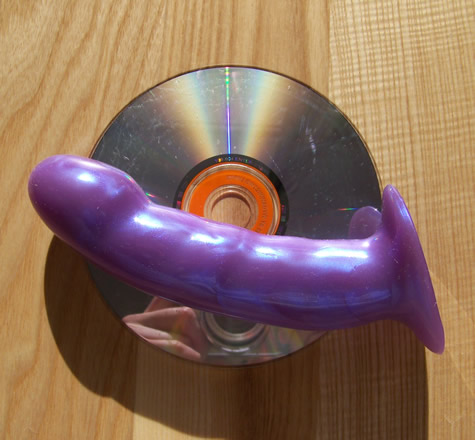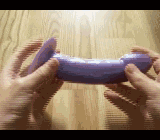 Follow-up commentary
6 months after original review
Well... like is not cutting it. More like love deeply and passionately.

The Acute still looks just like when I got it: no scratches, shiny all over. It had to undergo some serious cleaning because it was exposed to yeast and now it's back to its lovely self.

Important: I don't know if you see it, but in the git above I'm using quite a bit of force to bend it. I'm not an athlete, but still, this is not a floppy dildo by any means.
This content is the opinion of the submitting contributor and is not endorsed by EdenFantasys.com

Thank you for viewing
Acute
– strap-on dildo review page!