Is There an Echo in Here?
The Echo Handle is one of those awesome toys that you don't know you need until you try it. After using many, many dildos, trying one with a handle was eye opening. It is comfortable and convenient, and it makes me wish some of my other dildos could be outfitted with handles too!
Published:
Pros:
-Comfortable to Use
-Body Safe Material
-Nice Texture and Size
Cons:
-None
Yes, there was an Echo in here! At first glance, this toy makes quite an impression. It's long and looks like it could be used as a weapon against any home invaders that come your way. Tantus has taken their Echo dildo and added a handy dandy handle, to allow for easier thrusting. The handle in convenient whether you use it on yourself or on a partner. Yes, it might seem like overkill when you first see it, but once you use it, you're grateful for the comfort the handle provides.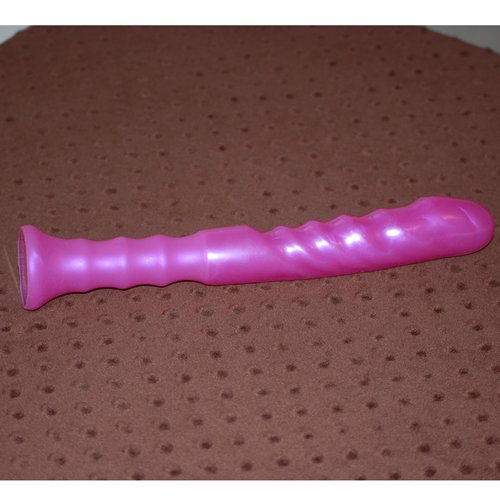 The Echo Handle is designed to be used internally. I suppose you could use the dildo portion for some light massage of the clitoris, but unless you are very sensitive to texture this won't do much. I would qualify the Echo Handle as safe for use anally, as well as vaginally. Although the base isn't large and extremely flared, the length of the toy and the handle to grasp are safety features to ensure the toy doesn't travel too far north. The shaft of the dildo portion does have some raised ridges, so you will need to be able to tolerate some texture to use this toy.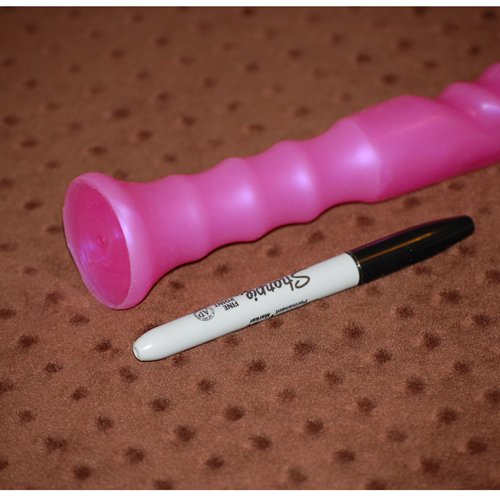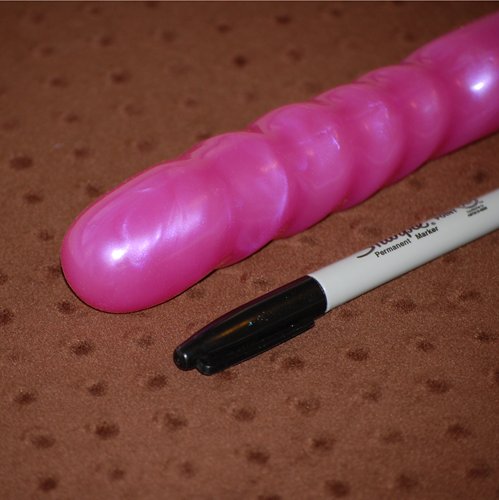 The total length of the Echo Handle is 11 1/4", so it does take up quite a bit of space in your toy box. The insertable portion is 7". The dildo portion has a pronounced bulbous head, which increased to 1 1/2" inches in diameter before dropping off to 1 1/4", which is the diameter of the shaft. The length of the head is 1 3/4", and the length of the shaft is 5 1/4". The underside of the dildo is fairly smooth, while the side that will be aimed upwards while it's inserted has a series of raised ridges. The handle has raised crests and valleys, to allow for a firm hand grip. The raised portions of the handle are 1 1/8" in diameter, and the valleys are 15/16" in diameter. The total handle length is around 4 1/4". The diameter of the small flat base at the end of the handle is 1 7/8". When you hold the handle of the Echo Handle, you can flop the toy a bit, but not a lot. The silicone is the same firmness throughout the entire toy, dildo and handle. There is very little squish to the toy. There is a bit of bend, mainly where the dildo meets the handle area.
The toy is a single piece of solid silicone, which rates a 10 out of 10 on the Eden Safety Scale. Silicone is non-porous, hypoallergenic, and latex and phthalates free. Silicone is a great material for sex toys for a number of reasons. Because it is non-porous, it won't hold onto bacteria and it can be thoroughly cleaned. The Echo Handle can be shared with partners as long as it is cleaned between uses. It can also be used anally and vaginally, so long as it's thoroughly cleaned in between. Silicone will not hold on to odors, and can be boiled to sterilize it. The Echo Handle is molded as one solid piece, but there are two surface textures used. The dildo portion of the Echo Handle is shiny, with a smooth sheen to the surface. There is a bit of drag to the surface should you run your finger along it, so unless you make a fair amount of lubrication naturally, you might want to use a bit of lube when you play with the Echo Handle vaginally. When it's used anally, be sure to use lots of lube. The handle portion is matte, to give you a better surface to grip and hold the handle securely. The surface of the toy, especially the dildo portion, does tend to collect lint and hair, so be sure to give it a good rinse before use to make sure it's clean.
The Echo Handle is easy to care for. It can be cleaned with soap and water or your favorite toy cleaner. Should you wish to sterilize it, you can boil it for three minutes or place it in the top rack of your dishwasher. Any water based lubes can be used with the Echo Handle, but please avoid silicone lubes as they will damage the toy. Likewise, the Echo Handle should not be stored touching any other silicone toys to avoid damage. It comes in the standard Tantus packaging, a clear box with a clear inner toy shaped form. You can clearly see the toy through the package, so there is no disguising that it's a sex toy. It's large and phallic, and I don't think you could explain it away as something else.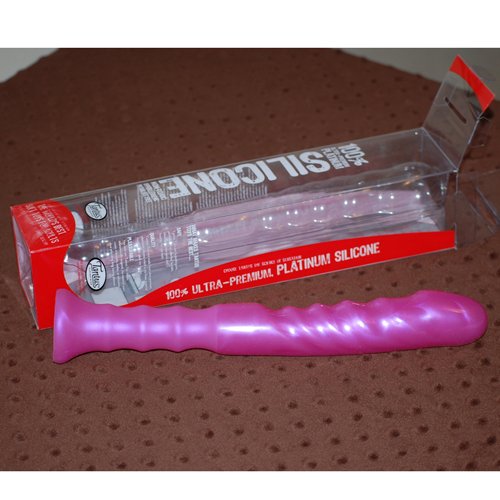 Experience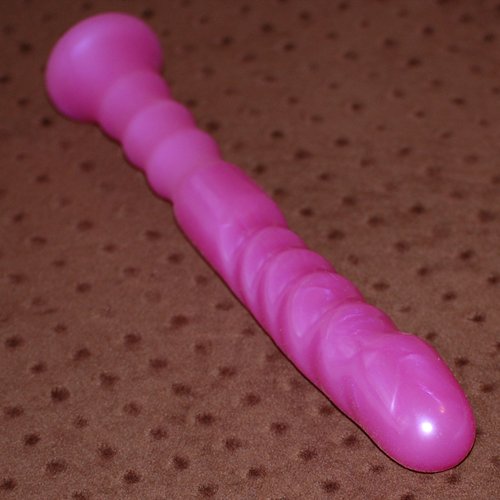 I do have to say, if you're just starting to introduce toys into your relationship, this one might scare off a few folks. When you pull it out, it really seems like you mean business. It isn't scary, as far as function is concerned, but it is rather large and I can see it being intimidating to some. It's a shame, really. The handle makes it very user friendly, and assuming you know you like some texture and a moderately sized dildo, it makes a great toy for couples to use. I'm only suggesting that maybe you introduce a few toys first before calling out the big gun that is the Echo Handle, so you avoid the wide eyes and uncomfortable silence that would follow!
Although it does a nice job of teasing clitorally if you rub up against the ridges, this toy isn't my first choice for external stimulation. When used vaginally, this toy is divine. You get that initial sharp intake of breath from the bulbous head, just like you would with a penis. The handle gives you excellent control of the thrusting, all with a comfortable place to grip. In addition to that, using the handle means you don't have to bend like a pretzel to reach the spots you want to reach, because you have a few more inches to work with. After using it solo, and using it with a partner, I really can't think of a more user friendly moderately sized dildo I've tried.
Of course, after being so impressed with it myself, I had to take it for a spin on my husband P-spot. He's not new to anal play, and can handle a toy that is this size and has this amount of texture. Please be sure you know your own limits, and decide if the Echo Handle is something you would enjoy anally. That being said, it was an enjoyable experience for him. Truth be told, he didn't have to tell me anything, because the noise he made spoke for itself. It massaged his P-spot and hit all the right spots, so this isn't just a toy the ladies will enjoy!
The Echo Handle impressed me. I have nothing negative to say about it. I suppose you could say that the pink is very, very pink. If you don't like the pink, you have the option of purple. But if color is the only thing stopping you, I suggest you think it over and decide to give this one a try.
Follow-up commentary
9 months after original review
This is still a great toy for when you need a certain angle, or a little extra length to reach where you want to reach. The ribbed shaft satisfies whether you have a G or P spot. No complaints!
This product was provided free of charge to the reviewer. This review is in compliance with the FTC guidelines.

Thank you for viewing
Echo handle
– g-spot dildo review page!