Oh Echo, how I love thee
The Echo Handle by Tantus is a fantastic dildo that should be a toybox staple. It works for vaginal penetration, g-spot stimulation, and anal penetration. The handle creates an easy way to use this dildo, whether solo or with a partner controlling the dildo. It isn't harness compatible, but don't let that stop you from buying this to use with a partner.
Published:
Pros:
Firm silicone, handle makes it easy to use, pronounced ridges
Cons:
Head may be too large for some, lint magnet, not harness compatible
USE
The Echo Handle is a dildo from Tantus. It is Tantus' Echo dildo with a long handle for ease of use. I do not own the original Echo but they appear to have nearly the same design and measurements, save for the added handle length. It's best used for vaginal penetration. The dildo is designed to offer g-spot stimulation with its firm head and ridges. Because of it's long handle, it is suitable for anal penetration, however, I have not used this anally. The Echo Handle can be used for mild temperature play. The tight molecular structure of silicone allows it to retain heat. However, the temperature play will not be as intense as it is with glass, metal, or aluminum. It isn't suitable for use with a harness because of the handle. If you want this dildo for harness use, I'd recommend checking out the original Echo.
The Echo can be used anywhere you have privacy, unless of course you're into exhibitionism. In that case, enjoy this anywhere possible. It is completely devoid of motorized parts so it can be enjoyed in any shower or bathtub. The Echo makes a wonderful bath time companion.
This definitely isn't the most travel friendly dildo you'll ever own. It's large and bulky so it won't fit in small or medium purses. It can be covered and tossed in large purses, luggage bags, or backpacks, but if you're flying, this is one to put in checked luggage. It's not completely realistic but it is phallic in shape and quite obviously a large dildo. I imagine this would be quite obvious to those checking your luggage at a security checkpoint.
If nothing else, this makes a good toy to chase people with. Just pick it up, swing it around, and use it to scare people away.
MATERIAL/TEXTURE
The Echo is made of 100% pure silicone. Silicone is completely body safe. It is hypoallergenic, phthalate free, non porous, and non toxic. It is devoid of any scent or taste. Silicone can be sanitized so it is suitable for sharing between partners or using both vaginally and anally. The silicone of the Echo is not dual density so it is firm throughout the entire toy. The silicone has a small amount of give in the dildo portion of the toy. It is rigid and does not flex much. With extreme pressure, it can bend in half, but in use, it does not flex much. The silicone on the dildo portion does create a significant amount of drag on skin so lube is necessary. It is quite the lint magnet. It is, however, completely smooth and devoid of texture. The handle of the toy is more flexible and does have more give for a more comfortable handling experience. There is very little drag on the handle. The silicone on the handle is a matte silicone while the silicone on the dildo is much shinier and slick.
SIZE/DESIGN/SHAPE
The Echo Handle features a ridged dildo on long handle with molded grips. The dildo has a large, pronounced head with four ridges on the rest of the dildo. It isn't a hyper-realistic or even realistic looking dildo but it is rather phallic in nature. It's great for those that do not like realistic dildos but still do not want artfully designed "whimsical" looking dildos. The head and subsequent ridges are firm and can provide g-spot stimulation. There isn't any curve to the dildo so if you're looking specifically for a g-spot toy, this may not be your best bet. The entire length of the dildo is 11.25" long, 7.25" of which is insertable. The head of the dildo is its thickest point. After the initial head, the subsequent ridges are smaller in circumference.The head is 4.75" in circumference, 1.5" in diameter. The rest of the dildo features four distinct ridges which gradually get smaller, ending at 4.15" in circumference and roughly 1.10" in diameter.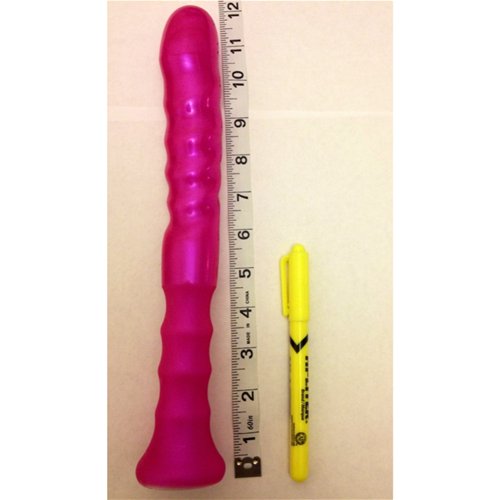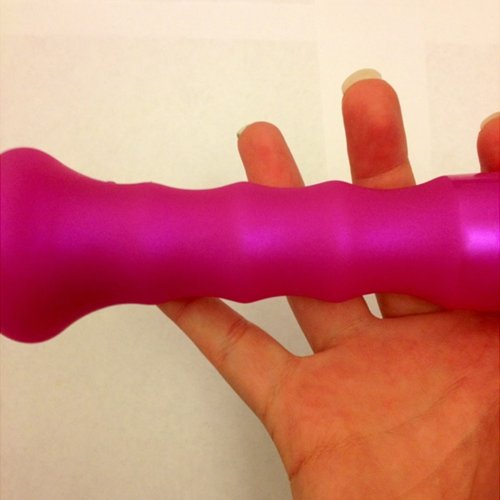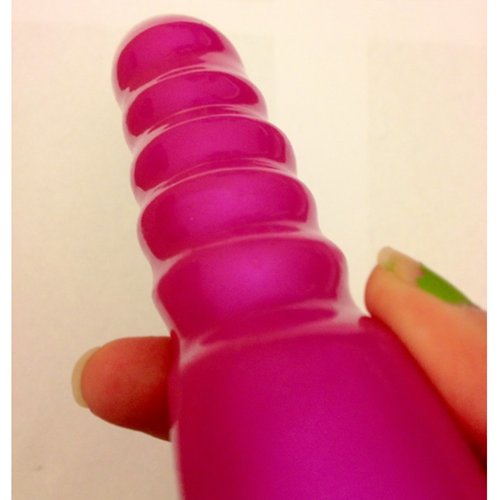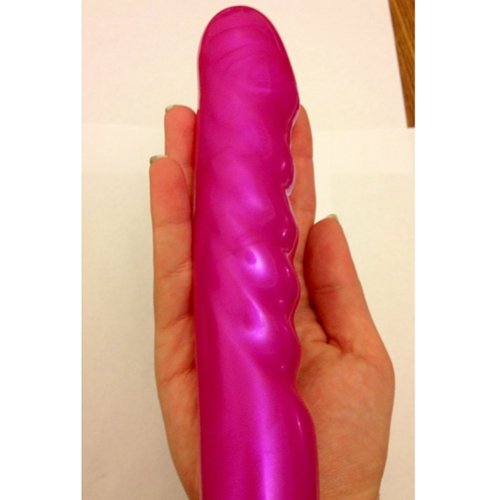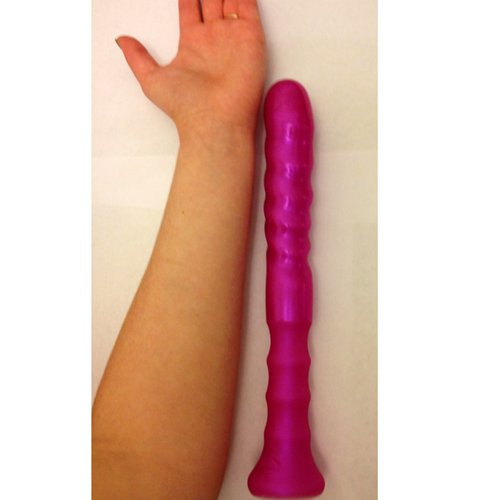 I bought the Echo Handle in Strawberry. It's a deep pink color with sparkles. It's quite feminine. Even the matte portion of the handle has sparkles. The sparkles swirl in the silicone material, providing interesting patterns of coloring.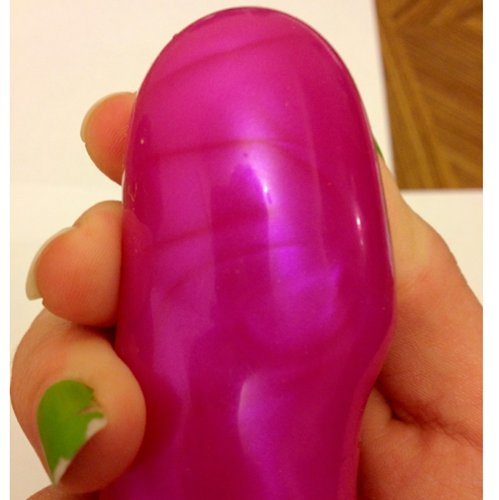 Experience
con't.
CARE/MAINTENANCE
To clean the Echo, you can use soap and water, your favorite toy cleaner, or a 10% bleach solution. Be sure to wash the Echo before and after every use. It collects a fair amount of hair and lint so washing it before use ensures that you don't introduce lint and dirt into any sensitive bits. To sanitize the Echo, you can boil it for three minutes or run it through the dishwasher sans soap. Be sure to sanitize it if you plan on sharing with a partner you are not fluid-bonded with or if you plan on switching orifices.
This dildo will more likely than not require lube for most people. Water-based lubes are completely safe to use with this dildo. Do not use silicone lube on any silicone toy. When storing this dildo, be sure to keep it away from other silicone dildos. High quality silicone toys should not have strong reactions to each other but it's better to be safe than sorry. You can use the original box it came in for storage or you can put it in a sealed plastic bag to protect it from dust, dirt, and lint during storage.
PERFORMANCE
I absolutely love using the Echo Handle for vaginal penetration. As a straight thrusting dildo, it performs beautifully. It's the perfect size for me. It isn't so large that it's uncomfortable or provides that "stretching" sensation but it is large enough that I can definitely feel it and it provides a feeling of fullness. The firmness of the silicone makes it easier to feel when it is inserted. Each ridge can be felt while thrusting. My g-spot is ever elusive and rarely makes an appearance for anything so I don't get much g-spot stimulation from this. One problem I did have with this dildo, however, was the size of the head. It's completely firm and has little to no taper. Without lube, it's nearly impossible to insert for me. I always need lube with this dildo because the head is a full, firm 4.75" in circumference. Once the head is inserted, the rest of the dildo is easy to insert and the head feels lovely in use.
I have noticed that the ridges can catch on my pubic bone if I'm in just the right position. It's not really too painful though; not as painful as having glass or metal catch on your pubic bone. The ridges are also pretty shallow so that helps minimize the chance of this dildo catching on your pubic bone.
PACKAGING
The Echo Handle comes in the standard Tantus packaging of a molded plastic insert within a plastic box. The back of the box contains information on Tantus toys in general. There is no mention of this specific toy as Tantus makes their dildos out of the same premium silicone. The box is see through, allowing you to see which Tantus toys lies inside. It's not discreet in any way, shape, or form. It can be used for storage, however the box is rather flimsy and may not hold up long-term.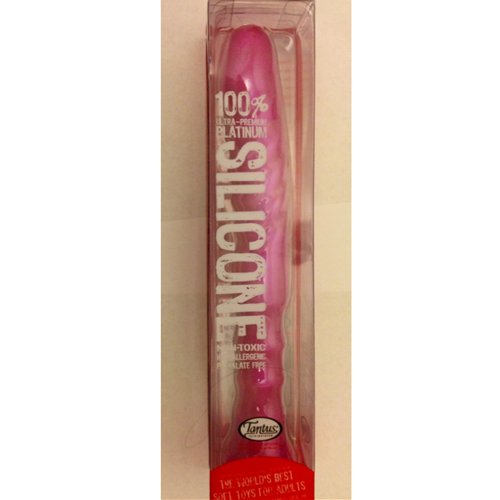 This content is the opinion of the submitting contributor and is not endorsed by EdenFantasys.com

Thank you for viewing
Echo handle
– g-spot dildo review page!