Not very original, but pretty awesome
The Original by Doc Johnson is a great dildo for someone looking for something simple and girthy at a great price. It's firm, but with a lot of give and very life-like. It has realistic texture that is very pleasing. I would definitely recommend the original.
Published:
Pros:
Good size, body safe, easy care and cleaning, price point
Cons:
None
The Original by Doc Johnson is anything but original, but I sure like it a lot. It's actually a remake of an earlier Doc Johnson piece called Mr Softee. It's pretty much exactly the same as far as looks, but they've upgraded the material from rubber to silicone. How thoughtful! I decided to get this one because I've never had a girthy realistic dildo before. Rather than spending a large chunk of change on something I might not like, I found this inexpensive dildo that was pretty much exactly what I was looking for.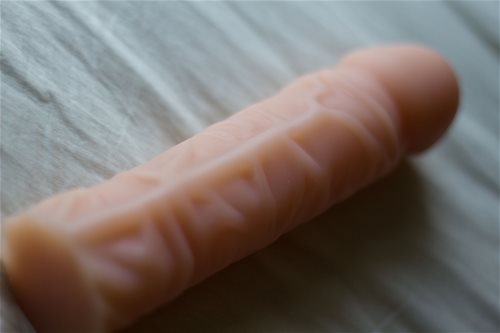 The Original is made from silicone. They call it 'platinum' silicone, which could mean a few things.
1. Platinum silicone is a type of silicone that uses only platinum (precious metal) as a catalyser, which increases its quality, apart from silicone's other properties.
2. A silicone and rubber blend.
OR
3. It could just be word play.
I'm going to hope it's just a premium silicone, like it says on Eden. If so, that makes it a 10 out of 10 on the safety scale. It's solid silicone, so it's pretty firm but has some squish to it. It's phthalates free and hypo-allergenic. I chose mine in beige, but it also come in a shimmery pink. It had a very gently smell and it doesn't taste like anything. Being silicone, we're working with a low-maintenance toy. It's very easy to clean and keep. A mild soap and water or your favorite toy cleaner will do the job. It can easily be put in a dishwasher or disinfected by boiling. It's a bit of a dust, lint and hair magnet, so a quick wipe-down before use may be a good idea. Because of this material, water-based lube is recommended. I haven't done a patch test on this one yet to see how compatible a high quality silicone lube works with this.
I really do love the size of this one. It measures just under 8 inches in length, while being a hefty 5.5 inches in circumference. It's very flexible and can be bent in half. There's a bit of squishiness to it as well, while being firm. So, even though it sounds really thick, I wouldn't steer clear of it just yet if you're not in to girth, because it is fairly forgiving. Another great feature on The Original is the texture. It has vains on the top half of it. They're not terribly prominent, but it's just enough to notice while thrusting. The bottom half is totally smooth. Since this is solid, there's no area to insert a bullet. A good c-ring with lots of vrooms could easily fix that! I do not recommend this for anal as it is one solid length all the way down, but a
vibrator enhancer
can add that flared based that is needed if you insist on using this anally.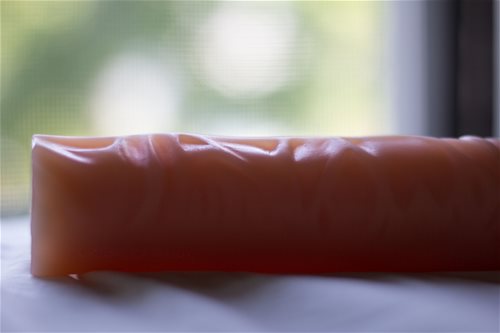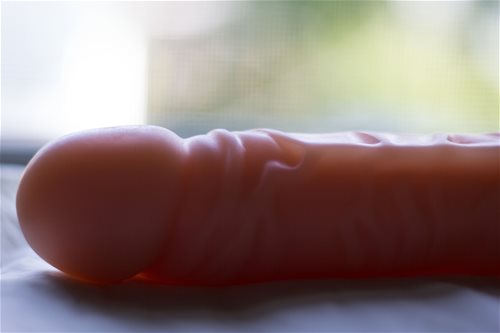 Experience
It's completely waterproof, so it can be brought in to the shower, pool or tub.
This can easily be stored. It can stay in the box it came in, a spare pouch from an old toy, or a plastic bag will do. If you need it to be discreet, the packaging it came with may not be a good idea. It is completely transparent, so you can tell what it is right off the bat. This one screams "I'm a huge dildo".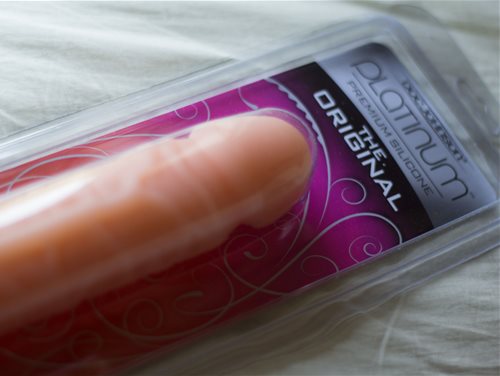 I'm very happy with this toy. It's awesome for solo play, but even better with a partner. It's a fantastic dildo for thrusting. It's girthy-ness and texture create nothing but pleasure for me. It doesn't suck up lube like some of my other toys do. Since this might be too thick for some, warm up with another smaller toy may be needed.
The image below is The Original compared to a few other popular items, so the size can be grasped. From left to right: Pure Wand, Charming Duet, The Original, A ruler, Ella.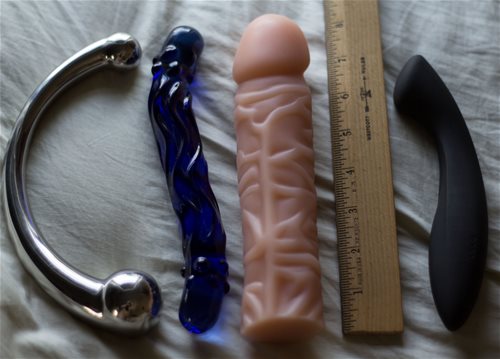 So like I said before, I wanted something girthy. I didn't think this was too big at all. While I love this dildo, I am now on a search for a new one with an even bigger circumference. I never considered myself a size queen, but I think I may be headed that way. Thanks, The Original.
And, about the materials, if any of you can provide more clarity, shoot me a message or comment. I've actually messaged Doc Johnson and I'll post the answer in the comments or re-edit it in here if they answer me in a timely fashion.
UPDATE: I contacted Doc Johnson about the materials on this and they claim that it is 100% silicone, no other materials.
This content is the opinion of the submitting contributor and is not endorsed by EdenFantasys.com

Thank you for viewing
The original
– realistic dildo review page!