Patriotic Ice!
Personally, I think everyone should try glass toys at least once in their toying lives. The smoothness, heaviness and loveliness of the toy is an experience to savor, not to be afraid of! The Icicles # 22 is another superb example of the line and one that I wish I could put on display for everyone to see as they enter my home.
Published:
Pros:
Completely non-porous, hypoallergenic, and safe the share
Cons:
Glass could break if dropped on a hard surface
The Icicles #22 is an amazing, large and beautiful hunk of glass that should grace every mantel in the world, it is seriously that beautiful! Far from being your run-of-the-mill sex toy this is a work of art and it seems a shame, to me, to keep it boxed up and put away. So I take it out and use it often, perfect compromise!
This beautiful behemoth measures in at almost 9 inches from base to tip. The tip of the toy is tear drop shaped and blunted to mitigate the sorts of bruises and other injuries that harder toys can give a sensitive cervix or vaginal walls. This tip measures approximately 4.5 inches around at it's widest before tapering to about 3.5 inches where it meets the straight shaft. The shaft of the toy measures about 4.5 inches long and then it swells into a lovely bulge which measures just over 4.5 inches around at it's widest. This bulge also tapers to just slightly smaller around than the shaft and there is a small break of about 1 inch before the round base of the toy. This base is approximately 5 inches around, flat and provides a great handle for the toy. They toy weighs in at damn near a pound! While it will not cause horrible hand/wrist fatigue you will know you are using a heavy toy. This isn't a toy that will get lost in the bedclothes.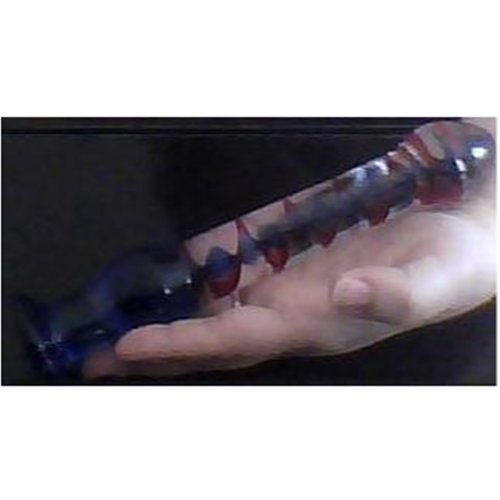 The base of the toy is a beautiful cobalt blue and the shaft all the way to the tip is clear glass. Twisted and swirled inside the shaft is a ribbon of red and blue that ends at the tip of the toy. It is very, very lovely. The colors are bright, true and jewel toned. The glass is smooth and becomes really slippery with just a touch of lube.
It is sure to catch anyone's eye making it a bit less discreet to travel with, though it doesn't immediately scream sex toy. It needs to be kept safe from chips and breaks because this is a borosilicate glass (think Pyrex) toy. A padded storage bag or the package the toy arrives in will keep it safe from clanking around in a drawer risking possible chips and nicks.
Given that the base of the toy is only slightly larger than the widest point of the toy, I have to caution users to be VERY careful using this as an anal insertion toy. The possibility that this toy will be sucked inside the average anal toy user, there have been longer and larger things that have slipped inside anuses and needed to be removed. With care and attention this is an amazing glass anal toy.
This is a very vagina friendly toy that is neither too small nor too large. It has zero give, however, so it will feel a slight bit bigger than it actually is! Factor this into your decision if you are a novice toy user and remember to go slow and use plenty of lube. One of the best things about glass is that it can be used with ANY sort of lube; water based, silicone, oil based, or any combination of the previous mentioned. Remember that vaginas tend not to like oil based lubes.
Temperature play is easy with this toy and I totally recommend dipping it into a glass or bowl of ice water or running it under hot water before inserting it. I caution against freezing the toy or using an oven or microwave to warm it as it can quickly become too intense and cause not so much fun amounts of pain. Test your toy for safe temperatures using the inner flesh of your elbow if you are unsure!
Thrusting the toy is a dream though the user or the user's partner will want to exercise caution as this is a long toy capable of bruising the back wall of the vagina if thrust too vigorously. The toy is not curved to make G spot play easier and unless your G spot is easily stimulated this toy won't do much. I have it on pretty goo authority that the head of the toy can stimulate the P spot fairly well but can be too unforgiving is the prostate is tender or swollen.
Taking care of this lovely toy offers many choices: you can boil it for 10 minutes, spray it with a 10% bleach and water solution, wash it in the top rack of your dishwasher, use a commercial cleaner or simply wash it with hot water and soap. It is non-porous so as long as you clean it between partners it is safe to share.
Experience
I know that lots of toy users fear a toy breaking while they use it or developing a scratch that could cut sensitive tissues this fear is easy to calm. This type of glass is the same as glass that is built to go from oven to freezer and resist the sorts of bumps and drops that happen when dishes are washed. What this means is, a toy this size would have to be subjected to variances in temperature that are more extreme than the average oven temperature and average freezer temperature. It's not gonna get sun warmed (or body warmed) and shatter if you put it in a glass of ice water. If you happen to drop it then it's going to take some pretty extreme force to break the toy regardless of the type of flooring you drop it on. Obviously you are going to want to be careful and check the toy for problems but, generally speaking, unless you drop it on a stone floor from a distance it's not going to shatter or chip.
To be totally sure your toy doesn't chip or break by clanking around in a drawer with other glass toys use a padded bag or slip it into a sock.
Follow-up commentary
10 months after original review
I have several glass toys that I display with pride and this is one of them. It has been dropped, kicked and played with by a three year old. It has developed no cracks, chips or any indication that it isn't brand new. I love the look of this line of toys and I hope that EF will continue to get in and sell these amazing glass pieces.
This content is the opinion of the submitting contributor and is not endorsed by EdenFantasys.com

Forum
| Discussion | Posts | Last Update |
| --- | --- | --- |
| glass | 3 | |
Thank you for viewing
Icicles No. 22
– dildo sex toy review page!