Patriotic Icicle
The Icicles No. 22 is a gorgeous red, white and blue glass toy which can be used for both internal and external stimulations. With its smooth texture it shines in all of its glory when held in the light! An excellent addition to your glass toy collection but still a fantastic first toy for beginners with glass dildos!
Published:
Pros:
~Gorgeous
~Well made
~Beautiful packaging
~Good for temperature play
~Safe for anal play
Cons:
~Expensive (though most glass toys are! You pay for what you get!)
The
Icicles No. 22
by
Pipedream
is my very first glass toy!
I've always been attracted to the
Icicles
line, and this was at the top of my list. It is made of Pyrex glass which is great for many reasons. On the safety scale it is a 10 because it can be boiled or soaked in a 10% bleach and water solution to sterilize. Glass is nonporous which makes it extremely easy to clean as well. Another benefit to glass is that you can use any type of lubricant with it that you'd like!
I always had the usual fears that those without knowledge of the material will have. Will it break inside of me? If so, will it shatter and leave shards inside of me? I was afraid to even consider a glass toy, but then I educated myself! Apparently, the type of glass used for these toys is not like the kind of glass they'd use for windows or glasses! It is thick and durable! You will want to avoid dropping it, of course, but if you do, it won't shatter. You'll want to keep an eye out for any fractures in the glass, because they can trap bacteria, but overall, glass toys are incredibly safe!
Pipedream did an excellent job on the toy, as well as its packaging. It comes in a box with the photo of the toy on the front and ideas to use the toy as well as cleaning instructions on the back! Toys like this can be used for temperature play, and the company made sure that we all would know that this is a possibility with this toy, so you can enjoy it to its fullest extent! The front of the box has a silky ribbon sticking out of the side, and if you pull it, it opens a flap that reveals the toy inside of the box through a plastic window. The "door" is held together by a magnet and it really adds to the "show" of the toy! To remove the toy from the box you will open one of the flaps at the top or bottom and slide out the foam that the toy is housed in. The foam is very thick and a bit more dense than Styrofoam and is great for protecting the toy if you choose to keep it in the box like I did!
The toy itself is 8 3/4" total length. 6" is able to be inserted and there is a flared base so feel free to use this toy for anal play! It has a bulb for the head, which is 1.5" of the toy, the shaft is then 4 3/4" followed by the final bulb and the base.
The colors are gorgeous! Clear for the majority of the toy with blue and red swirls down the entire length of the clear portion. The bottom bulb and base are colored blue. This has got to be the most patriotic looking toy I own! Actually, that is part of my attraction to it! I love the combination of those colors, if not out of patriotism, but because I think they look neat together too!
The box and the toy itself are not discreet in any way, as the box gives away the purpose of what is inside. I can't think of any creative ways to display this toy without others knowing what it is for, which is a huge letdown to those who want to show off their toys! I know I'd love to just let this sit on my desk all day so I can stare at it!
There is
some
texture with this toy, but not as much as with some glass toys. To me, the fact that it is so gorgeous and a shape I enjoy as well as its ability for temp. play, makes this toy excellent without added texture!
Glass toys can be used in the water so feel free to use this in the shower or tub but please be careful! As you'd imagine, glass becomes slippery when wet and you do not want such a gorgeous toy to break! Also be careful to have a firm grip on the toy during general use, as some lubricant on your hand may cause slippage!
I did list this toy as travel friendly, because while it will be obvious that it is a sex toy if your bags are being checked, it will not leak and if you keep it in its box it should not risk breaking during normal travel.
Front of box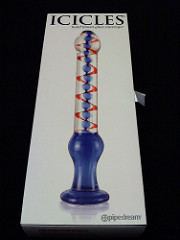 When you open the magnetic flap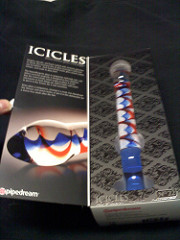 After you've removed the foam insert housing the toy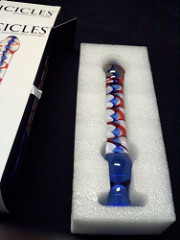 Back of the box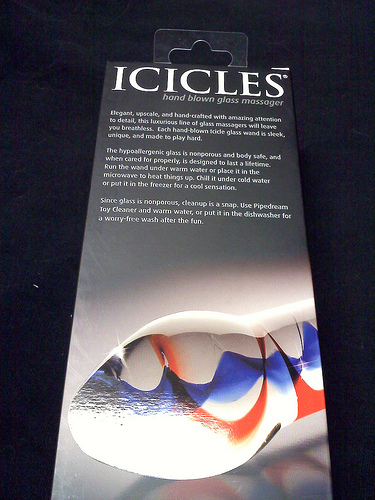 The most beautiful toy I own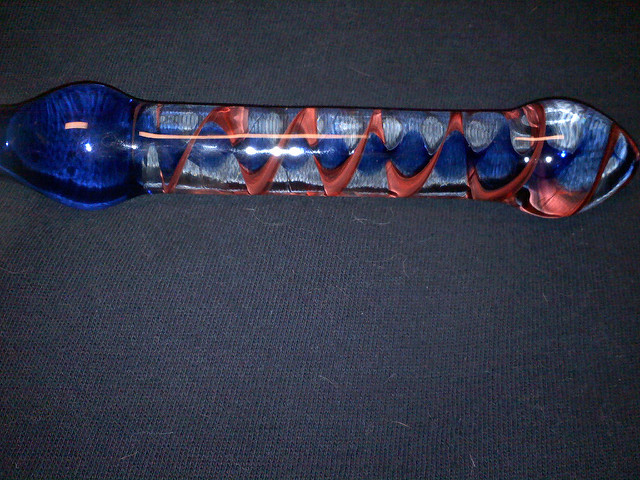 Experience
I absolutely love my Icicles No. 22. From the box to the toy itself, there is nothing to not love! It is perfect for sticking in hot water and letting it sit for a few minutes to heat up and use for warm play, and for those who love cold play, this would be excellent for sticking in ice water too! I can use any lube with it that I want so I don't have to worry about what I'm grabbing out of my box, and the material is smooth, so I don't need to worry about using too much lube since I do have a good amount of my own naturally.

I enjoyed using this with a vibrating cock ring, sliding it over the glass and turning it on, allowing the vibrations to travel the length of the toy. This was perfect for internal stimulation but also worked for external stimulation, as a type of self-foreplay.

As a beginner for glass toys, I can say that this is great for those with experience but also perfect for those who are new to them as well! I would love to buy more toys off of the icicles line, but my choice for a first glass toy was fantastic!

5 out of 5 stars for excellence!
Follow-up commentary
4 months after original review
This is still one of my favorite glass toys. I love the beauty of it and the unique colors and design. I've had no issues with it so far and it has no cracks or flaws developing in the toy itself.

I am so glad I decided to make this purchase!
This content is the opinion of the submitting contributor and is not endorsed by EdenFantasys.com

Forum
| Discussion | Posts | Last Update |
| --- | --- | --- |
| glass | 3 | |
Thank you for viewing
Icicles No. 22
– dildo review page!