Rotate Away, Baby!
The pink rotator is an unique glass piece that is meant to be spawn in the vaginal or anal orifice for a different sensation then usual glass dildos. It is aligned with thin texture that can be hard to feel for some, but for others it can be too much. The size is beginner friendly, but some might find it a little large.
Published:
Pros
Safe material, rotation spinning, texture, multiple uses, temperature play, and flared base.
Cons
None for me, but size and texture for some.
Use
The pink rotator is a glass dildo with a flared base and a handle attached to this flared base. The flared base makes this dildo great for vaginal and anal use. The handle allows for a partner to control the dildo. What is unique about the use of a rotator dildo is how it can be rotated inside of the orifice of your choice. This is a unique sensation that is great for those who are looking for something that is different from thrusting. The size of the dildo and the light texture make this dildo a great first glass piece.
Material
The pink rotator is made of
Pyrex
glass. Pyrex glass is a brand name for borosilicate glass that is made from a mixture boron, sand, soda and ground lime. This is virtually a cooled liquid that is cooled at a rate crystals can't form, so you get a seamless dildo. Should you drop you glass dildo and it broke, it would break in larger pieces instead of smaller slithers and splinters. Be sure to fully inspect you glass pieces upon arrival for cracks and surface flaws. There is a great
return policy
, should you need to use it. Glass is a great material for temperature play. The best way to change the temperature is to put the glass piece in warm or cold water. Glass is always tasteless and odorless. Should you want to share your glass piece you can do so, but you should boil in between partners and be sure it is fully cooled for use. You can avoid boiling this if you use a condom. Glass is a firm material that is unforgiving, so watch with thrusting because it can bruise the cervix. Glass is compatible with any lube as well.
Design, Texture, and Size
The pink rotator starts off with a head like top with 6 vertical grooves aligned on it. This head has a tapered top for easier insertion. The head is continues down to a short shaft that is aligned with a thin, pink, and swirled texture. This shaft is attached to a flared base that has 6 nubs on the edge of it. Off of the bottom of the flared base is a short post with a bulb on it. This is the handle. The dildo totals 6" long, but this includes the handle and the base, so it is only insertable up to 3.75". The largest circumference that is inserted is located at the fullest portion of the head. This is 5" in circumference or 1.5" diameter. The shaft has a circumference of 4" or 1.25" diameter. The flared base has a 7" circumference or a 2.25" diameter.
The design, texture, and size are suitable for all levels of users. As long as you package this dildo right, you can travel with it. This piece is not discreet, but really pretty. The pink color is hardly noticeable because it is so light, so it looks clear.
*** Note: Glass toys are hand made, so they can vary in size, but they are usually close.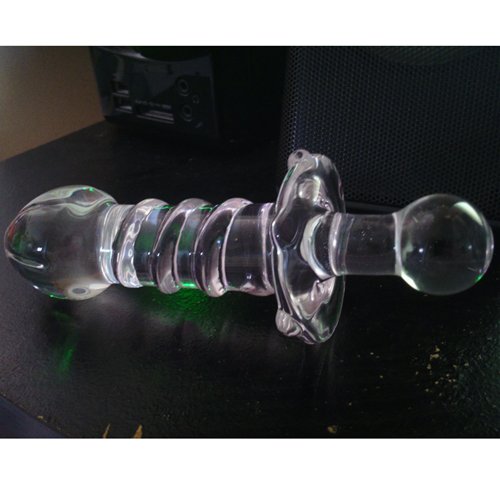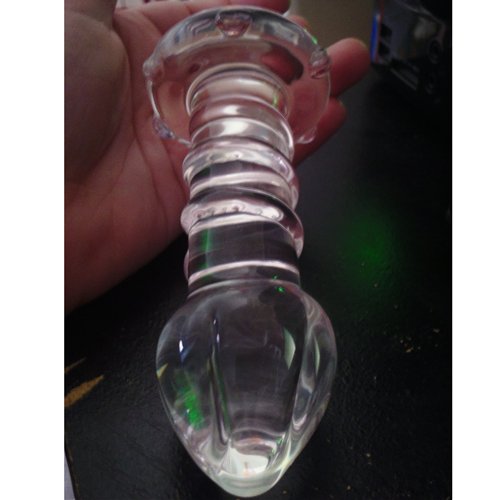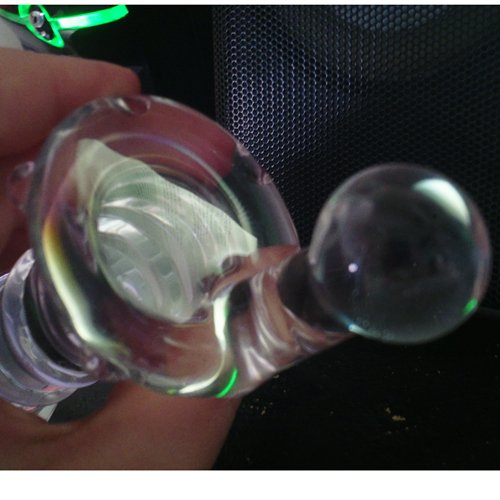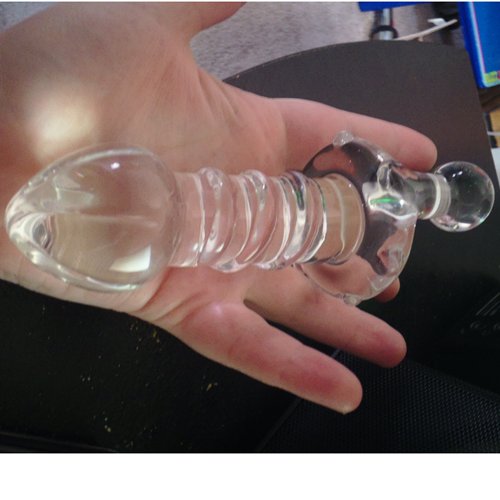 Experience
Performance
The pink rotator is a really fun glass toy to use. I find it hard to feel the texture on the shaft when it is being spawn inside of me, but I can feel it if I use this piece as a dildo. The nubs on the flared base are the to add extra stimulation to the external parts of the area, but I don't feel those unless it is being spawn. The head of the dildo creates a nice pooping sensation as it is pull in and out. The weight along with the size gives the user a nice full feeling. My favorite use for this toy is when my partner uses it on me with oral sex as well. I recommend you trying it this way. I find that the rotator really gets my juices flowing and my partner loves that. I did try it anally, but it was somewhat uncomfortable for me. I think it just didn't work for my anatomy. Overall I am pleased with this piece and I recommend everyone trying at least one rotator piece.
Care and Storage
Glass is extremely easy to care for. You can wash it with warm soap and water, use a toy cleaner, or toy wipes. If you are sharing this toy you can boil it for sterilization. It is recommend that you do this for no longer than 3-5 minutes. Be careful when removing the glass piece from the pan and be sure to let it cool before using it again.
This dildo comes in a red velvet pouch that is not padded and wrapped in bubble wrap. You should store it in this pouch and somewhere safe from falling and breaking.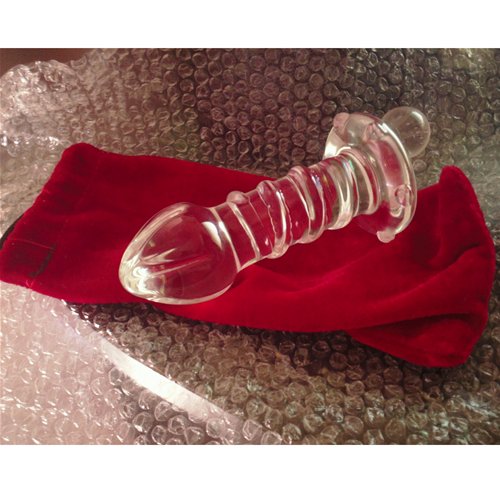 This content is the opinion of the submitting contributor and is not endorsed by EdenFantasys.com
Thank you for viewing
Pink rotator
– sex toy review page!