Short and Stout does it
Thick built but average in length, the Randy is ideal for size queens, particularly those who favour thickness over length. Its shorter length allows you to take its full length and grind on its thick suction cup base while its filling and well designed shape conquers and pleases with surprisingly strong G-spot pressure.
Published:
Pros:
Beautiful shimmery silicone, girthy with a manageable length, G-spot stim, suction cup base.
Cons:
Not going to be manageable for everyone.
Being a fan of the similarly girthy Silicone Johnny dildo from Vixen Creations; I was eager to invest in another monster Vixen Creations dildo and the Randy appeared to be just that! With its simple design but challenging girth I could see this being a hit for me and many size queens out there.
Packaging:
The Randy arrives in Vixen Creations usual style of packaging, a sturdy clear plastic cylinder which (unless you are pretty short of storage space) is also ideal for long term storage of the toy too.
On the front and back of the tube there are stickers with the Vixen creations logo. The back sticker is full of information on the material used aswell as information on how to best care for your Vixen Creations toy. This tube feels incredibly sturdy and if you already own other 'tubed' Vixen toys then these tubes are easily stacked on top of each other meaning that they not necessarily as space consuming as they can seem. They are great for making sure that toys don't get dented or misshapen during storage.
Being such a thick toy, this was the first Vixen creations toy that I found would stick to the cylinder as its thick base basically matches the thickness of the tube itself.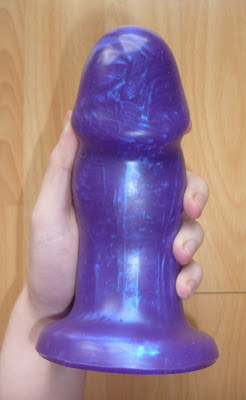 Measurements:
Total length: 6 Inches
Insertable Length: 5 1/4 Inches
Circumference: Ranges from 6 1/2 to 7 Inches
Base Diameter: Just under 3 Inches
First Impression:
Seeing the Randy in person it is just as shimmery as shown in the product photos. It has an almost pearlescent or metallic look in some lighting and on close inspection, lines of darker purple pigment run along its whole length giving it stripes and beautifully intricate patterns along its shaft. At first sight it definitely reminded me of the equally purple and shimmery 'Champlette' which is also made by Vixen Creations, though the Randy is of course incredibly girthy compared with the Champlette.
In terms of size, the Randy was larger than I had expected before its arrival. Wrapping my hand around it my fingers can just about meet. Compared with the VixSkin (which I had expected this to maybe match in girth) it is actually quite a bit larger again. In person the 7 inch circumference of the Randy looks considerably more substantial than the Mavericks 6 inch maximum circumference.
Once I had gotten over the shock of Randys girth, I admired its semi-realistic design which features a raised head ridge, slight curve along the shaft and a thicker mid-shaft than lower shaft. The base of the Randy even features a suction which was an added bonus I hadn't expected.
Made of the same silicone as other Vixen Creations dildo in my collection, I was surprised by how firm it feels by comparison. With a girth as impressive as it is though it is bound to take some of the flexibility out of the toy. I suddenly found myself understanding why a 'VixSkin' version of the Randy also exists.
In Use/ Experience:
Attempting the Randy for the first time I was sure to allow myself enough warm up time and of course I made sure lots of water-based lube was easily to reach. I didn't expect that it would be managed on the first attempt but to my surprise, once past the hurdle of its raised head ridge, the rest of the Randy is far less of a struggle and seems so ergonomic as it automatically adheres to the curves of your body, feeling as if it is filling every available space and essentially plugging the vagina like it has never been plugged before.
This sensation immediately reminded me of the 'Jollie' dildo which is designed for plugging though it is actually larger than the Jollie and has the advantage of being softer so it can bend with the body and feel more forgiving.
Thrusting the Randy I found that it has a very short range of thrust because of its shape and size but just the slightest movement feels so very intense. The G-spot stimulation achieved from the slightest rubbing or tapping of the base of the Randy came as a surprise to me and short thrusts apply an intense pressure on the g-spot, massaging in a different way to most g-spot dildos, feeling a though it is pressing against it from sheer size rather than poking or prodding it with a curved tip like most G-spot toys.
If like me, you find G-spot toys can distract as they poke too much while stimulating, the Randy's different method of stimulation will allow for longer session of equally intense but less, well poking or bruising G-spot play.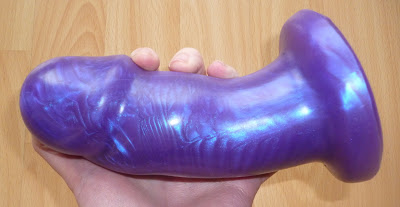 ...
Experience
The generously flared base of the Randy makes it easy to grip while thrusting and also makes it suitable for strap-on play. It is soft and flexible so can be bent in the hand for a more comfortable grip though this flexibility in the base may worry some who want to use it anally. Neither myself or my partner were brave enough to use this anally but that was simply down to its intimidating size.
When worn in a harness, it pays to have at least a 2 inch O-ring around as this will be a serious squeeze to get into an average sized O-ring. When in a harness it keeps its shape and stays well put, with the only issue being that only very short thrusts are possible making this a tad unexciting for strap-on play.
The suction cup base on this which doesn't look impressive at first is actually effective and means that is can be suctioned to a wooden or tiled floor for squatting down on and grinding on in short thrusts for a teasing fill mixed with angled and effective G-spot pressure.
Material/Care:
Made of high quality silicone, Randy is hypoallergenic and both Latex and Phthalates free. Silicone is completely non-porous meaning that it can be fully disinfected by boiling it in a saucepan for just 3 minutes or by throwing it into the top rack of your dishwasher or it can be simply washed after use with warm soapy water or specialized toy cleaner.
It is generally highly recommended that you don't use silicone based lubricants with a silicone toys. I would recommend using a water-based Lube withRandy. I recommend either keeping it in a zip sealed bag to keep it dust free in between uses or it can be placed back in it original packaging to keep it clean and dust free too.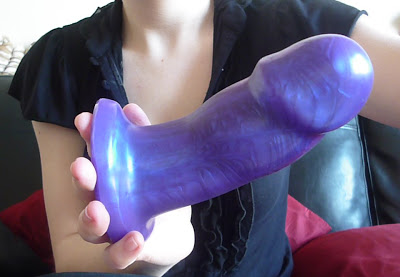 -Compared with the VixSkin Maverick-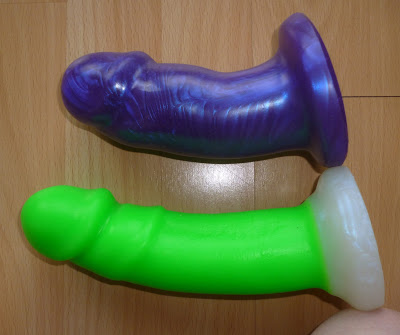 Follow-up commentary
2 months after original review
While the Randy doesn't get as much use as some of my smaller toys, his softer silicone does make for more comfortable play when I do feel my challenging my size limits. Compared with other similarly large toys in my collection Randy proves easier to manage thanks to that little bit of 'give' he has. Not one for such regular use but I'm still very much a fan of the Randy.
This product was provided at a discounted price in exchange for an unbiased review. This review is in compliance with the FTC guidelines.

Thank you for viewing
Randy silicone
– sex toy review page!