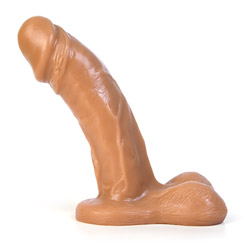 Johnny VixSkin
Realistic dildo with balls by Vixen Creations
Well Worth the Splurge For This Knight In Shiny VixSkin!
Johnny is the perfect companion for anyone who is willing to drop the cash. He will last a lifetime and his VixSkin is soft and pliable yet firm enough to feel like the real thing. Despite the strange almost stickiness that he gets from being stored, he is well worth the wait and I strongly encourage you to get him!
Published:
Pros:
Great texture and material, nice size, well worth the price.
Cons:
The price and size may be too much for some, strange stickiness at times.
Johnny VixSkin is the epitome of dildos.
He is the only thing I have wanted inside of me since I received him. In fact, I have been slacking on my reviews because of him!
*Use*
Johnny is an excellent gift for someone since he is of the best material and will last a life time. He is intended for vaginal use but can be used for anal as well. Just make sure you sanitize him and clean him well before switching holes or partners.
*Material and Design*
Johnny is a wonderfully crafted dildo made of
VixSkin
, a fantastic type of silicone that feels like its more porous counterparts (
Cyberskin
,
Futurotic
,etc). This material has a soft and squishy texture to it, and it mimics the real thing quite closely. In fact, it warms up very easily so it can also imitate body heat without soaking or lubes before hand.
He is soft and squishy on the outside and the VixSkin is very pliable. Don't let this fool you though --- Johnny has a fantastic inner core with the perfect amount of firmness to imitate an erect penis. When I squeeze him, I feel like I'm squeezing the real thing: warm, firm, pliable. The head has excellent detailing and is accentuated just enough to give you a nice full feeling without being rigid enough to give you that "popping" feeling upon insertion. The details beneath the head resemble that of skin around the frenulum, and the veins are deliciously placed. The balls look just as real and can be used as a handle for thrusting or for a harness.
The base of this is flat and smooth, and it's extremely shiny. It's hard for me to believe that the base and the cock itself are the same material!
Here is a size comparison, look close at the smooth shiny base!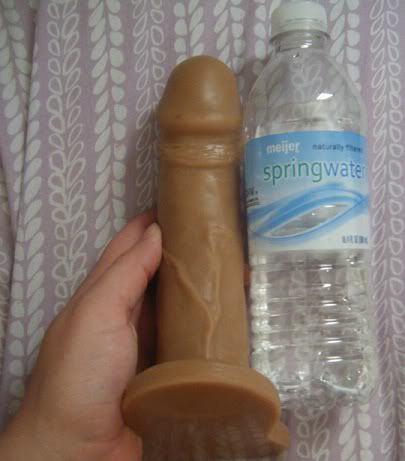 *Packaging*
Johnny comes in a thick plastic box that works well for storage, as long as you don't need to be discreet. The shell is a clear plastic with the exception of the VixSkin labeling so you can see Johnny in all his glory.
*Care and Maintenance*
VixSkin is a 10/10 at Eden, right up there with it's silicone counterpart. It is non porous, phthalate and latex free, and hypo allergenic.
This can be sanitized by boiling or washing with a mild solution of bleach and water. Clean well with soap and warm water before and after each use, and make sure you use condoms if you share (holes or partners). Although this material is durable and life long, it should be handled with the utmost care.
*Size and Shape*
Johnny is a very nice size. Some might find him too large at 7" long, with 6 1/4" insertable and 1 7/8" diameter. However, his squishy outer layer has some nice give. He isn't very firm on the outside and glides in smooth. He's also very pliable and can be maneuvered to hit the right spots.
Johnny has a very nice g spot curve that can be used to hit not only the g spot, but the a spot, p spot, and any other spot as well.As I previously stated, his pronounced head adds nice texture inside and the shaft is flexible enough to caress your whole vaginal canal.
Demonstrating his luscious curve!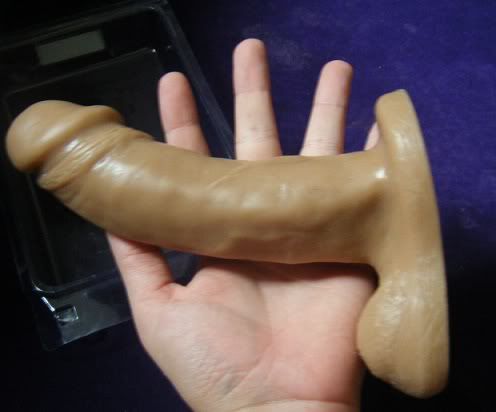 *Performance*
This dildo works wonders for the horny woman! I fell in love with him as soon as I took him out of the package. The length can be a bit much for me at times, but I just move him around to hit a different spot. The bending he is capable of makes up for that.
For some reason Johnny can get slightly sticky after being stored for a while. I first thought this was due to him being stored in his box (my hypothesis: the heat here could create moisture inside). After washing him I will leave him to air dry so I know that it isn't due to him being stored wet.
It isn't a super stickiness like some toys can get, and it goes away pretty quickly so I am not sure of the cause. It also doesn't cause any damage to the toy, it's just a simple set back if you ask me.
He is quite top heavy due to the curve in his shaft so you may have a hard time standing him up.
One last size comparison for you!
]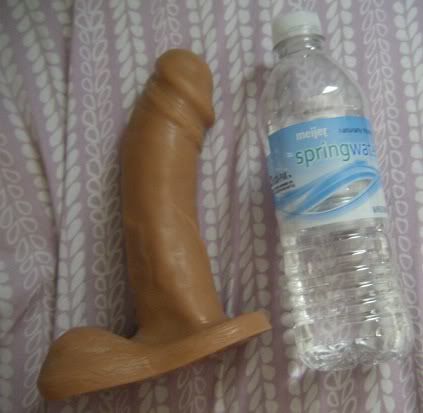 This product was provided at a discounted price in exchange for an unbiased review. This review is in compliance with the FTC guidelines.

Thank you for viewing
Johnny VixSkin
review page!