Blooming Big and Loud
For those of us who took part in the free vibe promotion and avoided shipping cost, let us consider ourselves lucky. I would not be a happy girl had I spent my own money on this loud and rattling vibrator that heats up in a disconcerting way. This is not a good penetrative toy for beginners, but those who like girth and intense vibrations might get a reasonable amount of pleasure out of it (if they can get over the aforementioned pitfalls).
Published:
Pros:
Big (for those who like length and girth), powerful vibrations, easy to hold on to with one hand
Cons:
Big (especially for beginners), loud and rattling, heats up after prolonged use
When I saw this vibrator was being offered for "free" when I signed up for the Eden newsletter, I was very excited. I say "free" because unless you order more to qualify for free shipping, you have to pay $4.99 for it. I ended up using 499 of my Eden points, so it was of no direct cost to me (but that's several reviews worth of points). When I did receive it in the mail, I opened the box and found the vibrator in a sealed little plastic bag, with nothing but a tiny golden "Made in China" sticker to indicate who manufactured it. I had to search for this vibrator on EF to even find out what sort of material it was made of, since there was no indication on the sparse packaging or on the product itself. I eventually discovered that it is made of plastic, which gave me a bit of security and explained the pleasant lack of the typical "sex toy" smell.
Upon opening the vibrator up to put in two C-type batteries, I found this rolled up inside...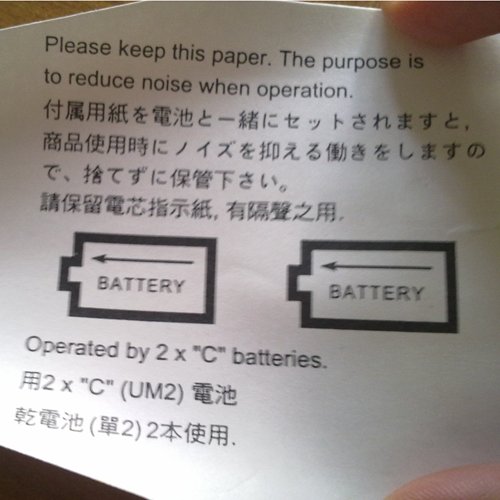 Turns out they tell you to keep the paper inside for a reason. Without it, the batteries rattle around inside the vibrator and create a very loud and troubling sound that makes one think it might break. However, having the paper inside only does so much to calm this fear. It is still fairly loud, even without the batteries being shaken about by the vibrations. The audible difference is similar to trading out a broken lawn mower for an electric mixer.
For safety precautions, I washed the vibrator with soap and water (after removing the batteries and paper) and dried it before the first use. I find that water-based lube works perfectly well, though extra lube on the genitals may be required. The vibrations on medium and high are very powerful, but at the cost of also being very loud. External use, then, can be risky business for those who want to be discreet, but the intensity of the vibrations can stimulate the clitoris quite well, sometimes to the point of overstimulation. The vibrator sounds a bit quieter when the motor in the head gets past the vaginal opening (which was no easy feat for someone not used to penetration in the first place), but the batteries inside still rattle noisily, and I could still hear it clearly when I did not have a blanket over me and my A/C running.
As a virgin, I find that the 7 inch insertable length and 4.25 inch circumference puts a lot of strain on my vagina. The raised design all along the body of the vibrator also made it difficult for my vagina to accept and adapt to the vibrator. As a result, the vibrator stays in place with very little difficulty, which serves very well if the 7 inch length does not fit completely and comfortably into the vagina. However, this same raised texture also makes it more difficult to remove smoothly. There are also more chances for gunk to get stuck in the little spaces within the intricate designs, meaning that one should clean it very thoroughly after each use. Even then, unless you scrub it, there is a good chance that one may find residue or soap dried up in the little crevices.
Additionally, I find myself very concerned about the integrity of this product. The jarring motor is located in the head of the vibrator, with seemingly no padding or insulation around it. Therefore, the top half of the vibrator heats up within about ten minutes for the medium or high settings, twenty or so minutes on the low settings. When this happens, there is also a smell of heated (bordering on burning) plastic.
Therefore, after a week of having this vibrator, I have already come to the conclusion that I will be using this mostly for external stimulation, since the strain and risk of contamination (via the indentions) make penetration less than ideal. The loud vibrations can be too powerful for some, especially given the unprecedented heating up that comes with prolonged use. This product is being rated 2 stars because it the most powerful vibrator I have used so far, but had I paid the full $15 for it, I would have probably given it only a single star.
Follow-up commentary
3 months after original review
If treated purely as an exterior vibrator, this is not such a bad product. However, I am still finding little bits of gunk in the little crevices from when I tried using it vaginally, and the C batteries do not last very long when used on high power.
This content is the opinion of the submitting contributor and is not endorsed by EdenFantasys.com

Thank you for viewing
Pleasure petals
– traditional vibrator review page!