EGGcellent.
If you're looking for a way to exercise your vaginal muscles to improve your sex or health life, then these cute little glass eggs may be the tool your looking for to give some weight to your kegel workouts!
Published:
Pros:
Glass
Petite size
Cons:
None
The Crystal premium glass eggs by NS Novelties are beautiful, small eggs designed to help tighten your vaginal muscles. They give a bit of weight and something for your vaginal to grip and release, helping build muscle strength. These are intended for vaginal use ONLY. You can wear them anywhere, anytime and however long you choose. Like Ben Wa balls, you could leave them in during intercourse if you aren't afraid to. Nothing can get lost into the vagina, but the though of wearing them during sex just makes me uneasy. You can wear them in bed, in the shower or while out shopping.
MATERIAL/SIZE
The eggs are small in size with a light weight to each. The tapered tip helps make insertion a little easier. It's more comfortable to insert the egg with the tip first, then the other the same way. I read a review where someone reported discomfort by having the two egg points facing each other, so I just didn't even try it that way. =They are made of 100% body safe Borosilicate glass, rating a 10 on Eden's safety scale. The glass is smooth and slick. There are wavy lines around the egg and some can slightly be felt when pressing my finger against the egg and rubbing it, but you won't even know they are there once inserted. The petite size makes these great for beginners, or really any users, though more advanced users may not feel like they provide enough weight. The measurements for each egg are:
Length: 1 3/4"
Insertable length: 1 3/4"
Circumference: 3 1/4"
Diameter: 1"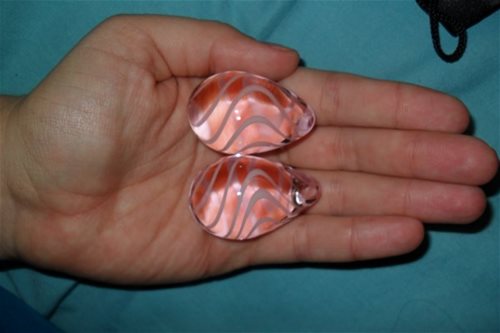 With Crazy Girl pleasure balls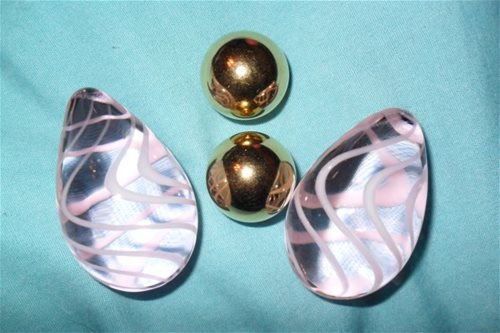 Compared to EOS lip balm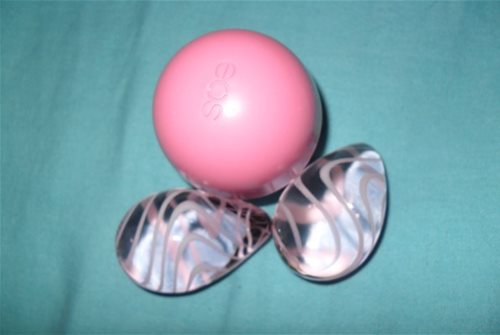 PERFORMANCE
You can wear one egg alone until you get used to working your muscles, then use both at the same time. Working out that vaginal muscles is easy, just clinch, like I'm sure you've done when you have the urge to pee and have to hold it until you make it to a restroom. Hold and release slightly. Hold for as long as you want, though I'd say atleast 5-10 seconds before starting a new rep. You don't want to relax completely if you are somewhere where you'd be embarrassed if one slipped out and made it down your pant leg! You just work your way up to using both and holding them (clenching) longer than your last time. You need to do it regularly to see results, not just once a week or month. They aren't heard outside of your body. To get them out you can use a finger or two, or squat down, relax your muscles and push a bit.
CARE
Cleaning is easy for the eggs. Soap and water will do just fine or you can use toy cleaner or wipes. You can also boil, use a 10% bleach solution or toss them in the dishwasher. I recommend keeping them in the nice drawstring bag that they come with and tightening it up so they don't bang and clang around.
With regular use, you should be able to see a difference in your muscle strength. They can help improve your sex life, help tighten things up after giving birth, strengthen the PC muscles to help correct incontinence issues, ect.
This content is the opinion of the submitting contributor and is not endorsed by EdenFantasys.com

Thank you for viewing
Crystal premium glass eggs
– vaginal balls review page!