Eggs-tremely Beautiful!
These are pretty and will get the job done, but the shape really gets in the way of the function. If you want something pretty to look at or use for temperature play, these are certainly beautiful and made of a very body safe material. If you are looking for a great Kegel exerciser, I'd get something else.
Published:
Pros:
Very Pretty, Easy to Clean
Cons:
Less than Ideal Shape and Size
When I first recieved the crystal eggs, I was a bit taken aback by how small they were. They come nestled in a plastic form, in a box with a display window so you can see them before you crack it open. Both eggs fit within my closed hand, so as far as Kegel exercisers go, they are small. They are very pretty, a pale pink glass with delicate swirls of white. They do seem identical, with very few variations between the two eggs. They weigh what you would expect them to weigh being so small, they are very light.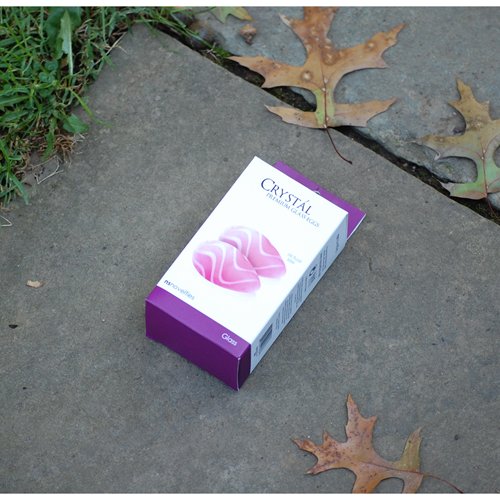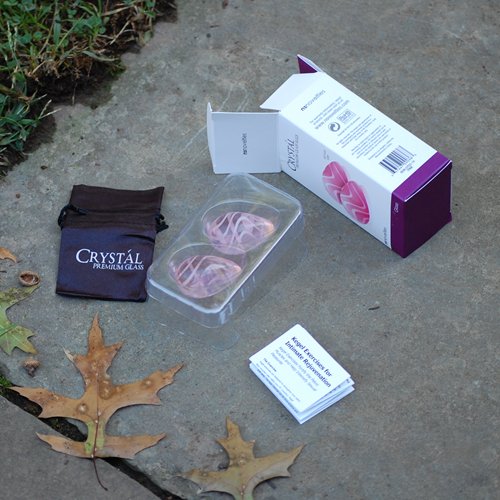 My first impressions were positive. They seemed well made, well packaged, and were very pretty. I was a bit wary because of their size and weight, as most exercisers I have are a bit bigger and quite a bit heavier.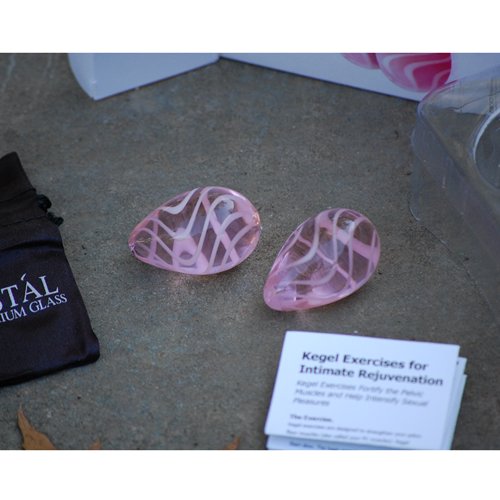 Because these little guys are so pretty, I wanted them to be my new favorite exercise toys. I tried a few times and I just couldn't love them. If you use them as the diagram shows, with one of them just barely inserted, it is very difficult to keep that one in. If you are up and walking around it requires near constant squeezing. I know you might say that is the point of this product, but even with that vigilance it sometimes would slip right out. The eggs are so small, that you don't get the sensation of squeezing against something that is providing a great deal of resistance, as you do with other Kegel exercise toys.
Also, on several occasions it was very tricky to get one of them back out. They are so small, that popping them out or reaching in to get them is difficult. I really have no desire to have to go diving for eggs every time I decide to use a Kegel toy.
The largest problem I encountered is the egg shape of the toy. I have the Crystal Egg which is made of stone and the shape of that one never bothered me, it seems to fit my body naturally, but it is a single larger egg. The two smaller eggs of this toy seem to not work well with my body, and not work well with each other. They bump into each other internally and the sensation isn't pleasant. The pointed ends of the egg are able to turn and move because of the small size of each egg, and that sensation isn't pleasant either. It seems that if you want something insertable with no strings or pull cord, round may be a better option than egg shaped.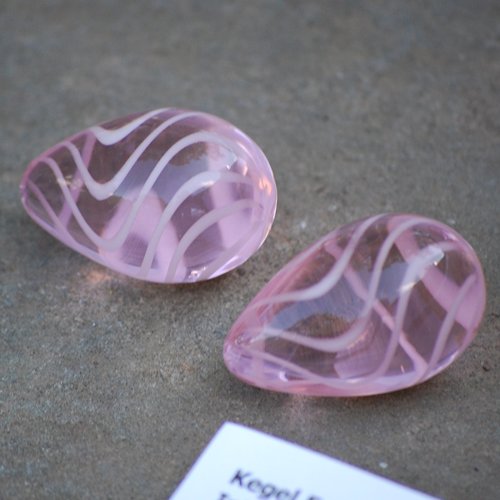 The pamphlet that is included is a bit confusing. It has a ton of information of developing a "work out plan" for doing Kegels, making suggestions about duration of exercise and how to work up to more exercise at a time. But, when it comes time to explain how they suggest you use their eggs, there is only a single drawing showing them inserted.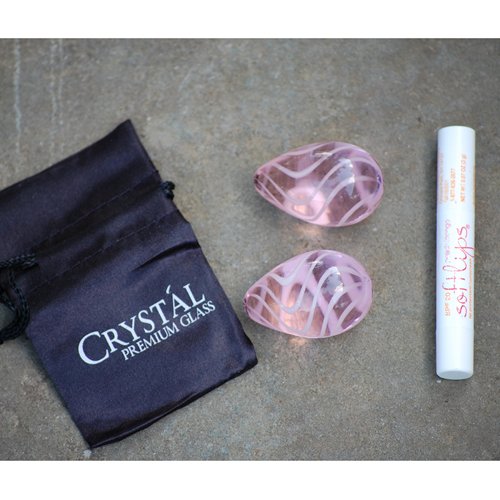 The Crystal Premium Glass Eggs are made of 100% hand-blown, premium Borosilicate glass. Borosilicate is better known as Pyrex, as in the same stuff your favorite bakeware is made of. It is made to be very durable and to endure temperature changes. When Pyrex does happen to break, it breaks in larger chunks instead of shattering into a million pieces as regular glass does. Borosilicate is a great material for toys, I own many and have never had one break, even with occasional drops here and there. Borosilicate is also a great material for temperature play, if you wanted to try that with these eggs. Although these are intended for vaginal exercise, I could see them being used after being in cold water warm water for sensation play as well.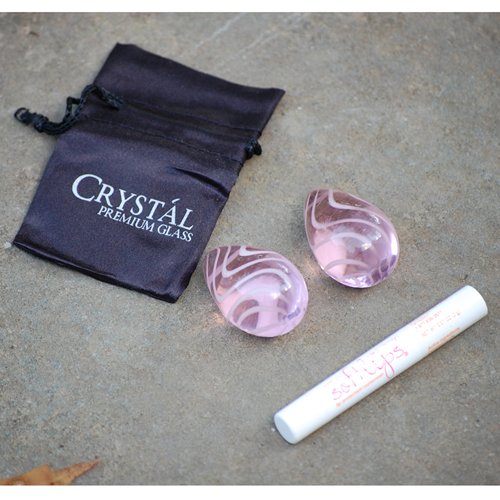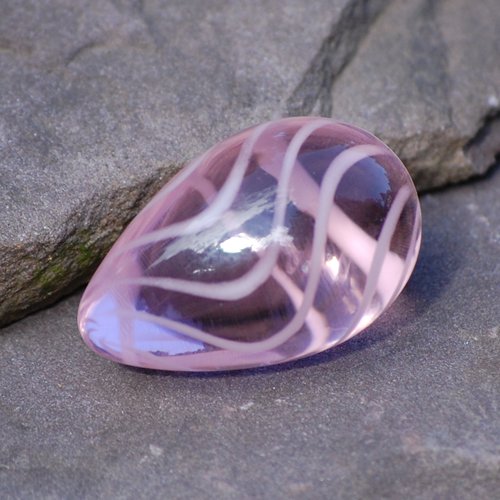 Clean up for the eggs is fairly simple. Because they are Pyrex glass, you can boil them or use the dishwasher to sterilize them. You can simply wash them with water and antibacterial soap, or use a toy cleaner on them. They don't collect lint or have an odor. Mine are quite smooth with no visable seams or flaws.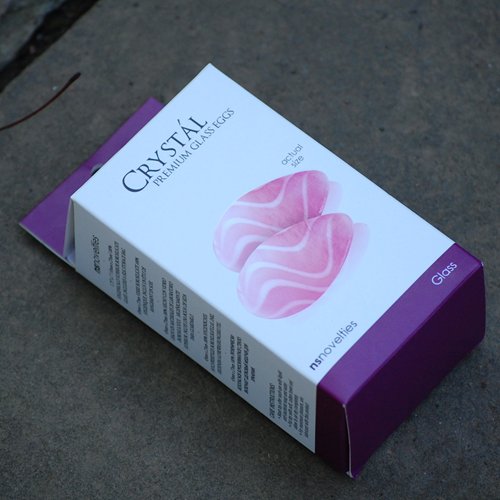 The package is fairly sturdy, if a bit of a tight squeeze, and is a great place to store the eggs. It also comes with a small silk pouch, if you would rather ditch the box and just use that. The pouch is a single open area, with no divider to keep the eggs from banging against each other, so I worry about them dulling each others surface or breaking each other.
Follow-up commentary
2 months after original review
I now own these and the larger version as well. I do sometimes pull these out, but most often I use the larger size. They are certainly beautiful, and that alone keeps me coming back. I just keeping hoping that one day I'll love them.
This product was provided free of charge to the reviewer. This review is in compliance with the FTC guidelines.

Thank you for viewing
Crystal premium glass eggs
– vaginal balls review page!