A comfort lover's BFF
If you loved the Bamboo boxer shorts, but want something just as comfortable, only less revealing to wear around the house and to sleep in, these Bamboo Pajama Pants will be your BFF. If you're a female looking for a comfortable pair of pajama pants that'll match any top you have, these are your pants! They're well made and won't smother you in your sleep.
Published:
Pros:
Comfortable.
Anti-bacterial.
Lightweight.
Perfect fit.
Cons:
Super baggy to be a small.
These simple black, lightweight pants are great for males and females who're looking for comfort and something that'll match any pajama top you have on hand.
Like the rest of the Male Power Bamboo line, the fabric is anti-bacterial, and the breathable fiber "wicks" away sweat, thermo control for warm or cold climates and fabulous for those with allergy-prone skin.
The awesome 95% Bamboo pulp material -- the other 5% is Spandex -- is what makes these pajama pants and the boxers must-haves. They're smooth, soft and feel fabulously slinky on.
The material is thin and when held to the light, I see some light shine through, so it's possible your undies or skin could be noticeable if in they're tight or in right light. Since these are very baggy though, that won't be much of an issue for most.
While the material feels thin and lightweight, they're noticeably a sturdy pair of pants that won't damage just from regular wear. The waistband is firm and sturdy, and looks to be one that doesn't plan on losing elasticity anytime soon.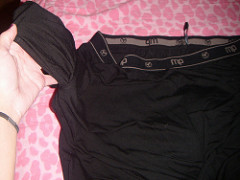 Besides all those wonderful qualities, these also have pockets! Hooray for pajamas with pockets! Or anything with pockets for that matter. The pockets on these are deep, so they'll hold even more than a pair of jeans will. So if you plan on taking your wallet, cell phone or heck, even a few toys to bed with you, they'll surely all stuff into the pockets on these babies.
Design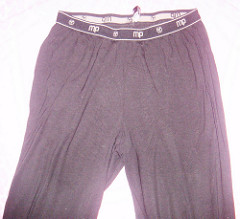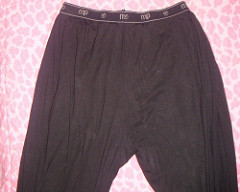 Front shown on left, back shown on right. For such a simple pair of solid black pajama pants, there's little to say about the design. Wearing these will not give away where you bought them. Nobody will have a clue that they're made from a company that sells sexy lingerie for men and women. The only thing that gives away the brand is the Male Power logo around the waist band. It's a black band with a gray stripe on top and bottom and the round gray ball logo, which I've yet to figure out what it actually is supposed to be. Looks a little like a globe. Then it says "mp" around the band. However, since I have to roll my band down to fit me, it looks like a "wb." If you feel it necessary, you can tell people it means "my pants" or "Mary Poppins" or "my penis." Sorry, couldn't resist. As for us who need to roll them down, we could always say the "wb" stands for "wanted badly." Okay, joking aside, if you truly were worried about explaining the "wb" to whatever company may see you in them, you could simply say it means "women's basics." That sounds good enough.
The back of the waist band is zig-zag stitched, so that also will ensure longer lasting wear. The tag is also located back there. It doesn't bother me since mine have to be rolled down anyway, so the tag just sticks out. But my matching pajama pant buddy here (the male) says he finds the tag resulted in itchy butt-crack syndrome, and he's sure glad I saved mine for referring back to for this review because he snipped his out long ago.
Measurements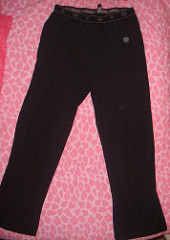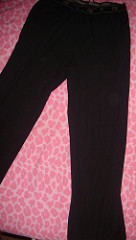 *Just look at the size of the legs on these suckers!*
Note: the white ball on the right side of the pants is not part of the design. Any time I take photos in my house I have tons of orbs, so just ignore that little guy.
from waist band to bottom of butt: 16" long.
Across butt: 24"
Thigh: 14" across
Legs are 11" wide.
10" across at the knee.
9" at calf.
8" at hem.
39" long from waist band to leg hem.
31" long from crotch to leg hem.
1" waistband
Yes, this means the crotch is long. The crotch hangs past my thighs, but is also very long on the male I bought this size for.
I bought the exact same pair/same size for a male family member who wears a 30 in jeans and these fit him wonderfully as well, only just like me, they're really baggy and saggy in the butt, legs and crotch (shown below.) These are size small, and I normally wear a female's size XS or S, a zero in jeans and I measure 26" at the waist, but 29" near my love handle area. I'm around 5 2" and the legs drag the ground. That's always the case for someone as short as me though, and to be expected when you buy any pajama pant, especially a men's pair. However, they're a fine length for the 6 1" male I bought a pair for.
Experience
...Continued...


On me, they cover my feet and hang about 3" off. There's a couple of solutions if this is a problem. These will be discussed in my experience to save room.

The waist of the pajama pants measures 14" and they fit perfectly on me. They sit low on the waist, and aren't loose in the waist and don't slip down. There's no bulging or lines on my waist from the elastic band, which was very appreciated. The 1" waist band is firm, so it will cut it if they fit tightly. I only wish the bottom of the pants were a little smaller.



Caring for the Bamboo Pajamas
Machine wash cool, no bleach, tumble dry cool, remove promptly, wash darks separately.

Made in China.


Weighing only a total of 0.2 lbs. these aren't exactly heavy or bulky, so if you happened to want to take them on a trip, they'll cram into your luggage just fine. I ain't promising you won't have one wrinkly pair of pajamas once you take them out, though. They do wrinkle easily from simply sleeping in them, but that's no big deal to me. Another thing about travelling with these, you could even wear them for a comfortable ride to and from your trip.

Packaging
These come in a paper box, much like the bamboo boxers do. There's huge photos of a man wearing them on the front and back. I personally don't like gifting something with that huge of a no-shirted male, so I chose to remove the paper box since it's really of no use for storage anyhow, and gifted the pants in the plastic wrap, which is what they come in inside the box. There's also a tag attached to the pants with this same dude, but the plastic bag opens via a sticky flap that can be resealed. I snipped the tag off and resealed the bag before gifting. So if you aren't comfortable gifting these in the box, you can go that route.

The box does have information about the material. It says "Male Power" all over it, as well as "Bamboo Pajama Pant." It also says "breathable fiber wicks away moisture, keeping you dry and comfortable. Smooth, soft and luxurious. Thermo control for warm or cold climates. Ideal for skin sensitivities or allergy-prone skin, and antibacterial."

The brief description of the pants says "Who says it's not easy being green? Male Power has gone eco-friendly with its wild new bamboo collection. The bamboo collection consists of 8 different garments made from this amazing material: jocks, lo rise shorts, thruster bikinis, lounge pants, tee shirts, boxers, power socks and micro thongs. All feauture a green leaf design, and are available in black or teal."
Follow-up commentary
1 day after original review


Remember the "solutions" I mentioned for those who find these pants too long? Here are a couple options: cut them to desired length and hem. Or you can take a strip of fabric either from the bottom of the pants or your own scraps and make a hole large enough to fit a button through. For instance, I will be sewing the button about 3-4" above the ankle. On the inner side of the pants leg, I'll sew the strip of fabric with the hole hanging toward to foot opening. Basically, this will just give you the option to scrunch the bottom legs up sort of like capri pants since rolling the legs up will not hold - too soft of fabric. You'll simply roll the leg up and slip the button through the hole in the strip of fabric. This will keep them off your feet and off the ground.





Experience

As for my opinion, I love these pants. They don't look flattering or sexy on me, but most pajamas aren't. I have to admit, my pair of Hollister pajama pants were made to fit a tad better since they're made specifically for a female of my size, but I knew these would be baggy. They're totally comfortable and don't get wrapped around my legs/feet while sleeping.

I have to say the cold/warm thermo control claim seems to actually be true since I've worn these out in the cool, rainy night lastnight and had freezing arms, but warm legs. They don't get too warm while I'm under the covers though, so this thermo control thing must be real.

As for the male I bought the same pair for, he loves them as much as I do. They look quite similar on him as they do me since we're pretty close in waist size, but they're not as long on him. They look nice on and he says they're comfortable.

Unlike the boxer shorts though, these don't really draw attention to the crotch on a male. That could be because these are black and much baggier in the crotch, plus they don't have a crotch opening. It's safe to say that most people will be able to walk around the house in these even if they live with other people or have company stop by. They aren't revealing.


If you happen to get a hankerin' for fondling your lovie while they're wearing these, you'll be pleased to notice that you can actually feel butts and crotches very well through these lightweight pants.




And if you happen to get a hankerin' for fondling your lovie while they're wearing these, you'll be pleased to notice that you can actually feel butts and crotches very well through these lightweight pants.
This content is the opinion of the submitting contributor and is not endorsed by EdenFantasys.com

Thank you for viewing
Bamboo lounge pants
review page!