Pretty Darn Comfy
The bamboo lounge pants are much softer than cotton ones I've had in the past, and I wouldn't mind having multiple pairs. Even though they feel luxurious, they are easily cared for and can be machine washed. I love them!
Published:
Pros:
- So comfy and soft!
- Comes in nice colors.
Cons:
- A little see-through.
Male Power's bamboo lounge pants are thin, long pants made for being comfortable at home or even to be used as pajamas. What makes this particular pair special is the fabric blend of 95% bamboo, 5% lycra. As someone who has always been appreciative of bamboo as a fiber for cloth (I love bamboo blend yarns in particular.), I had to have these. I was not disappointed!
What's Cool About Bamboo:
According to the packaging, fabric made from bamboo is:
- Very soft and smooth, resembling cotton.
- Light and strong, with excellent wicking properties to keep away moisture.
- Antibacterial.
- Good for sensitive and allergy-prone skin.
Who Are These Geared For:
Obviously these are geared towards those of the male gender, being from a brand called Male Power but these are just comfy lounge pants and anyone of any gender and body can appreciate them.
Fabric Content and Texture:
These lounge pants are 95% bamboo and 5% lycra. The fabric is very silky, smooth, and unfortunately a bit see-through. The fabric is thin and drapes well.
The pants are solid black in color, but they also come in a lovely teal.
Um What Do You Mean See-Through:
If you hold the pants up towards a window, they become pretty see-through. Of course, if you're wearing them you're not exactly holding them up to a light source, but this combines with the way the fabric drapes to mean that if you have noticeable dangly bits it would probably be a good idea to wear a long shirt or underwear underneath if you're planning on seeing company in these. I've just been wearing underwear under them and haven't had a problem. The teal pants will probably have more of a problem with this than these opaque, black ones.
Other Features:
The waistband on these lounge pants is soft and very stretchy. I think it could fit a waist over ten inches bigger than mine and beyond. It looks just like the waistband on a pair of, say, boxer shorts. It's black and tan, and says "mp" and has the Male Power graphic around the band.
The stitching looks fine and overall the lounge pants seem pretty well-made.
The box made the claim that these lounge pants would be good for warm and cold climates both, and after wearing them I am inclined to think they will work best in warm climates as they didn't really keep me warm. I suppose I'll know when the weather cools down, but I think they're just too thin to provide too much in the way of warmth. They have been great for these last few hot summer nights and haven't made me feel smothered like some flannel pants do.
But Are They Comfy:
Exceptionally so. I'm wearing them right now! They would be a little bit comfier on me if they weren't so long so I could pull the waistband lower instead of directly on my waist but the length will be good for anyone taller than 5' 6".
I ordered a size small, and wear a 31 in men's jeans/size 6 in women's jeans. The pants aren't baggy on me but do have a lot of length in the crotch. I certainly don't mind and I imagine people with other, um, genital situations will appreciate it even more.
Care Instructions:
These lounge pants can be machine washed with cold water and tumble dried on cool. Do not use bleach on them.
Packaging:
The pants came wrapped in plastic, inside a box. The box features a fit, shirtless man wearing the pants while standing next to a bamboo plant on the front. On the back is another picture of the same guy, a photo of the lounge pants in the teal color, and general information on why bamboo fabric is so cool. It also has the care instructions down at the bottom, and Male Power's website (malepower.com).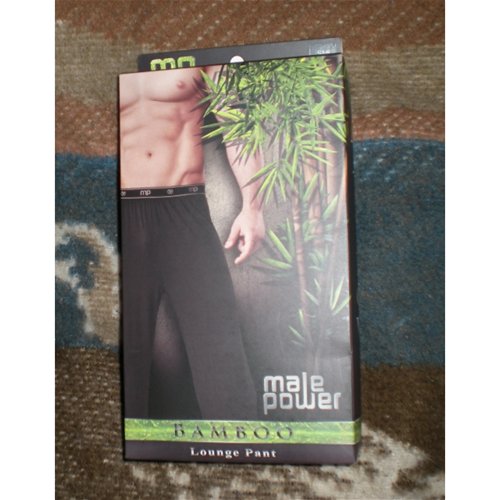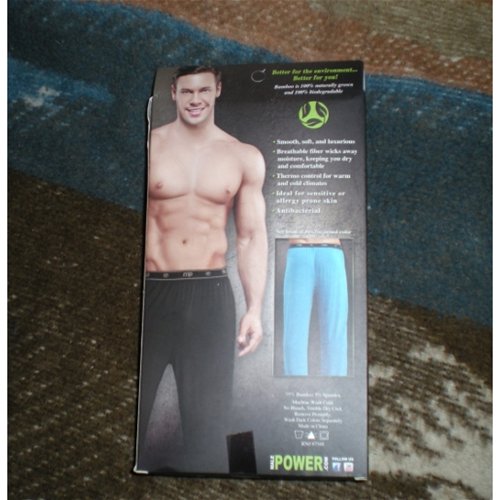 Experience
These are so comfy! I've been wearing them to sleep, clean, and just lounge around the house and I love them to bits.
Follow-up commentary
1 month after original review
I'm doing my follow-up early to provide a warning: Be careful with the bottom seams. I accidentally ripped the hem on one leg of these lounge pants by catching my foot against it. It hasn't unraveled the whole seam, but the thread is definitely ripped.
I have machine washed and dried these now and they are perfectly fine. They have not become pilly or anything.
This product was provided free of charge to the reviewer. This review is in compliance with the FTC guidelines.

Thank you for viewing
Bamboo lounge pants
review page!