Lovely Lounging Pants!
I had wanted these since the moment I saw them on Eden. When they came back in stock, I decided to get a pair in both the black and teal. I am already partial to the black, though I have a feeling both pairs will be getting worn a lot! No regrets about buying these, they are just so cozy and lovely!
Published:
Pros:
Comfortable, good on allergy-prone and sensitive skin, great for sleeping and lounging, etc...
Cons:
Might not be super warm for colder night.
These pants are wonderful for anyone, regardless of size, shape or gender. These are lovely for lounging around in, and they would be great for wearing around a dorm room in college. I could also see these being comfortable and practical for wearing to the gym. Though, I got them with the intent of wearing them around the house and sleeping in them. If you are looking for something thick and fleece-like to keep you very warm on winter nights, these pants may not be perfect to keep you suuuper warm, but they sure are cozy!
They come in a paperboard box, which is recyclable and has sizing info on it as well as some great quick facts about bamboo.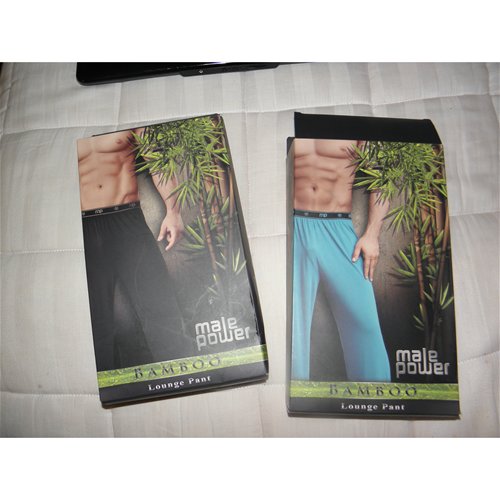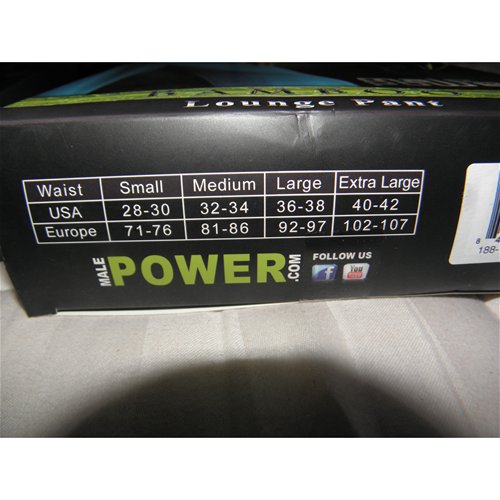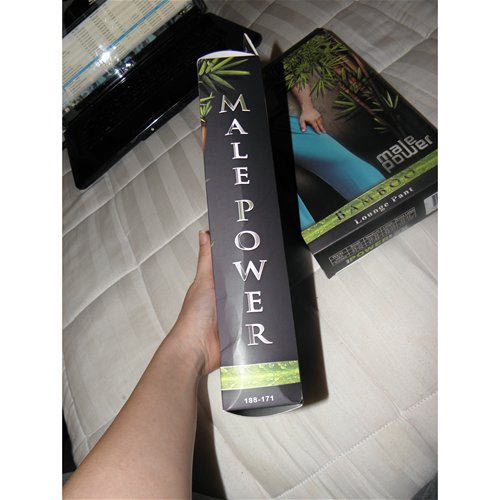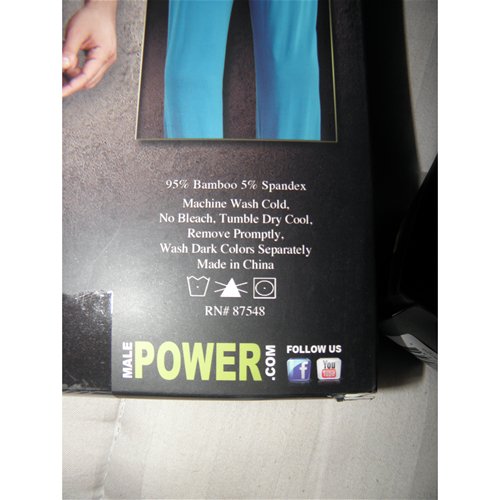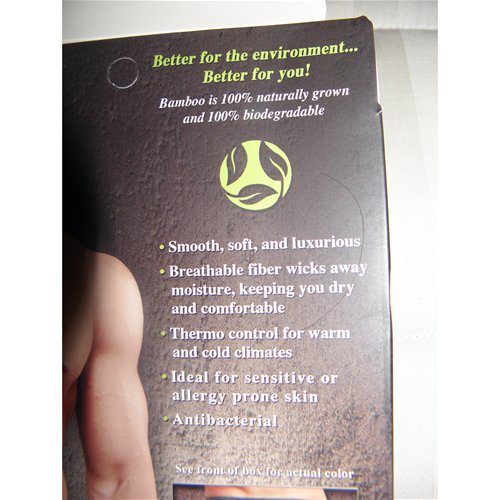 I hadn't even known those benefits of bamboo, that are listed on the box. However, I am glad to know them, because I have very sensitive and allergy prone skin, so it is nice to know that these will not irritate my skin as so many other things seem to. Also, they're biodegradable! How eco-friendly! Also, because they are bamboo and spandex, I believe they are vegan, as they are not made of silk.
Inside of the box, they are in a plastic sleeve. (As you can see, I couldn't resist and ordered both colors!)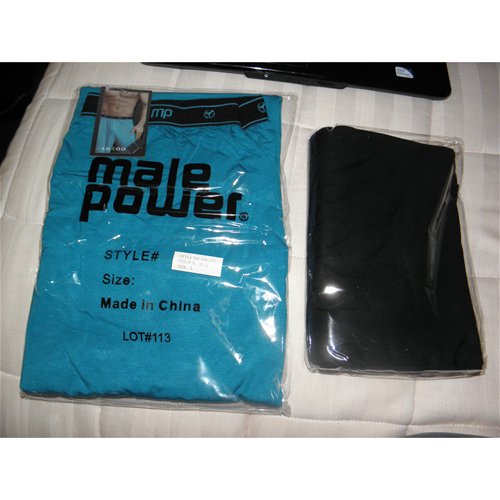 The fabric is verrrrry comfortable! It moves and flows almost like silk, but it feels like the finest sort of jersey cotton again the skin.
The inseam on these is about 32". I am tall, and they still fit me very well. Although, they seem to be able to stretch in all directions, so I don't see fit being a problem for most anyone. Going by the size chart, whatever seems closest to you, go with that size and you will probably like the fit. I have 38" hips and I feel like I may have even been able to fit into a medium, though it may have felt a bit tighter. If they are too long for you, you could always cuff and pin them, or hem them if you are able. They may not sound worth going through that sort of trouble for, but as I see it that would be minimal effort for a very comfortable piece of clothing!
The crotch on these hangs lower than any other sort of pants I own, but I mostly own women's clothing. Still, it doesn't bother me or seem to get in the way, and would likely be more comfortable for many people. They don't look awkward because of it, it just feels different to me than other pants I wear. Also, to me, the crotch was more noticeable visibly in the teal pair than the black pair, but perhaps that is because I am so used to wearing blacks and grays and not so many bright colors. They do not have any sort of fly, button or otherwise. They do, however, have pockets; one on either side.
Front: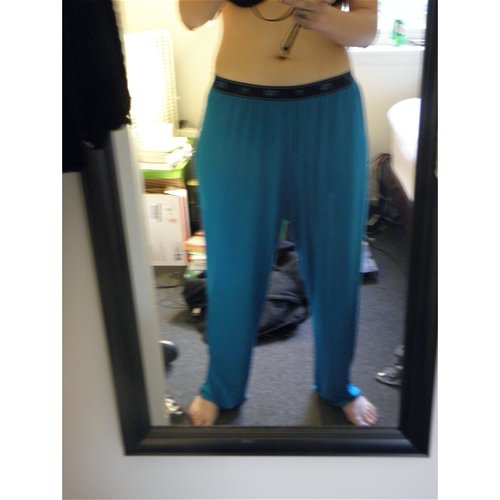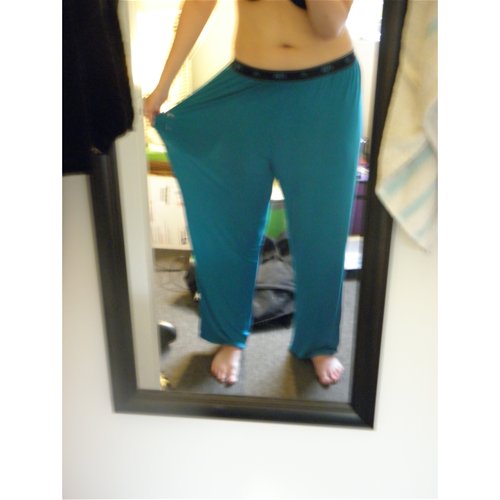 Side: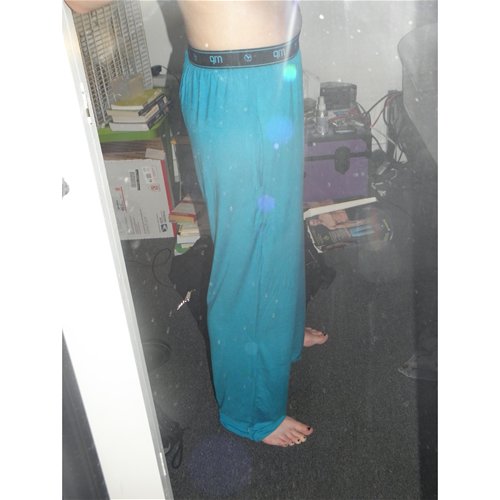 Back: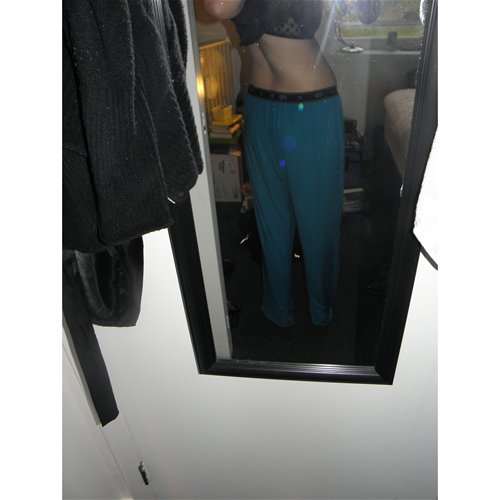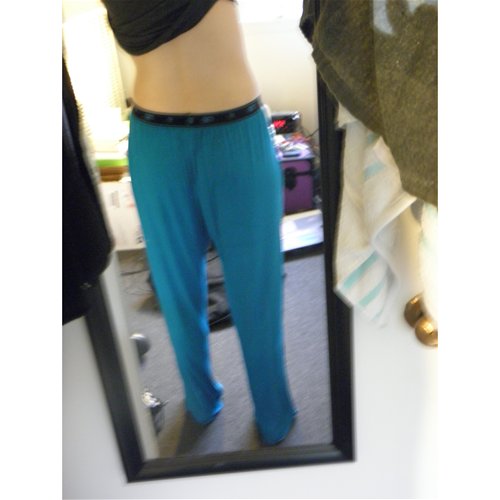 Here is a the care tag on the inside of the pants. I was not bothered by the tag at all, is isn't scratchy or noticeable which is nice.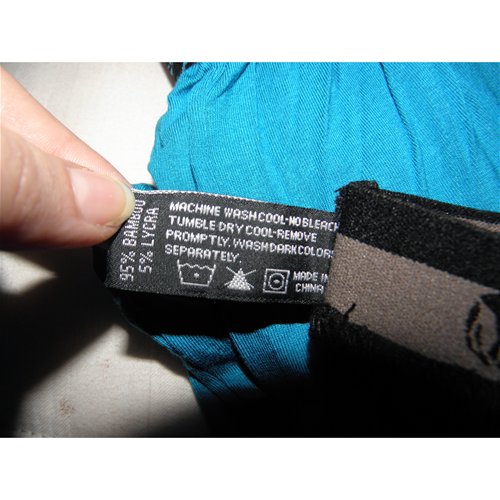 The only logo present on these is on the waistband, MP, as in MalePower. Odds are, nobody will really see that unless you are wearing them shirtless, and even then it isn't very flashy. I prefer clothing that is not covered in logos and images, so I like that about these.
Experience
I have a feeling my significant other would really enjoy these pants as he has a pair similar to them (that were likely more expensive, they are from Puma), but the fabric on these feels better to me. Mind you, he loves those pants and wears them to the gym, around the house, to bed, etc. I think I might have to share these with him or get him a pair of his own! Honestly, I have nothing but good things to say about these pants! They are a totally great buy.
Follow-up commentary
10 days after original review
These hold up very well to being washed, in fact they may get even softer, but still look brand new! The black pair is my favorite, the teal look more noticeably baggy on me, so I feel awkward wearing them. I had my partner try them on, who wear the same size as me but is taller (he's about 6'0", maybe 6'1") and they fit him PERFECTLY. I was stunned when he tried them on, and they didn't look baggy anywhere and weren't tight either. He had no complaints. The crotch didn't look low on him either, and the legs were the perfect length, not dragging or baggy or getting stepped on when he walked. He said, "Well, they were made for men, right? By a male company? Perhaps that is why they didn't look the same on you for some reason." Either way, they looked perfect on him and fit him amazingly. We both like these pants. I'm thinking I will give him the teal pair, since they just looked so great on him...and maybe order myself another pair in black. Neither of us had any issue with these pants really, especially him.
This content is the opinion of the submitting contributor and is not endorsed by EdenFantasys.com

Thank you for viewing
Bamboo lounge pants
review page!